On the night of June 23 at the United Center in Chicago, the fortunes and futures of many NHL teams and aspiring NHL players will be changed forever. Perhaps none more than the New Jersey Devils, who in a surprise won the Draft Lottery and will be picking first overall for the first time in the team's history.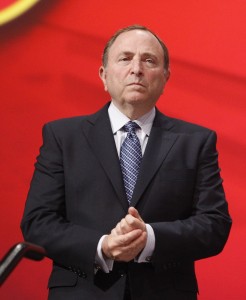 NHL commissioner Gary Bettman will take the stage (predictably to a chorus of boos, which is the in-thing to do these days) and say: "Good evening, and welcome to the United Center and the 2017 National Hockey League Draft. On behalf of the entire NHL, I send thanks to the Blackhawks, the city of Chicago and all of the fans in attendance."
"The first selection of the 2017 National Hockey League Draft belongs to the New Jersey Devils," will be Bettman's final words before the three minute timer will begin to run for the Devils to decide who they will select first overall to give their franchise a much-needed shot of adrenaline which hopefully leads to a turnaround.
Franchise Changer
A contingent of New Jersey employees including GM Ray Shero, head coach John Hynes, head scout Paul Castron and others will make their way to the stage on the arena floor with a Devils' jersey that will have the last name of the player they are about to select and the number 17 (for the year 2017, not to make 17 great again in red and black) and a team hat. They'll all shake hands with the commish before Shero makes his way to the microphone.
Shero will then likely say something that will go like this: "The New Jersey Devils organization would like to thank the Blackhawks and the city of Chicago this weekend for their hospitality, and would also like to congratulate the Blankity Blanks for winning the 2017 Stanley Cup. With the first pick in the 2017 NHL Draft New Jersey is proud to select from…"
Devils claim top pick in dramatic NHL Draft Lottery: https://t.co/Yctur9Y9SS pic.twitter.com/QHmaEr1Apl

— TSN (@TSN_Sports) April 30, 2017
And that will be the first time we will know if the Devils decided to draft either Canadian center Nolan Patrick (6'3", 200 lbs.) from the Brandon Wheat Kings or Swiss center/right wing Nico Hischier (6'0", 172 lbs.) from the Halifax Mooseheads. Nolan or Nico? Nico or Nolan? Fans, analysts, experts will all continue to debate who New Jersey will or should select from now right up until the time the Devils make their announcement.
Decisions, Decisions
From the view of someone who hasn't seen either play more than one game each (for whatever that is worth…probably nothing), it would seem that the safer pick is to select Patrick, who has generally been considered the first pick in this draft for some time now. Although he was oft-injured this past season, his addition to the Devils roster would be a great fit with projecting he and 2015 first round pick Pavel Zacha as a 1-2 punch at center for the next ten years.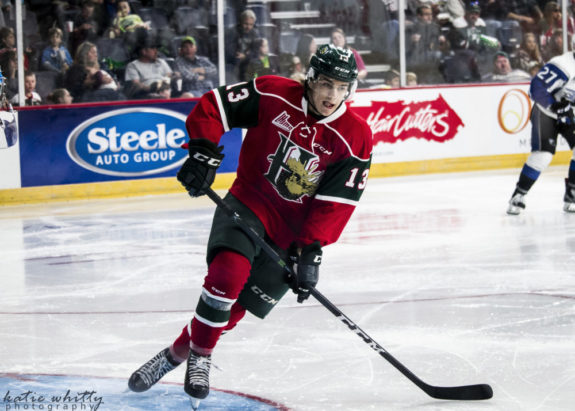 Hischier would be more of a gamble, as the highest a player from Switzerland has ever been selected was at fifth overall when the New York Islanders drafted Nino Niederreiter at the 2010 NHL Draft. It's not a huge gamble, and his nationality shouldn't factor into the equation at all if he is the best player available in this draft; but has he done enough to overtake the consensus number one in Patrick? Along with Niederreiter, Roman Josi and Kevin Fiala are top-end NHLers and Timo Meier may eventually be one day also, but the Devils took an unsuccessful gamble on another Swiss player (Damien Brunner) not too long ago. This might not be the time and place to take another one.
Don't Get Got
There's also the factor of if the Devils don't draft Patrick, again who has been expected to be no.1 overall for a while now, he will have four-five opportunities a season to make them regret the mistake if the Philadelphia Flyers end up picking him with the second pick. If New Jersey swings and misses with Hischier and Patrick is a home run down the turnpike with Philadelphia heads may roll in the organization and it could set back their rebuild even further in what is currently an ultra-competitive Metropolitan Division.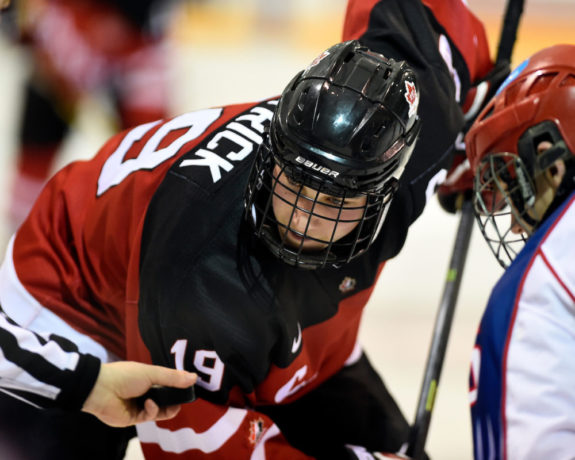 As we sit about six weeks away from the 2017 NHL Draft Patrick is ranked as the number one prospect by ISS Hockey, Future Considerations, McKeen's Hockey, Hockeyprospect.com and NHL Central Scouting. The 18-year-old was teammates with current Devils prospect John Quenneville (New Jersey's first round selection in 2014) and is the nephew of James Patrick (New York Rangers first round selection in 1981, most recently an assistant coach with the Dallas Stars) and the son of Steve Patrick (Buffalo Sabres first round selection in 1980).
Nolan or Nico? Nico or Nolan? A question that will be debated and a duo that will often be compared (fairly or unfairly) just like the 'Taylor or Tyler?' debate. The Devils have been gifted an opportunity to accelerate their rebuild jumping from fifth overall to first overall and they can't afford to mess it up.
Dan Rice is in his 9th year of reporting for THW & has covered NJ Devils home games for 15+ years at various websites. He began his journey working for legendary broadcaster/writer Stan Fischler from 2002-04 & completed an internship at the ECHL; he also has been writing features for the NWHL (nwhl.zone) website since 2016.