With yet another "W" in the bag following Tuesday's 5-1 drubbing of the New York Islanders, one thing has become abundantly clear: The only thing capable of stopping the Boston Bruins right now is themselves.
And the Washington Capitals.
Regardless, the Bruins are cooking up something truly special these days. They're 16-3-2 since a mid-November loss dropped them one game below .500. They've won seven of their last eight and, incredibly, have lost in regulation just once in the last month.
Thirty days transpired as the Bruins played the most congested portion of their schedule to date and the team still managed a 10-1-2 record over that stretch.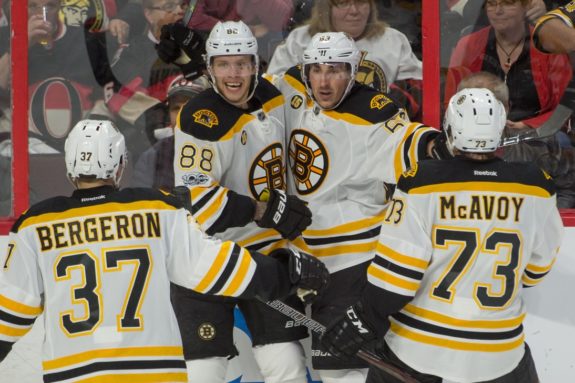 Equally exciting have been the myriad of players leading the way and then passing the baton to a teammate the following night. A revolving door of production and leadership by example have put Boston's enviable depth on display for the NHL to witness.
Offensively and defensively they swarm and attack, like hyenas around an injured antelope. They rack up so much offensive zone time that opponents start charging rent. Defensively? Opponents are one and done, and they're lucky to even get that one. When they are afforded a clean look there's a Vezina Trophy-winning goaltender at the top of his game just waiting to shut them down.
These Bruins are in the zone, and they have every single player on the team to thank for it. This is a team, and one to be reckoned with.
Scoring by Committee
The Bruins hold a 7-0-1 record over their last eight games. Throughout that stretch, thirteen different Bruins have lit the lamp, including ten different forwards. Not included among those 13 scorers is David Pastrnak, who happens to have the most points and second-most goals on the team.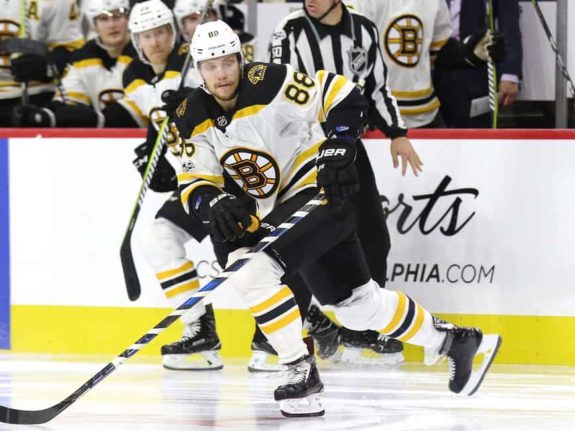 The team's top line, of Patrice Bergeron, Brad Marchand and Pastrnak, has been so consistent and dominant this season that combining for eight goals and 17 points in eight games is considered "slumping."
After missing two weeks worth of games, David Krejci returned on Dec. 30 versus the Ottawa Senators and registered a goal and an assist, looking like he hadn't missed an hour of action, let alone 18 games on the season.
Ryan Spooner is as electric and assertive as ever, with six points over his last eight. Included in those six points were the two goals he hung on his hometown club, stealing the spotlight in Canada's capital once more.
Jake DeBrusk put on a one-man show versus the Columbus Blue Jackets, registering the first three-point game of his young career. He scored a highlight reel goal in Buffalo against the Sabres 24 hours later.
Boston's fourth line of Sean Kuraly, Tim Schaller and Noel Acciari hem teams in their own zone with their tireless work ethic and merciless forecheck, wearing down the opposition and gifting offensive zone starts to their teammates.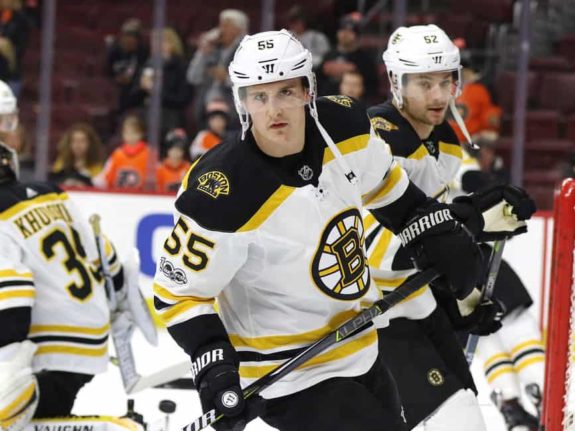 Lately, though, they have been cashing in. They sealed a win in Buffalo with their tremendous play while clinging to a late one-goal lead, and most recently stole the show in Brooklyn with their two goals, four points and eight shots on goal while dominating the Isles every time they hopped over the boards.
Over their last eight games, Schaller has four points, Acciari has three goals and Kuraly has a pair of helpers.
"Third" Line
The third line of Danton Heinen, David Backes and Riley Nash have been a revelation. They've been so good that upon becoming the de facto second line in the wake of Krejci's most recent injury their production actually went up, despite the increased responsibility and more difficult assignments. They've been every bit as dominant of late as the team's top line, if not even more so.
Backes has looked every bit the player Boston hoped he would be when they inked him to his five-year, $30 million contract 18 months ago. His five goals and 11 points over this eight-game sample both pace the team, en route to being named the NHL's third star of the week as 2017 came to a close.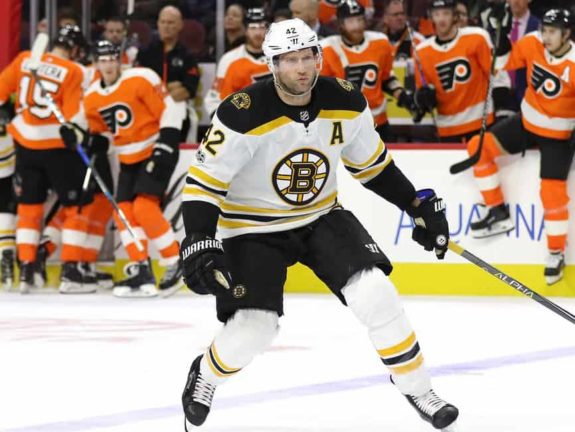 Heinen's three goals and 10 points over the stretch give him 28 points in 34 games; good for fourth among all rookies and putting him on pace for a 64-point campaign.
Nash has six points over his last eight contests, as he continues to enjoy what's shaping up to be a career year for the 28-year-old. His three-point outing versus Ottawa on Dec. 27 paced the team, highlighted by blocking an Erik Karlsson shot and then burning one of the fastest players in the game for a breakaway goal. His 17 points are just eight shy of his career-high of 25, and he has already matched last season's totals in less than half as many games.
Every forward in a Spoked-B has not only contributed of late but has at the very least shared the spotlight for a moment or two. The boys are feeling it.
Blockade on the Back End
As well as Boston has played offensively recently (and 32 goals over eight games is pretty stellar), they've been even more impressive defensively.
The Bruins have conceded just nine goals over their last eight games, despite having played the third, fourth and eleventh ranked offenses in the league during that stretch. To date, only two teams are conceding fewer goals and shots per game than Boston; a testament not only to how well Tuukka Rask is playing in net but also how well his defensemen (and forwards, for that matter) are playing in front of him.
Getting Defensive
Zdeno Chara continues to defy age and logic, leading the team in ice time, plus-minus and blocked shots. A short-term contract extension at year's end seems inevitable.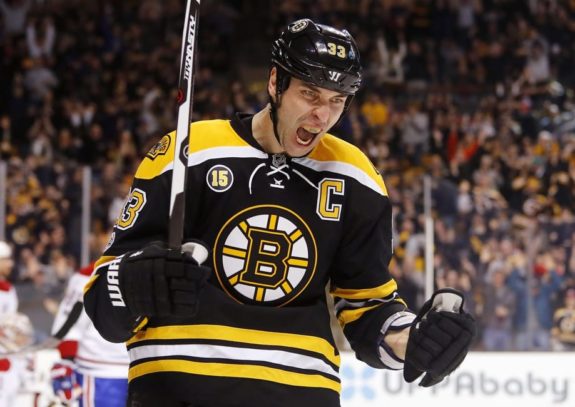 Kevan Miller has steadily developed into a rock-solid defender, capable of logging difficult assignments from the second or third pairing. He has two points and is a plus-six over his last eight games.
Torey Krug is on pace for his second-consecutive 50-point campaign. He's scoring at a higher rate than fellow offensively-minded rearguards Kevin Shattenkirk, Keith Yandle, Dustin Byfuglien and Oliver Ekman-Larsson.
Matt Grzelcyk's game is as cool as the other side of the pillow. I won't go so far as to suggest he was an organizational afterthought, but he was overlooked in the midst of Boston's stockpiling of first and second-round defensemen in recent years. He's come from out of nowhere to play so well that a healthy Adam McQuaid can no longer crack the lineup.
Brandon Carlo has somewhat succumbed to the sophomore slump, highlighted most recently by an egregious gaffe versus the Islanders which gifted them their sole goal of the contest. Nevertheless, he has very quietly been a key component to Boston's third-ranked penalty kill, second only to Chara in shorthanded ice time. Plus, he's 21 years old, so maybe calm down a bit…
Chuckie 'Bright Lights' McAvoy
Charlie McAvoy has been so good for the Bruins that he has probably eclipsed the sky-high expectations placed on him by the organization and a fan base starved for an elite defenseman.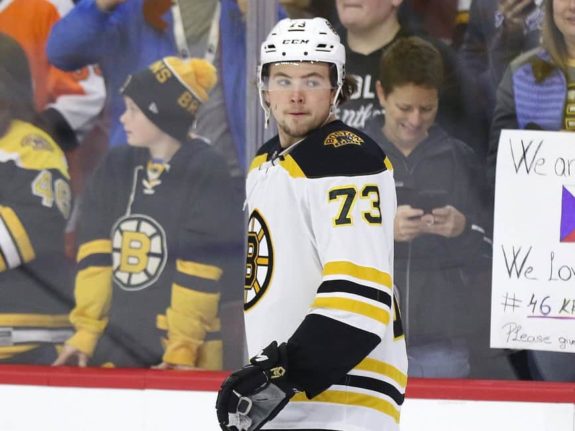 Having turned 20 years old just two weeks ago, McAvoy's 21 points in 38 games have him on pace for a 45-point campaign. He leads all rookies in ice time by more than four minutes per game and has already claimed the title of "Number-one defenseman" from his partner, captain and 20-year veteran, Chara.
He's an all-situations defender, capable of shutting down the opponent's best while executing textbook breakouts and serving as a legitimate threat in the offensive zone be it at five-on-five or while quarterbacking the power play.
Brock Boeser may have the goals and Matthew Barzal may have the speed, but for my money, there isn't a rookie in the NHL whose presence matters more to his team than McAvoy.
Did I mention he just turned 20?
"Net"ing Wins
When Rask woke up on Nov. 29, he had a record of 3-8-2. His goals-against-average was a gaudy 2.99 and his save percentage was below hockey's Mendoza Line of .900.
Fast-forward five weeks and things have changed….about as considerably as things can change. I'm talking caterpillar-into-butterfly type of transformation.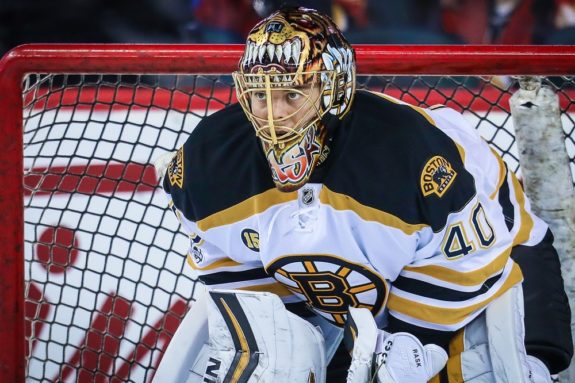 Boston's surge and Rask's resurgence have gone hand-in-hand, forming a sort of "chicken or the egg" dilemma. Have the Bruins been better because Rask has been better, or is Tuukka's turnaround due to the improved play in front of him?
My vote goes for neither. Goaltending and team defense share a symbiotic relationship. When a goaltender is consistently bailing his team out it eventually, inevitably gives the team the confidence boost it needs to elevate its play. When a team is scoring virtually at will while remaining committed to limiting Grade-A opportunities the goaltender can relax, play his game and let the puck come to him.
With a perfect record of 10-0-1 since that late November morning, Rask has resoundingly silenced the chorus of skeptics who had grown louder this season. He was named the NHL's First Star for the month of December, with an astonishing 1.22 GAA and .955 save percentage across 10 appearances. He has conceded one goal or less in each of his last five starts, as well as in 8 of his last 11.
Such dominance has thrust him from taking a backseat to Anton Khudobin into firm mid-season contention for the Vezina Trophy.
Pick Your Poison
These Boston Bruins have been a "Choose Your Own Adventure" book for opponents of late, only in this series all roads lead to doom; there is no escape.
On any given night, any player or line can put the team on their back. They possess the best 200-foot line in hockey and throwing the kitchen sink at them only results in another line beating you. Over their last four games, all four forward lines have scored multiple goals in a single contest, with the third line having done so twice.
Boston's blue line and goaltender have played so well over their last eight games that Boston could have scored one-third of the goals they've potted and the team would still have a positive goal differential.
They're the hottest and arguably deepest team in the NHL.
So, if you see the Boston Bruins are up next on your schedule, bring an army. You're going to need it.