In recent years, it has become commonplace for an NHL coach to evenly disperse talent throughout his forward lines. In attempting to cultivate balance and make each line a threat, players in the modern NHL can often be found playing in roles above or below their own respective talent levels.
Patrick Maroon of the Edmonton Oilers, for example, spent considerable time last season alongside Connor McDavid on the team's top line despite previously having never eclipsed 11 goals in one season. Zach Hyman of the Toronto Maple Leafs is Auston Matthews' regular sidekick despite pedestrian scoring totals at the collegiate level, never mind the NHL. His teammate Patrick Marleau (he of 500 goals and 1,100 points) spent time centering Toronto's fourth line this season.
Gone are the days of teams icing their three best forwards together on one line. Or so we thought…
In a word, Boston's top line of Patrice Bergeron, Brad Marchand and David Pastrnak have been "unstoppable." Quite literally.
Prior to Tuesday's 3-0 win over Buffalo, Pastrnak was riding a NHL-best 12-game point streak, with 14 points over that stretch. Marchand also had his points streak (nine games, 14 points) snapped in Western New York, but was nonetheless one of Boston's best skaters throughout the affair. Bergeron meanwhile, has nine points over his last nine games. Only a point-per-game from Saint Patrice…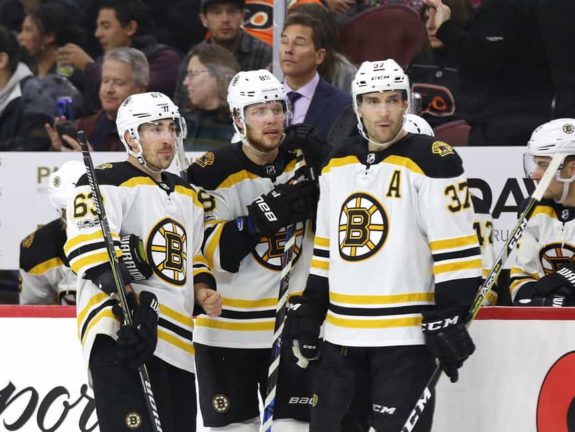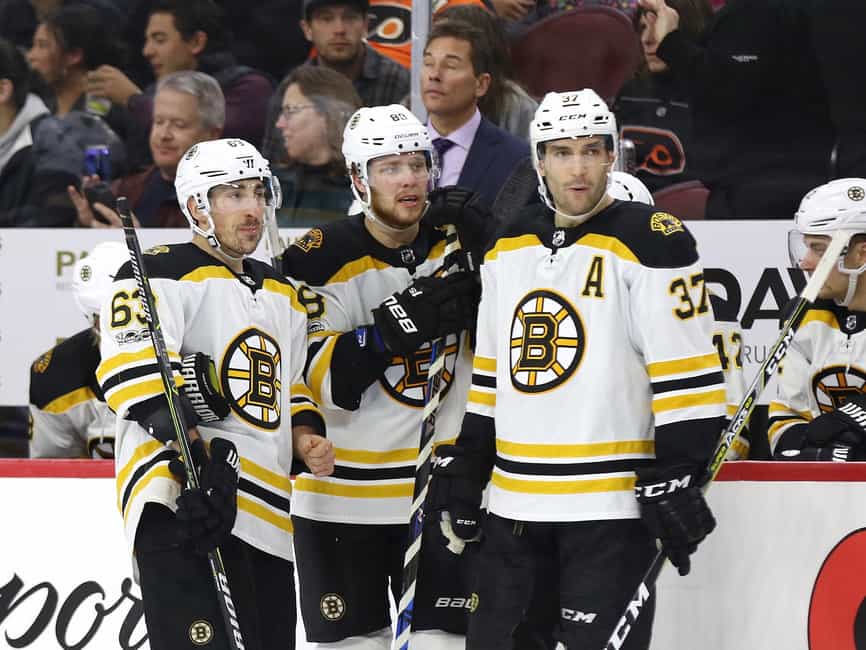 On a nightly basis, the trio are giving opponents big and small, mighty and feeble alike fits. They're simply matchup-proof; a 200-foot special forces unit, capable of kicking your door in, taking what's yours and leave you wondering, "What the Hell just happened?"
Not since the 1993-94 Season in which Adam Oates, Cam Neely and Joe Juneau were united has a Bruins line been so dominant. And even then there were caveats (Neely missed 35 games to injury, while Juneau was traded at the deadline).
They're arguably the best line in hockey, and the best seen around these parts in decades.
A Fortuitously-Forced Union
Despite their history together and the extraordinary results since their reunion, it's important to remember that this line really isn't supposed to be a thing. Not anymore.
Bruce Cassidy, historically, has preferred to work with pairs up front. Assemble four groups of two and fill in the gaps. And despite Pastrnak's success with Bergeron and Marchand he found himself deployed elsewhere halfway through last season, trading places with David Backes to slot alongside David Krejci.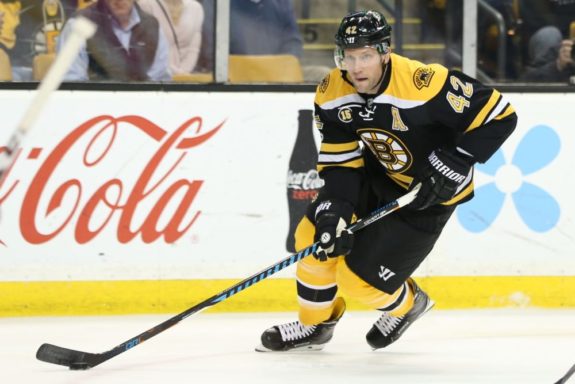 For two-plus years, Krejci had been starved for the linemates and consistency he'd enjoyed from 2008-2014. Flanking him with a supremely talented and creative player who also happened to be a fellow Czech Republic native was the logical move.
Theirs was a union that carried over to this season until the injury bug carved and clawed its way through the Boston locker room.
With more inexperience up front than a parade of student drivers, Cassidy was forced to make a tough decision: Maroon what few playmakers he had at his disposal throughout three lines in an attempt at balance, or load up on one line and hope the rest can keep their heads above water?
He chose the latter. He chose correctly.
Just How Good Have They Been?
As noted above, the trio had some pretty impressive streaks in play prior to Tuesday night. Going beyond the totals illuminates something even more impressive, however: The lion's share of these points have been scored at even-strength.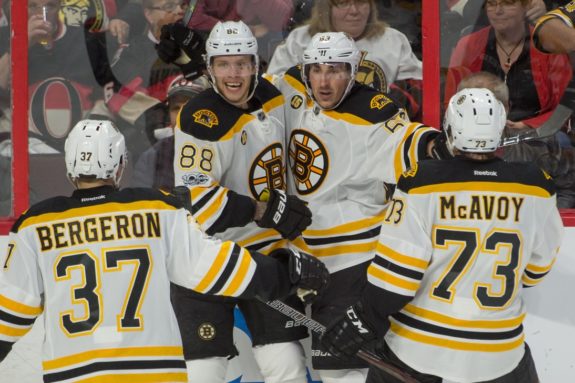 Just six of the 20 goals the trio have factored into since the beginning of Pastrnak's streak came with the man-advantage. That is…astonishing, especially considering the amount of time all three spend on the top power play unit.
Moreover, all three have taken their turn holding the reins and enjoying MVP moments.
For Marchand, that moment was last week against the Red Wings. His late-game heroics in helping to tie the affair with a gorgeous feed to Pastrnak were followed by an even prettier finish from the "Little Ball of Hate" himself. He's a legitimate Hart Trophy candidate who seems to somehow continue getting better and better.
For Bergeron, it was his Herculean effort in an eventual loss to Washington, also last week. He scored two of Boston's three goals, put four shots on net and won 75% of his face-offs. He did so against Nicklas Backstrom and Evgeny Kuznetsov, no less.
For "Pasta," it would be either his two-goal, six-shot effort in a prior loss to Washington (boy, do they own the Bruins) or the three assists he hung on Columbus around Halloween, leading the charge en route to stealing one point in an epic comeback that ultimately fell just short.
Marchand is on pace for 90 points in just 74 games. Pastrnak is scoring at nearly a point-per-game rate (31 points, 32 games) and is flirting with a 40-goal pace. Bergeron has overcome injury (missed five games) and is still on pace for 63 points while playing his usual Selke-worthy defense.
Most of this damage has been done with the three united. How could one possibly disassemble the trio?
Do the Bruins Have the Depth to Justify It?
As Matt Kalman rightfully pointed out several days ago, finding/establishing consistency on the team's second line will be paramount not only to the team's success, but also in justifying loading up on the top line. If the second line is conceding as many tallies as the top line is registering then what's the point?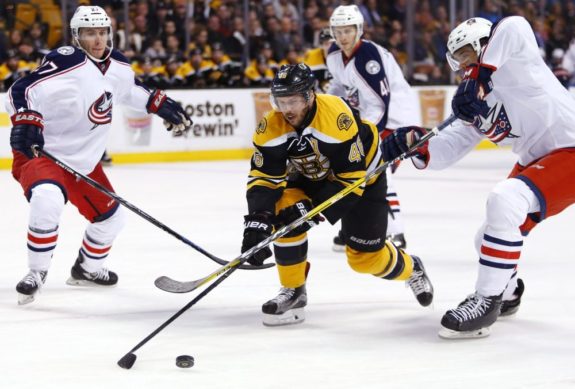 When healthy, David Krejci has produced at levels in line with his career average, with 14 points in 18 games. However, the aforementioned when is exponentially gaining significance. He has missed 14 games and counting, spread across multiple stints on the shelf.
Regardless, he at least looks like himself when in uniform, which seems to underscore the reportedly minor nature of his ailments. With eight points over his last 10 contests while flanked primarily by rookies, there's no reason the believe at this juncture that Krejci needs help. At least not enough to break up one of the league's best lines.
Jake DeBrusk Heating Up
Fortunately for Boston, Jake DeBrusk appears to be hitting his stride.
His three-point effort versus Columbus was without question his best game with the Bruins. Twenty-four hours later he sent a laser into Robin Lehner's water bottle with such velocity and accuracy that a lawsuit from Gatorade seems inevitable.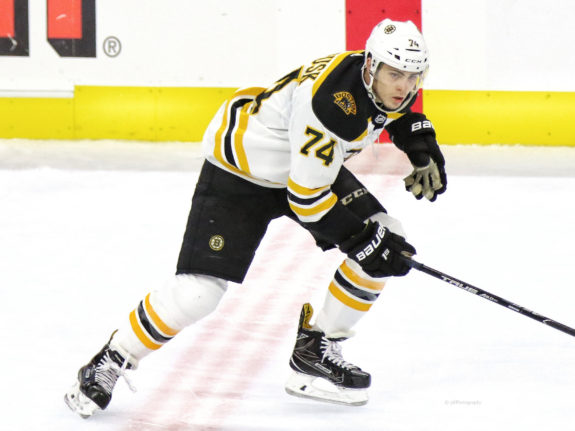 His stellar play of late (six points over his last seven games) has elevated his totals to 18 points in 28 games; he's now on pace for a 50-point campaign.
The way he has played of late as well as the manner in which he has responded to being a healthy scratch lends credence to the belief that consistency appears within DeBrusk's grasp. He's holding up his end of the bargain, and is quickly becoming one of Boston's most important forwards.
What About Bjork?
Anders Bjork seems to be heading in the opposite direction from DeBrusk. He found himself a healthy scratch for the first time in his brief career versus the Rangers, and has just two points in eight games since returning from a concussion. He looks like he could use a trip to Providence to iron-out some wrinkles and regain his mojo.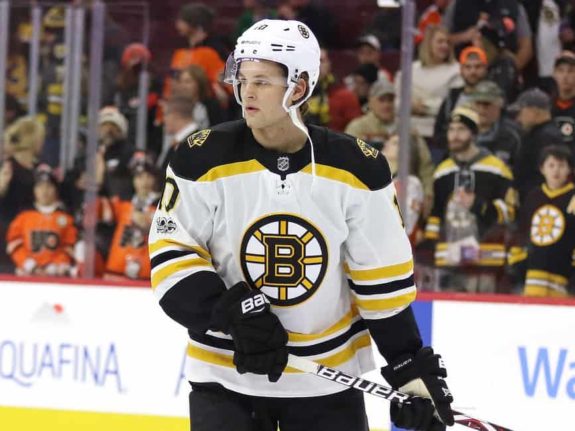 Patience and pragmatism regarding the 21-year-old were called for prior to the season, and are even more essential now that he has hit the proverbial "rookie wall."
But Boston's hopes of icing a complete second line don't live and die with Bjork. Peter Cehlarik is back skating, albeit on his own. With the Bruins firmly entrenched in playoff position, it seems that being buyers (bargain shoppers?) at the trade deadline is not entirely out of the question either.
Then again, another solution may already be in-house.
Ryan Spooner to the Rescue?
Ryan Spooner, as improbable as it may have seemed until very recently, may be able to help prop-up Boston's second line from the right wing.
With five points over his last five games, Spooner has looked sharp (dangerous, even) at both center and wing.
He has electric speed, oozes creativity and could wind up being a real catalyst for David Krejci. Krejci has always had a sneaky-good shot, but hasn't played with a true "playmaker" in nearly a decade. Perhaps playing alongside a fellow pass-first player brings out the best in both natural centermen.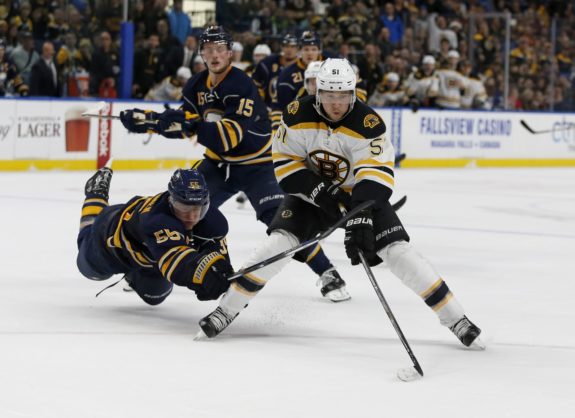 With 227 regular season games on his resume, Spooner is the sixth most experienced Bruins forward on roster. If his play of late is more harbinger than aberration, look out; that's a second line that can at the very least hold its own, justifying the talent-heavy top line.
Boston's Bottom Six "Tops"
After three-plus years of futility, the team once again, finally, has a third line to be reckoned with.
David Backes, Riley Nash and Danton Heinen tick off every box a third line should: Responsible in all three zones? Check. Capable of timely and consistent secondary scoring? Check. Physical presence? Check. Capable of shutting-down an opposing scoring line? You know it.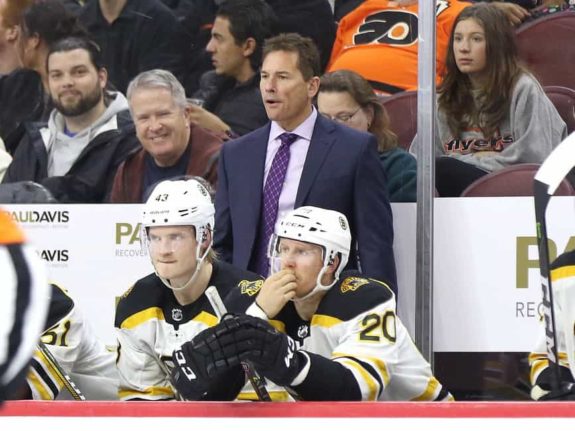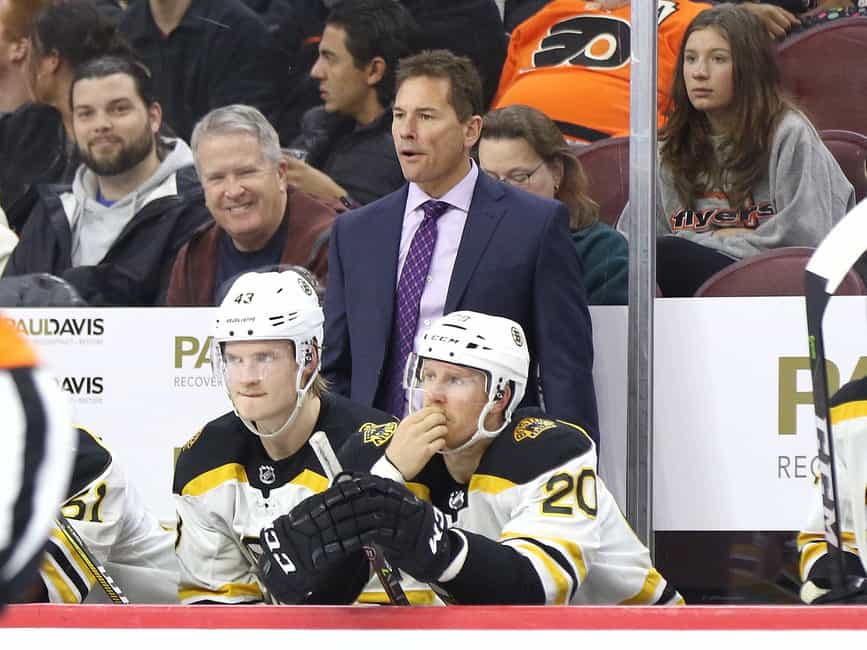 Backes has four goals in the 10 games the trio have played together. Riley Nash has five points over that stretch. Danton Heinen meanwhile has all but wrapped-up Boston's Seventh Player Award with his play this season, but especially of late. Over his 10 games on this line Heinen has ten points, bringing his season totals to 22 points in 28 games.
As a 22-year-old rookie, he's on pace for a 60-point campaign.
Personally, I'm nearly as adamant that this line remains intact as I am the top line; they've been that good.
Go "Fourth" And Prosper
The offense may not be bountiful, but Tim Schaller, Sean Kuraly and Noel Acciari play the kind of heavy, no-frills, north-south game that wears down an opposing defense, especially over the course of a playoff series.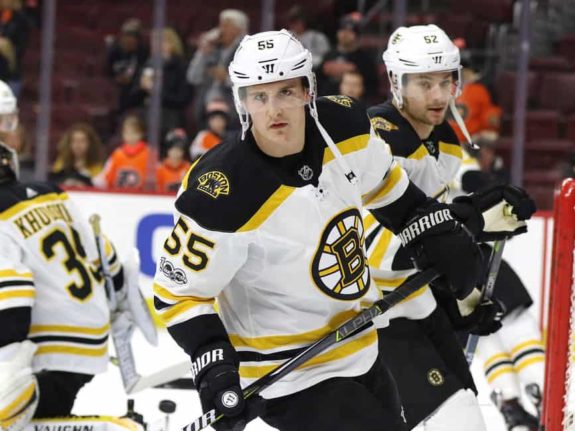 They win shifts and set the table for their more offensively-inclined teammates to cash in. Every time the Bergeron line steps onto the ice with an offensive zone face-off because of the fourth line you can bet these lunch-pail guys are getting credit for assisting, regardless of what the score sheet says. They drive possession and do the dirty work with aplomb.
It was their work down the stretch versus Buffalo Tuesday night which sealed the win. Clinging to a one-goal lead and facing six skaters, Acciari ate two pucks with Apache-like courage before Schaller buried the empty netter.
Ride It Out
The Bruins are 11-3-1 over their last 15 contests. They have a plus-18 goal differential over that span, outscoring their opponents 50-32. They possess one of the most dominant lines in hockey even without factoring in the work they do defensively. Which, for the record, is exemplary.
Boston will likely need to go with Tampa Bay or Toronto (if not both) should they have designs for a deep run. Only with a line such as this can the B's hope to neutralize the Lightning and Maple Leafs' elite top six talent.
Beyond the trio of Patrice Bergeron, Brad Marchand and David Pastrnak, Boston's forwards have held up more than their fair share of the bargain, are winning their shifts and are plus-players in their own rights and have thusly done enough to justify keeping the top line loaded to the teeth.
If it ain't broke…
Despite being New England's Son (hailing from the Great State of Connecticut), Joe currently resides in Los Angeles, California. One of his earliest memories is of the Bruins losing in the 1990 Stanley Cup Finals, setting up a lifetime of crushing disappointments. He feels genuine sadness for those without a passion to rival his unwavering love for the greatest game on earth.