When the Boston Bruins take the ice for the season opener at TD Garden next Thursday, Ryan Spooner will be suited up in black and gold. However, a few months ago, his place with the Bruins in 2017-18 was all but certain.
One year removed from his first full season with the Bruins in 2015-16, Spooner was at the forefront of trade talks throughout the course of last season. The Bruins opted to hold onto him through the trade deadline and were nearly forced to enter an arbitration hearing upon the expiry of his contract this offseason.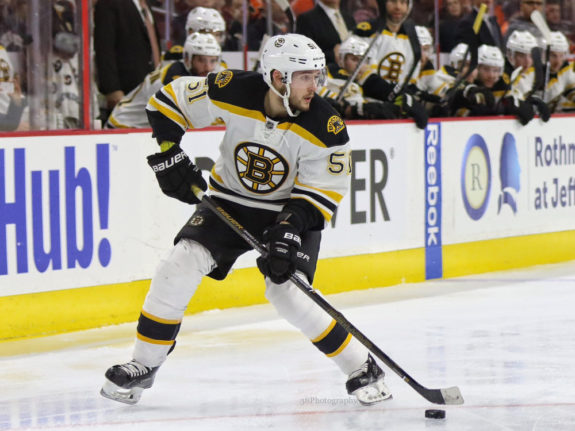 Ultimately, the Bruins agreed to a one-year, $2.825 million deal with the Ottawa-native, cementing the coming season as a vital campaign in Spooner's career. With just one year to prove himself worthy of the money he's pulling, his career rides on next season.
Offensive Consistency
At his base, Spooner is a scorer. Ever since he got his first taste of NHL action in 2013, his value has been in his offensive production.
Early in his career, that offensive ability was evident. In 29 games in 2014-15, Spooner tallied 18 points. The next season, he posted a strong 49 points in 80 games.
Last season, however, the production hit a rough patch. In 78 regular season games, Spooner notched 39 points — ten fewer than the previous year, despite playing just two fewer games. He struggled particularly at the end of the season, finding the back of the net just one time in his final 17 games.
Those struggles were enough to keep him out of Boston's lineup for two of Boston's six playoff games against Ottawa.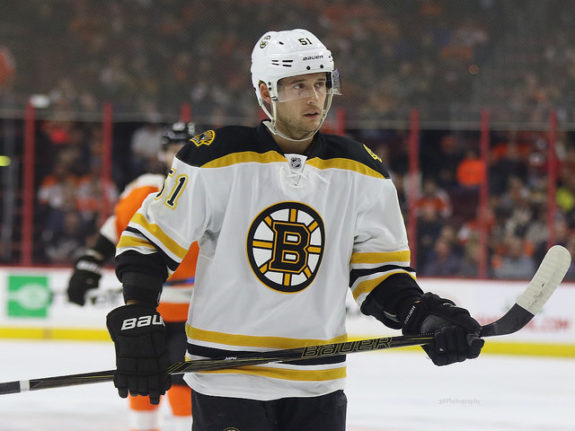 If Spooner wants to cash in after next season –he's set to become a restricted free agent once again — then he'll need to find more consistency with his production. As a player who has struggled to prove himself defensively, he needs to provide a constant source of offense if he wishes to build on his new contract.
'For me, I'm going to spin that into a positive and say that I'm going to take that as a challenge to have a good year and show that I can be the player that they want me to be,' Spooner said, per ESPN. 'And then on the [other] side too, it kind of just shows that they need to see a little bit more out of me as a player. There's a lot of things that I can also bring to the table that I need to work on.'
A More Complete Game
While Spooner is a scorer at heart, his responsibilities as a center extend beyond the offensive zone. If he wants to prove himself to the Bruins organization this season, he needs to show that he can be trusted on both ends of the ice — a challenge that he's struggled to accomplish in the early portion of his career.
'I think the next step for me is when the offense kind of dries up, is to be able to be more of a dependable, defensive guy,'' Spooner said, per Boston.com. 'If that is strength or the mental side of the game, that's kind of for me to figure out, and that's what I've been trying to do.''
One way he can add to his defensive value is to become better in the faceoff circle. Spooner has never had a season where he's won more than 46%of his draws. That may not be terrible given the fact that he's only 25, but what is concerning is that his faceoff percentages have consistently dropped over the last few seasons.
In 29 regular season games in 2015-16, he won 45.5% of his draws. The next season, he won 42.8%. Last season, that fell to a measly 38.9%.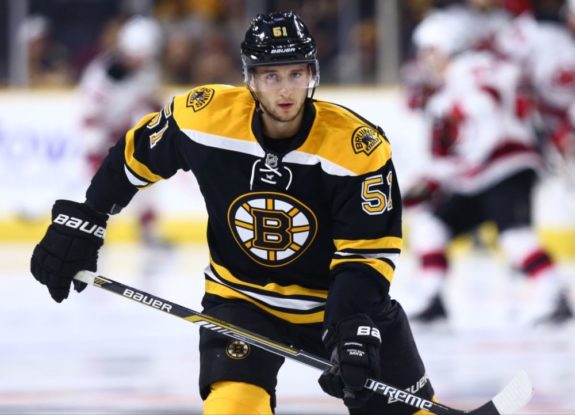 The good news is Spooner has one of the best defensive forwards in NHL history to help mentor him, who also happens to be one of the league's most consistent faceoff winners. That player, of course, is Patrice Bergeron.
In fact, the more Spooner can pull from Bergeron's game, the better. After all, Bergeron is essentially the type of player that the Bruins would like to mold Spooner into — a two-way center who has a very real offensive threat but can be trusted on either end of the ice.
With a load of young players making their way onto the NHL scene, Spooner's place with the Bruins could soon be up for grabs. That being said, the Bruins have spent several years developing him, and they'd very much like for their work to pay off. In a perfect world, he will finally demonstrate a more complete game this season and fill the shoes (or skates, if you will) of the player the Bruins have hoped he could become. But, that's a lot easier said than done.
Cam is a Broadcast Journalism student at the University of Maryland. He's the Boston Bruins Beat Writer at The Hockey Writers, and is an avid college hockey fan. Find him on Twitter @CamHasbrouck!