The Boston Bruins struck gold when they were able to ink David Pastrnak to a six-year deal worth $40 million. After a long summer of waiting, the deal was finalized on Sept. 14, 2017. A sigh of relief proceded to echo throughout the winding streets of Boston.
Prior to his first standard contract, Pastrnak was only reeling in a total of $2.75 million over the course of his three years. The entry-level deal only hit the cap for $925,000 per season during a span of time in which the then-prospect produced 123 points in 172 games.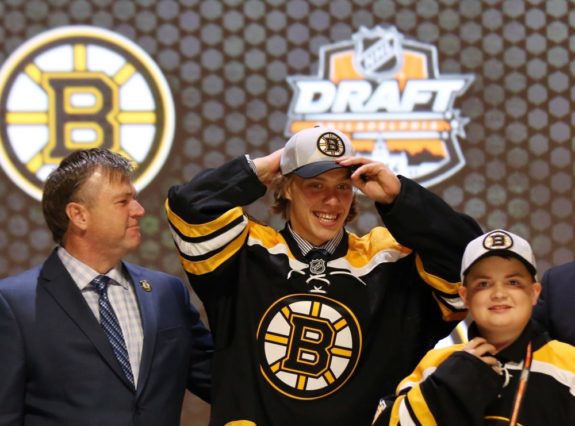 The agreement is widely considered one of the most team-friendly deals in the NHL today. Pastrnak was fresh off a 34-goal, 36-assist campaign at just the age of 21. The winger's great potential could have resulted in a more expensive price, but general manager Don Sweeney was able to corral him at a price tag that snuggles in between that of Patrice Bergeron ($6.875 annually) and Brad Marchand ($6.125 annually). The two players would go on to become Pastrnak's permanent linemates throughout the course of the 2017-18 season.
Pastrnak's most recent campaign was nothing short of impressive. In 82 games, the 22-year-old tallied 35 goals and 45 assists. Considering the winger's $6.67 million annual salary, that's just over $83,000 per point — well worth it for the team in black in gold. Though he was placed 33rd in the running, the performance netted him 10 votes for the Lady Byng Trophy at the season's end.
Pastrnak Contract Comparibles
On Oct. 10, 2016, at the age of 23, Johnny Gaudreau and the Calgary Flames were able to agree on a six-year deal worth $6.75 million annually. The season prior, the New Jersey native potted just 18 goals and 43 assists in 72 appearances. He showed great improvement during the 2017-18 season, netting 24 goals and 60 assists in 80 games – four points more than Pastrnak in two fewer games.
On July 6 of that same year, the Colorado Avalanche reeled in Nathan MacKinnon for seven years at a price tag of $6.3 million annually. He was just 20 years old at the time, coming off a 2015-16 campaign in which he tallied 21 goals and 31 assists in 72 games. During the first season of his new contract, it took MacKinnon a full 82-game season to come up with just one more point than he did in the year prior. But as a 22-year-old, the center proved his nay-sayers wrong, wooing them with 39 goals and 54 assists in 74 games, placing him in the running for the Hart Trophy. If more seasons like this past one are to come, MacKinnon's deal will be rendered one of the best contracts in the NHL.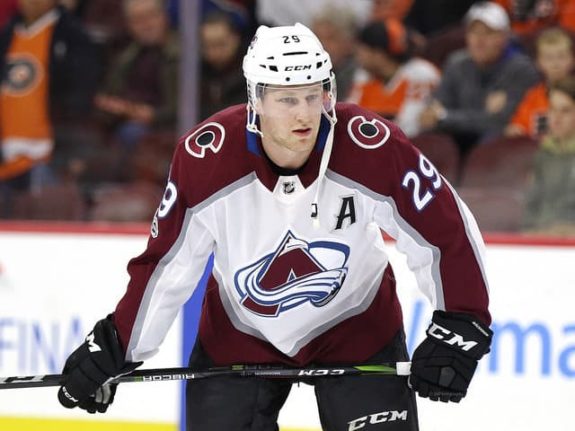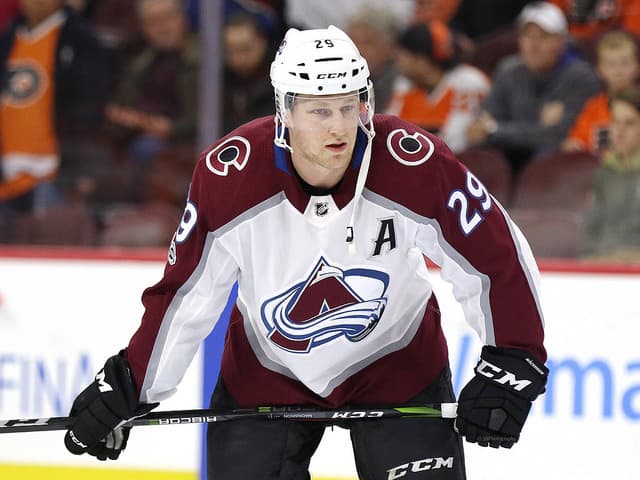 On June 27, 2016, the Nashville Predators were able to ink 21-year-old Filip Forsberg to a six-year deal worth $6 million annually. He was fresh off a 33-goal and 31-assist season. In the following campaign, however, Forsberg's numbers dipped to just 58 points in a full 82-game schedule. Luckily for Nashville, the center bounced back with a 64-point campaign in just 67 appearances – on course to come within shouting distance of Pastrnak's 80 points if Forsberg had seen another full season.
Pastrnak Contract Details
Pastrnak's contract features a number of variations throughout its six-year existence from 2017 to 2023. The winger received a signing bonus of $7 million, receiving $4 million of that bonus and a base salary of $4 million during the first year, bringing his earnings to $8 million. He will not receive another portion of that signing bonus for the 2018-19 campaign, but a base salary of $8 million compensates for that.
After making $6.8 million during the 2019-20 season, Pastrnak will receive the lowest pay of the deal – a $3 million salary base with another $1 million kicking in from the signing bonus. He will then once again take home $6.8 million in salary during the 2021-22 season which is also when a modified no-trade clause (NTC) and no-movement clause (NMC) kicks into action. The modified NTC allows Pastrnak to list a 10-team no-trade list, giving Sweeney a slightly tougher job if the Bruins decide to trade the winger.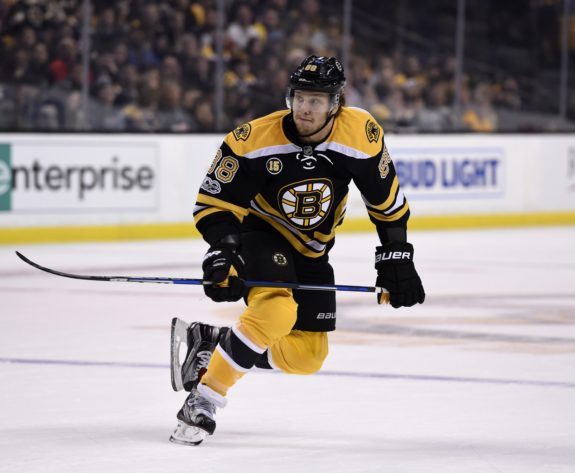 The 22-year-old will go on to make $6.4 million ($4.4 million in base salary, $2 million in signing bonuses) during the 2022-23 season – the last year of the contract – with the modified NTC still attached. He will then become an unrestricted free agent (UFA) which will up the ante if the Bruins plan on keeping him around longer. If they do, it will come at a high price.
The NHL's salary cap seems to be ever-rising – it did, in fact, rise by a margin of $4.5 million this offseason. With that in mind, re-signing Pastrnak in 2023 becomes an easier pill for Boston to swallow. However, the winger, who seems to be on the cusp of stardom, will be 27 years old by then – a prime age for a player to rake in a solid payday. He will likely net an expensive contract of epic length, but if he continues to play the way he has (or better), Pastrnak will be well worth the price.