Team Canada has historically been a dominant force in the annual under-18 Ivan Hlinka Memorial Tournament. The event has been transformed into the Hlinka Gretzky Cup beginning this year as part of a partnership that will bring the tournament to Canadian ice in 2018, 2020 and 2022.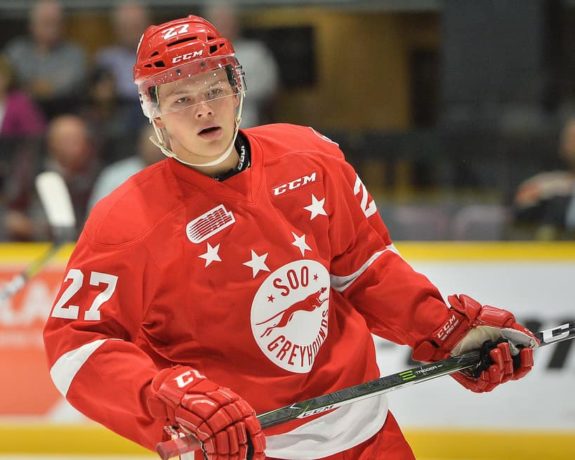 Following a five-day camp in Calgary, Hockey Canada has announced the roster of 22 players that will attempt to start the Canadian leg of the new arrangement on the right foot and extend Canada's string of nine titles in the past 10 events.
The Canadian Roster
Canada's roster for the tournament features 22 players: two goaltenders, seven defenders and 13 forwards.
Goaltenders Taylor Gauthier (Prince George, WHL) and Nolan Maier (Saskatoon, WHL)
Defensemen Justin Barron (Halifax, QMJHL), Bowen Byram (Vancouver, WHL), Maxence Guenette (Val-d'Or, QMJHL), Kaedan Korczak (Kelowna, WHL), Matthew Robertson (Edmonton, WHL), Braden Schneider (Brandon, WHL) and Michael Vukojevic (Kitchener, OHL)
Forwards Graeme Clarke (Ottawa, OHL), Dylan Cozens (Lethbridge, WHL), Kirby Dach (Saskatoon, WHL), Dylan Holloway (Okotoks, AJHL), Peyton Krebs (Kootenay, WHL), Alexis Lafreniere (Rimouski, QMJHL), Sasha Mutala (Tri-City, WHL), Xavier Parent (Halifax, QMJHL), Jakob Pelletier (Moncton, QMJHL), Samuel Poulin (Sherbrooke, QMJHL), Jamieson Rees (Sarnia, OHL), Ryan Suzuki (Barrie, OHL), and Josh Williams (Medicine Hat, WHL)
All but four players are first-year eligibles for the 2019 NHL Draft. The remaining four – Barron, Schneider, Holloway and Lafreniere – are eligible for the 2020 NHL Draft.
A West-Heavy Bunch
The 2018 NHL Draft class was, at its core, fairly light on high end Western Hockey League players. Only two WHLers went in the first round – the western flavour swells to three players if you include Jacob Bernard-Docker of the AJHL's Okotoks Oilers. But drafting and development is cyclical, and the 2019 class is much heavier in western content.
Of the 22 players on Canada's Hlinka Gretzky Cup roster, 11 of them are from WHL clubs (plus one from the AJHL). But that western bent is representative of a tilt towards WHL players at the high end of the 2019 draft class – our friends at Future Considerations have five WHLers in their preliminary top 10 rankings and seven in their preliminary top 31.
Banking on Familiarity
Looking at the composition of the Canadian roster, it appears that head coach Andre Tourigny and the management group is betting on familiarity as a key to success in a rapid-fire event. 20 of the 22 players on the roster previously played together as part of Hockey Canada's three World U-17 Hockey Challenge teams at last year's event – eight of them combined to capture a silver medal with Canada Red.
I'll be paying close attention to the #HlinkaGretzkyCup because I haven't seen Alexis Lafrenière live yet and he's a special talent.

However, I'm shocked they left off Alex Newhook, considered one of the best prospects of the 2019 NHL Draft. https://t.co/l2ElTy6BOc

— Brennan Klak (@nhlupdate) August 1, 2018
Between this approach and the highly-competitive nature of a short camp strong player swere bound to be left off the roster. The most notable players not included were Sudbury Wolves forward Blake Murray and Victoria Grizzlies (BCHL) forward Alex Newhook. Newhook was strong in scrimmages, but was likely the victim of a bit of a numbers game due to the number of forwards at the selection camp with comparable skill-sets.
With or without Newhook, Canada will be fielding a strong team for the Canadian debut of the Hlinka Gretzky Cup tournament.
Ryan Pike has covered the Calgary Flames and the NHL Draft extensively since 2010 as a Senior Writer for The Hockey Writers and Senior Contributing Editor of FlamesNation.ca. A member of the Professional Hockey Writers Association, he lives in Calgary.