It's no secret that the Edmonton Oilers' blue line desperately needs to be upgraded.
After reaching the Stanley Cup Playoffs during their 2016-17 season owing to strong team play and a sound defensive approach, the Oilers plummeted back to Earth in their most recent campaign. Mired by inconsistent goaltending and dreadful defending, Edmonton allowed a whopping 262 goals against — a total good for the fifth-most in the NHL and a jaw-dropping 3.2 against per game.
Yes, the Oilers boast a wealth of flair offensively. However, it goes without saying that the franchise will not stand as a true contender until it can add greater depth and competence to its fragile blue line.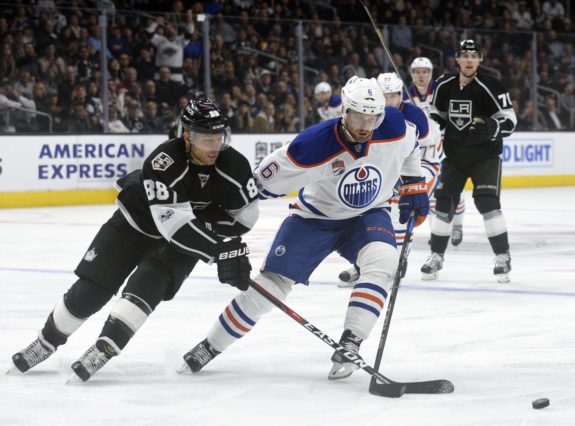 Fortunately, the floundering organization appears to have added a major piece to it's complicated puzzle.
At the 2018 NHL Entry Draft in Dallas, Texas, Edmonton nabbed Evan Bouchard with the 10th overall selection in the event — an addition which immediately injected poise, skill, and dynamism to the Oilers' roster. Although he is just 18-years-old, Bouchard's tremendous two-way game and maturity could very well transform Edmonton's blue line as we've come to know it.
Refining the Oilers' Mould
Edmonton's blue line currently features two distinct types of defensemen — those that boast size and strength but little mobility, and those of average size who skate well and can contribute offensively but lack the ability to defend consistently.
Now, while you could certainly argue that Oscar Klefbom and Darnell Nurse are a combination of these two forms, neither have displayed the ability to dominate the game at both ends of the ice with regularity — yet.
Enter Bouchard.
Standing 6-foot-2 and 195-pounds, Bouchard already boasts impressive size despite his young age and can attack and defend at both ends of the ice.
What is the most impressive regarding his size, however, is Bouchard's understanding of how to use his bulk to his own personal advantage. Although he won't seek out and deliver punishing body checks, Bouchard utilizes his frame in order to protect the puck in all three zones of the ice. Within his defensive end, Bouchard can shield the puck with ease before skating it out of trouble, while in the offensive zone the youngster can walk the line while ensuring possession for his team.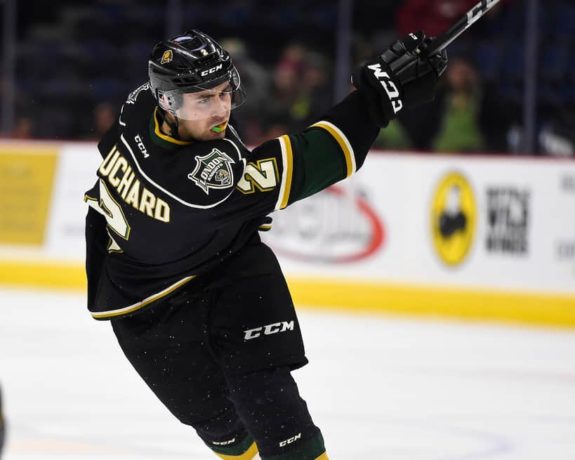 Yet, what truly separates Bouchard from his counterparts is his ability to combine size, innate defensive abilities, and natural offensive talents into a well-rounded and consistent game — a facet which the Oilers desperately desire on their blue line. In fact, in his most recent season of play with the London Knights of the OHL, Bouchard netted 25 goals and a whopping 87 points in just 67 regular season contests.
What's more is that the native of Oakville, Ontario also logged a promising +23 plus/minus rating in the process.
How was Bouchard able to achieve such success, you ask? Well, in addition to his talents detailed above, Bouchard achieved said success owing to his massive shot total — 297 in 67 games, to be exact.
He (Bouchard) thinks the game so well. He passes it like a pro. He's got a bomb of a shot — he can really fire the biscuit. – Sam Cosentino, Sportsnet
In blasting well over four shots on goal per game, Bouchard helped to drive his team's offence by creating a wealth of rebounds which his teammates routinely gobbled up. However, these aren't simple floaters Bouchard is throwing at the goal — the youngster owns a cannon of a shot which boasts the ability to handcuff opposing netminders with startling regularity.
Laying a Foundation for Success
With defence the primary focus of general manager Peter Chiarelli — and understandably so — the acquisition of Bouchard will surely prove to be a major turning point in the Oilers' recent history and their immediate future.
Boasting size, skill, and the ability to defend with relative ease, Bouchard's eventual presence at the NHL-level will be both significant and wide-ranging. Sure to become a fixture on the Oilers' power play, Bouchard's booming shot and puck-moving prowess will quarterback an Edmonton man-advantage long lacking thump from the blue line. What's more is that Bouchard will likely become a fixture on the penalty kill as well, allowing him to impact the game at both ends of the ice.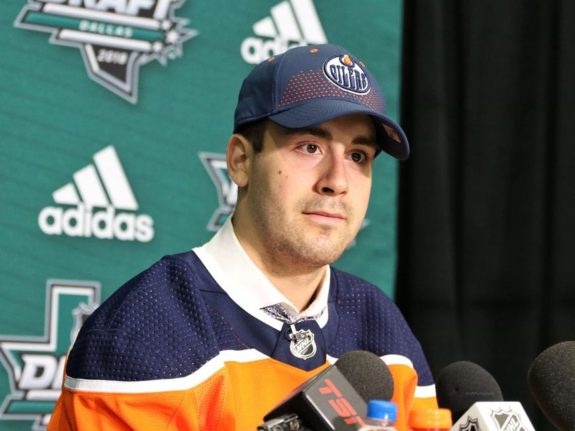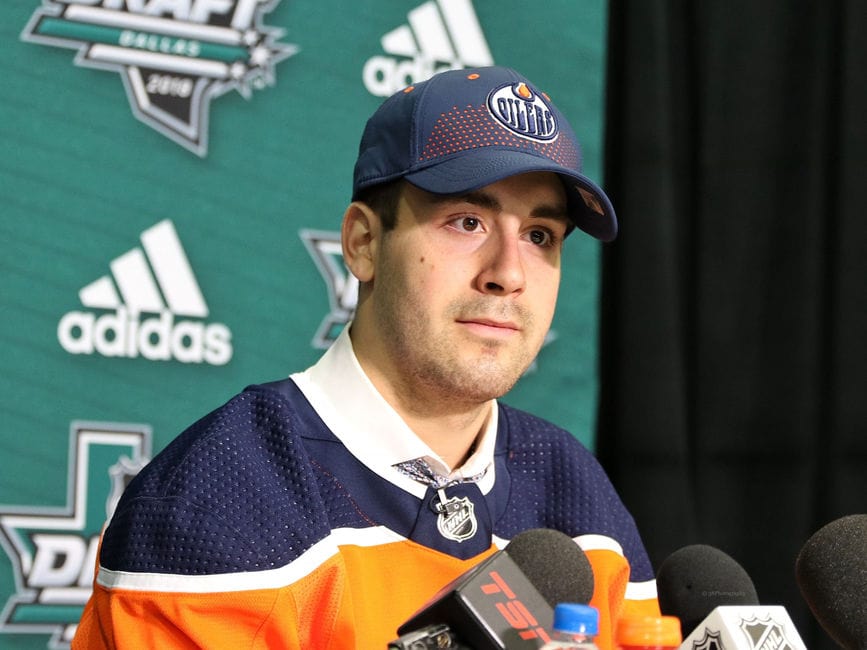 In the long-term, Bouchard could progress into a defenceman similar to John Carlson of the Washington Capitals. Like Carlson, Bouchard could come to influence the outcome of any given game at both ends of ice owing to his size, skill, and intelligence. If able to play an immense role for the Oilers much like Carlson does in Washington, Edmonton will have found their long-lost elite defenceman in the middle of the first round of the 2018 NHL Draft.
Yes, Bouchard has a mountain of development ahead of himself. However, given his seemingly endless skill set, maturity, and ability to process the game, it goes without saying that Bouchard will skate at the NHL-level sooner rather than later.