It's official; the Edmonton Oilers selected Evan Bouchard 10th overall in the 2018 NHL Draft. It's a helluva pick that came with a surprising scenario that gave them more choices at that spot than most thought they would have. Walking into the draft most mock drafts essentially had Peter Chiarelli and the brain trust picking whoever was left on the board depending on how it shook out ahead of them.
Nobody would've predicted that the Oilers would've had Evan Bouchard, Noah Dobson, Oliver Wahlstrom, and Ty Smith left on the board. That happened because of two things; 1) the Arizona Coyotes taking Barrett Hayton in the five spot, and 2) the New York Rangers taking Vitali Kravtsov ninth overall.
This was the eighth time in the past 12 drafts that Edmonton was picking within the top 10. It's not a spot the club wants to be in again when the draft comes to Vancouver in 2019. To Bouchard's credit, the 6-foot-2 defender posted an impressive 87 points in 67 games with the OHL's London Knights.
Related: Evan Bouchard – 2018 NHL Draft Prospect Profile
When the Knights decided to retool on the fly midway through the year, Bouchard picked up the slack and put up results from the backend. This is a pick that bodes well for the Oilers when you get over the fact they left Noah Dobson, Oliver Wahlstrom, and Ty Smith on the board.
Bouchard, 18, has the abilities to fill the organization's long-term need for a right-shot, puck-moving defenseman that can quarterback the power play. There was a lot of talk about Edmonton trading the pick, but you can't go wrong taking the highest-scoring defenseman from the OHL, can you?
Oilers Hoping History Doesn't Repeat Itself
The Oilers will look to buck the trend of history with their 10th selection. Going back through time, the defensemen taken with that pick haven't amounted to much. Some like Garth Butcher and J.J. Daigneault became reliable No. 4 rearguards. Of those players taken in the 10 spot, only Jonas Brodin has gone on to develop into a top-three NHL defenseman.
Related: 2018 NHL Draft Pick Tracker
Daigneault (899), Butcher (897), and Drake Berehowsky (549) are the only defensemen to have ever played more than 500 NHL games after being drafted in that spot. Brodin (404) is the best player to be taken in that slot since 2000 and might end up being the best of all them. When looking at the list, it's not a very inspiring one, and there's a ton of busts.
DEFENSEMEN TAKEN 10TH OVERALL IN NHL DRAFT

Year
Team
Player
Retired
Amateur Team
GP
PTS

1984

Vancouver

J.J. Daigneault

2001

Longueuil (QMJHL)

899

250

1981

Vancouver

Garth Butcher

1995

Regina (WHL)

897

206

1990

Toronto

Drake Berehowsky

2004

Kingston (OHL)

549

149

1987

NY Rangers

Jay More

1999

New Westminster (WCHL)

406

72

2011

Minnesota

Jonas Brodin

2018

Farjestad (SWE)

404

100

1997

Vancouver

Brad Ference

2007

Spokane (WHL)

250

34

1999

NY Islanders

Branislav Mezei

2008

Belleville (OHL)

240

24

2007

Florida

Keaton Ellerby

2015

Kamloops (WHL)

212

27

1996

New Jersey

Lance Ward

2004

Red Deer (WHL)

209

16

1968

Toronto

Brad Selwood

1980

Niagara  Falls (OHL)

162

47

1994

Washington

Nolan Baumgartner

2010

Kamloops (WHL)

143

47

2004

Atlanta

Boris Valabik

2010

Kitchener (OHL)

80

7

2012

Tampa Bay

Slater Koekkoek

2018

Peterborough (OHL)

76

13

2010

NY Rangers

Dylan McIlrath

2017

Moose Jaw (WHL)

43

5

2005

Vancouver

Luc Bourdon

2008

Val d'Or (QMJHL)

36

2
Dylan McIlrath (2010), Keaton Ellerby (2015), and Boris Valabik (2004) highlight a list of highly-touted prospects that never panned out in that 10 spot. Valabik and McIlrath are the only two that played fewer than 100 games. The exception to that is Slater Koekkoek (2012, 76 games), and Luc Bourdon who passed away in 2008.
Related: Edmonton Oilers 2018 NHL Draft Guide
Will history repeat itself or will the Oilers buck the trend with this selection? History dictates that you're not likely to get a top-pairing blueliner in that spot. What you're hoping to find in that spot is a No. 3 or 4 defensemen. Most of the players, however, have fallen into No. 5-6 territory. For the Oilers' sake, this better not be the case. To his credit, Bouchard is the highest-scoring defenseman to be taken since 2005.
What Are They Saying About Bouchard?
Larry Fisher (The Hockey Writers):
If the Oilers took (Ty) Smith over Bouchard, the Islanders would stop Bouchard's fall with one of their two consecutive picks. That would be an easy decision for Lou Lamoriello. Bouchard is closer to Calvin de Haan than Alex Pietrangelo, in my opinion, but that's still a nice player and a player that the Islanders will need to replace assuming de Haan leaves as a free agent this summer.
Andrew Forbes (The Hockey Writers):
If Bouchard can iron out the few flaws in his game, there's almost no question that he will land within a team's top four down the road. While he likely won't crack an NHL lineup next season, it won't be long before he does find himself in the big leagues.
Curtis Joe (Elite Prospects):
A highly intelligent all-around defenceman that plays with poise and can shift the pace of play in a multitude of ways. Showcases smooth four-way skating ability and loves to get involved in all situations – especially when that situation happens to be an up-ice rush. Has a polished offensive skill-set which includes well-timed passes and a sneaky, erratic shot.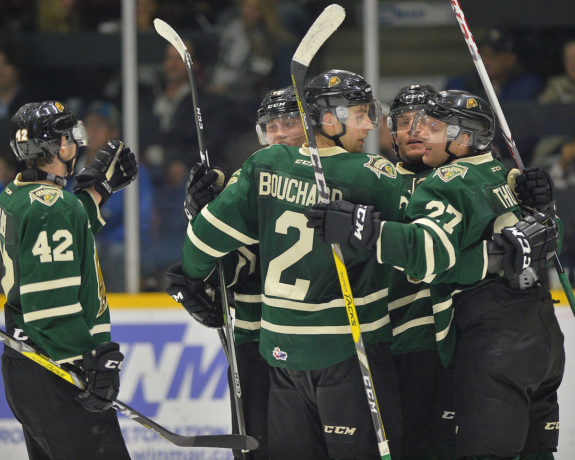 Steve Kournianos (The Draft Analyst):
Offensively, Bouchard delivers a consistent effort with his puck management and playmaking, though the prevailing knock on him appears to be average straight-line speed. The good news is that Bouchard is nimble for his size, plus he has excellent timing and awareness to eventually outmaneuver pressure and join the attack deep into enemy territory.
Sean Patrick Ryan (The Oil Knight):
One of the safest picks of the group Bouchard doesn't appear to have a lot of upside. Very mature for his age he is a solid dman who plays a steady game. Adept at getting his shot thru from the point on the PP. Smooth skater, excellent passer great vision. Struggles trying to do too much sometimes can be a liability at times defensively.
Dominic Tiano (OHL Writers):
He uses that mobility, and his high hockey smarts, to be effective and dangerous jumping up into the play. He can clear his zone with an excellent first pass. If you're not on top of him quickly and give him any amount of ice, he can skate the puck up ice quickly and efficiently. He can quarterback a power play and is an excellent passer – something that gets overlooked at times.
Will Bouchard Make the Oilers Next Season?
Edmonton has a clear need on defense, especially on the right side. The club is banking on bounce-back years from Oscar Klefbom (missed 16 games), Andrej Sekera (missed 46 games), and Adam Larsson (missed 19 games). Darnell Nurse was their top-scoring and healthiest rearguard, with 26 points in 82 games.
This club needs more scoring from the backend, especially the right side. With Larsson and Kris Russell not being prolific scorers, they're left to rely on Matt Benning to fill that role. Benning, 24, just signed a two-year extension with the club, but they'd be remiss to think they can come back with the same defense, even if healthy, and expect the group to succeed.
Projecting Edmonton Oilers Defense for 2018-19

Left Defense

Right Defense

Oscar Klefbom

Adam Larsson

Darnell Nurse

Kris Russell

Andrej Sekera

Matt Benning

Evan Bouchard
That is where Bouchard's opening on the present roster sits. The Oilers needs an NHL-ready option to help their right side, and they came up empty in deals on the draft floor to address that need. Thus, Bouchard is the addition. Let that sink in; so far, the heavy lifting is being placed on an improved defense from within, and an 18-year-old to help the power play.
Is Bouchard NHL ready? He believes he is. His skating and decision-making at the next level will need work, but they're not as significant detriments as some would suggest. Bouchard can develop into a No. 3 offensive defenseman at the NHL level.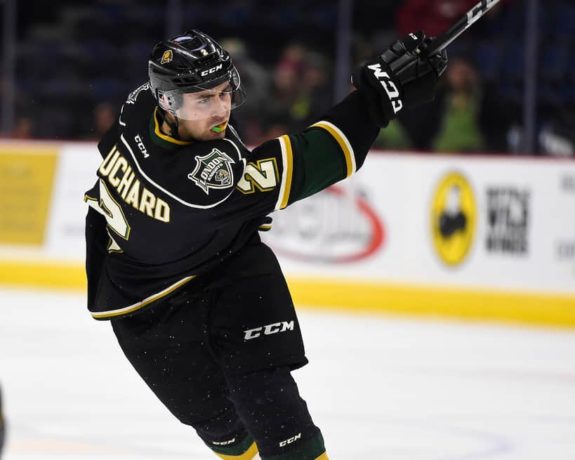 He's on the outside looking in, but if this is the blue line with which Edmonton goes into 2018-19, Bouchard can challenge for an NHL job next year. Where do the Oilers go from here? Trade the 2019 first-round pick to address the immediate need.
If the goal is to make the playoffs in 2018-19, that pick should hopefully fall between 15-31 in the draft order next June. Going hard after a Colton Parayko-type would be wise for the Oilers, who can then push Bouchard back to junior for another year.
Do you agree or disagree with this pick? What are your thoughts? Let us know in the comment section below.