If the right player is available, Edmonton Oilers general manager Peter Chiarelli is willing to deal the club's first-round selection in the 2018 NHL Draft. Chiarelli addressed the media ahead of the draft festivities in Dallas and admitted the club has had some discussions around trading the pick.
The ask in return is an NHL-caliber defenseman that can help this club when the puck drops in October. Chiarelli has already been quite active ahead of the draft by signing several young prospects, adding a backup goaltender (Mikko Koskinen), and buying out rearguard Eric Gryba who was banished to the AHL.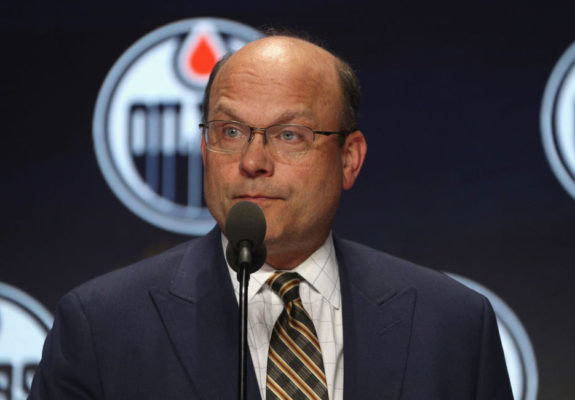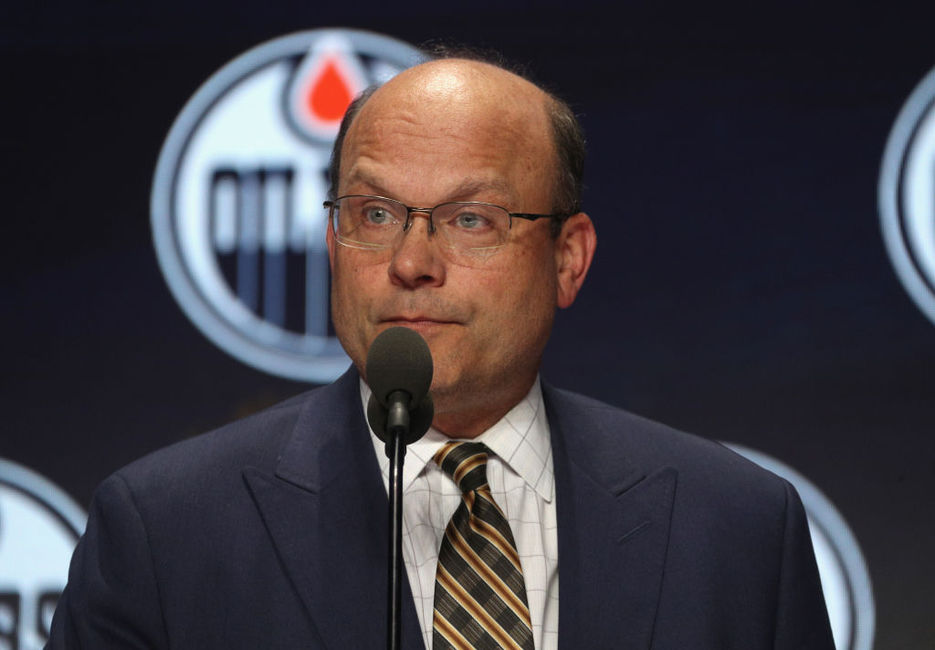 Edmonton has an organizational need for a right-shot, puck-moving defender. They're in a prime location in the draft order to pick one of Adam Boqvist, Evan Bouchard, Noah Dobson, Quinn Hughes, or Ty Smith to address that necessity. Boqvist, Bouchard, and Dobson all fit the requirements, and one of them will likely be available at tenth.
Related: 2018 NHL Draft – Edmonton Oilers Draft Guide
In his short media availability, Chiarelli did mention his strategy is to take the best player available when the Oilers get to the podium. In preparing a final mock draft leading into Edmonton's pick, one could assume Evan Bouchard could be the guy available at 10. We've also heard some talk about Ty Smith potentially being that guy, as he was in Larry Fisher's mock.
2018 THW MOCK DRAFT RESULTS

PICK
TEAM
PLAYER
CLUB
1
Buffalo Sabres
D Rasmus Dahlin
Frolunda HC (SHL)
2
Carolina Hurricanes
R Andrei Svechnikov
Barrie Colts (OHL)
3
Montreal Canadiens
C Jesperi Kotkaniemi
Assat (Liiga)
4
Ottawa Senators
L Filip Zadina
Halifax Mooseheads (QMJHL)
5
Arizona Coyotes
L Brady Tkachuk
Boston University (NCAA)
6
Detroit Red Wings
D Quinn Hughes
University of Michigan (NCAA)
7
Vancouver Canucks
D Noah Dobson
Acadie-Bathurst (QMJHL)
8
Chicago Blackhawks
D Adam Boqvist
Brynas (SHL)
9
New York Rangers
RW Oliver Wahlstrom
USNTDP (USHL)
10
Edmonton Oilers
D Evan Bouchard
London Knights (OHL)
Oilers Trading 10th Pick for Immediate Help?
Admittedly, Chiarelli said the whole lefty versus righty thing is more of a 'nice-to-have' than a 'must-have'. That keeps the door open for the club to go after a Hughes or a Smith. If the goal is to get better immediately, there's a handful of guys to be had. However, none of those guys can be acquired for pennies on the dollar.
Justin Faulk of the Carolina Hurricanes has been linked to the Oilers for the past two seasons it seems. Another name is a pipedream in St. Louis Blues defender and local product Colton Parayko who's buried on the depth chart behind Alex Pietrangelo. He's someone who could flourish in Edmonton but would be an expensive addition.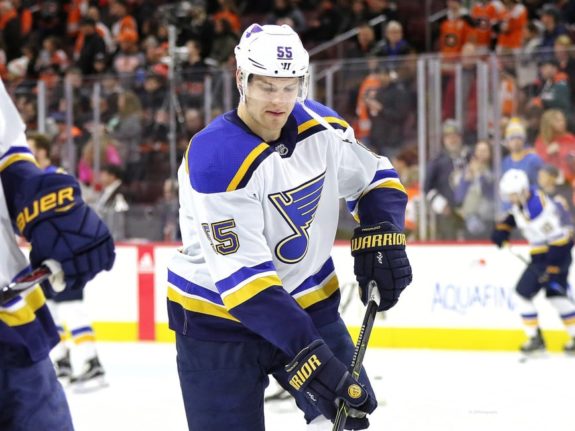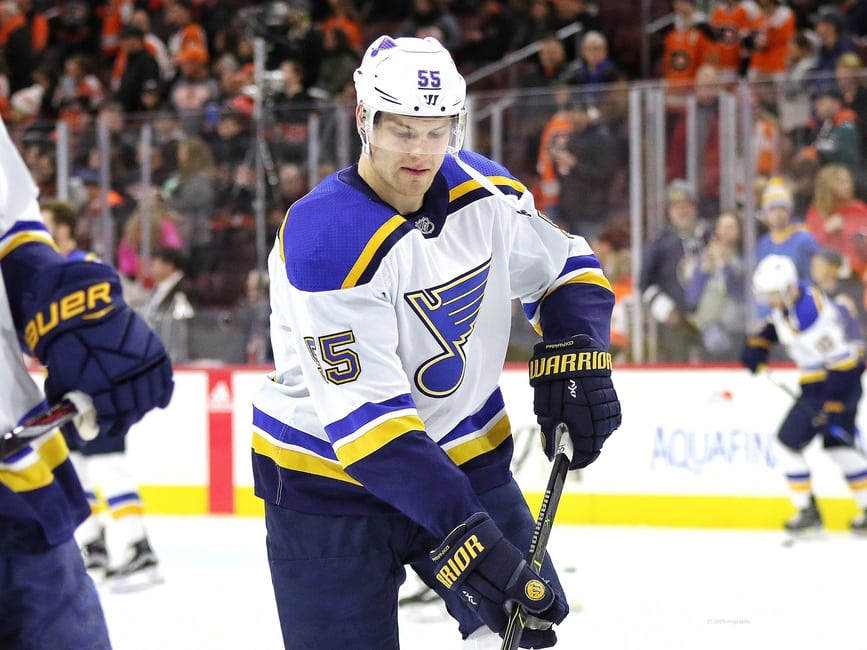 Philadelphia Flyers prospect Travis Sanheim looks ready for full-time NHL duties and was a rock for their AHL affiliate during the Calder Cup Playoffs. He's a former high draft pick that looks like trade bait as Philly looks to improve their roster by subtracting from an organizationally strong area.
Related: 5 NHL Defenseman Worth Trading the Oilers 1st Round Pick
There's plenty more (read above), but the last time Chiarelli traded a first-round pick (16th in 2015) it turned around to bite them in the butt. Ironically they were also using it to bring a more NHL-ready prospect into the fold. This is all likely just smoke and mirrors as Chiarelli settles into the reality that making the pick is the best choice at this point.
Projecting Edmonton Oilers Defense for 2018-19 (Before Draft)

Left Defense

Right Defense
Oscar Klefbom

Adam Larsson

Darnell Nurse

Kris Russell
Andrej Sekera

Matt Benning
You'd likely be subtracting the pick and another asset or two from the organization to fill a need. Do the Oilers have the necessary pieces to consummate a deal for that high caliber NHL rearguard? Probably not. The organization is low on depth despite having some intriguing names and having done well in the past three drafts.
Related: Best Defensemen Available at 10th 
Kailer Yamamoto, Tyler Benson, Ostap Safin, and Kirill Maksimov look like excellent prospects that could fill various roles amongst Edmonton's top nine forward ranks. Even removing one or two of those in trades this off-season would be like robbing Peter to pay Paul.
Should Chiarelli Keep Oilers Pick or Trade It?
Trading the pick might mean having to package a Jesse Puljujarvi, and if the justification for that type of trade is "it's the cost of doing business", the Oilers might as well walk away. Looking across the league the teams that are now challenging, or looking like contenders, all have built from within.
Drafting and developing is critical, and it's becoming more and more crucial in an NHL with a salary cap system. Not only do you need young talent producing on cheap contracts, but you also need those guys to replace aging assets. Unless something comes in on the phone that Chiarelli absolutely cannot refuse, he should keep quiet and make the pick.
A Boqvist, Bouchard, or Dobson might not make an impact as an 18-year-old, but in a year or two could develop into that elusive power play quarterback the team has been without. If the Oilers are hoping to improve by adding an established NHL defenseman, maybe they should look into trading their 2019 first-rounder instead of the 10th this year.
They'd still get a young D-man that helps the club in a year or two on a cheap entry-level contract (ELC), and they'd get a rearguard that helps them now. Hypothetically the club should be better in 2018-19. Thus the pick would be much later than the 10th overall selection this year.
Build a package around the 2019 piece, not the 2018 piece. It's far too valuable to squander in a trade where Chiarelli would be dealing out of desperation and where other GM's can smell he's trying to salvage his job.
Other Takeaways from Chiarelli Media Availability
You can pretty much kibosh any talk of the club trading Milan Lucic this summer. Chiarelli said he expects the embattled power forward to be back in Edmonton next year and perform better. Having Lucic come back and score one goal in 43 games next season is highly unlikely.
Related: Milan Lucic Trade is Unlikely for Oilers
Whether Lucic asked for a trade, or if the club was quietly shopping him, it seems like those rumors were nullified. Admittedly Chiarelli said he's prepared to move the 10th pick for a quality defender, he's had some discussion, but it's not an easy deal. Reading between the lines, maybe he's realized how expensive that acquisition might be (as recited above).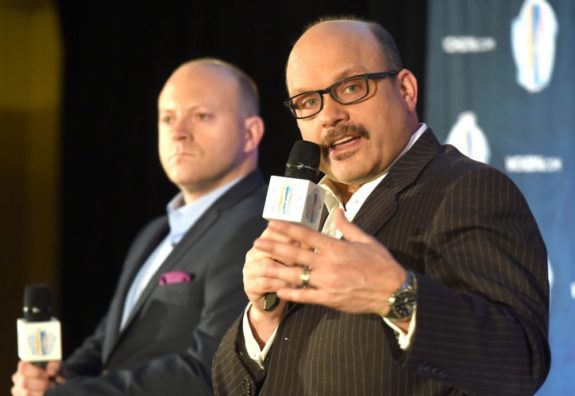 Not being closed in on a right shot blueliner might bother a few fans who feel that's a definitive need. Whether you like it or not, there's a probability all those mock drafts and rumored talk about the Oilers taking Smith might prove true. Bouchard being available at No. 10 still makes sense.
Best player available also means Chiarelli and the scouting staff haven't closed the door on Oliver Wahlstrom. He's a talented goal scorer, and some believe he could become a 40 or 50-goal scorer. He shoots, shoots, and shoots some more. Wahlstrom might be the perfect winger for Connor McDavid. We'll see what happens.
Forecasting Oilers Free Agency Targets
In the end, the Oilers will likely have a 'less is more' off-season. Chiarelli will once again put the onus on the players to perform better. If anything it's probably after the draft that he turns his attention to adding one or two veteran scoring wingers. Edmonton has $11.2 million in cap space.
They've still got to re-sign restricted free agents (RFA's) Darnell Nurse, Ryan Strome, and qualify Anton Slepyshev's rights (signed in the KHL). Iiro Pakarinen is in the same boat as Slepyshev, but he's likely not to receive a qualifying offer.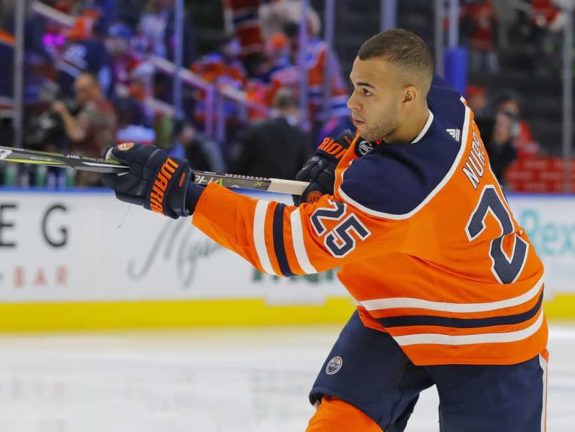 Strome needs to be qualified at $3 million, and Nurse on a short-term bridge deal could be around the same dollar figure. So that leaves around $5.2 million or so for Chiarelli to go bargain shopping this summer. So the options the Oilers have are limited in free agency.
Related: Predictions for NHL Draft Weekend
Could we see a David Perron return within the top six? Thomas Vanek might make sense as a top-six left wing option. Vanek had the fifth most goals (24) amongst unrestricted free agents (UFA's) this summer. Rick Nash has been a mixed bag over the past few seasons, but on a short-term deal the 34-year-old could work out in Edmonton.
This is a pivotal off-season for Chiarelli. A year ago he was a finalist for GM of the Year, and this season people were calling for his head and clamoring for him to be fired. If this goes off the rails again, no Bob Nicholson endorsement or vote of confidence will satisfy the fan base. They'll want a new GM.