When you are a team like the Vegas Golden Knights who just put up so much unexpected success, your instinct tells you to keep everything the same. If even one part of the formula changes, it could spell disaster. That is why so many Golden Knights fans are afraid of breaking up the band.
Unfortunately, complacency in the NHL spells doom for any team. There are so few chances to win the Stanley Cup that if you see your chance, you have to go all out. Vegas needs to improve its team, and to have the cap space for that, either James Neal or David Perron has to go.
Why Neal or Perron Must Go
As we near free agency, the Golden Knights are in a great spot. The team just came off a Stanley Cup Final appearance in its debut season and still has a massive amount of cap space to work on filling the holes exposed by the Washington Capitals. Their most important free agents like William Karlsson and Shea Theodore are restricted free agents, which keeps them under team control.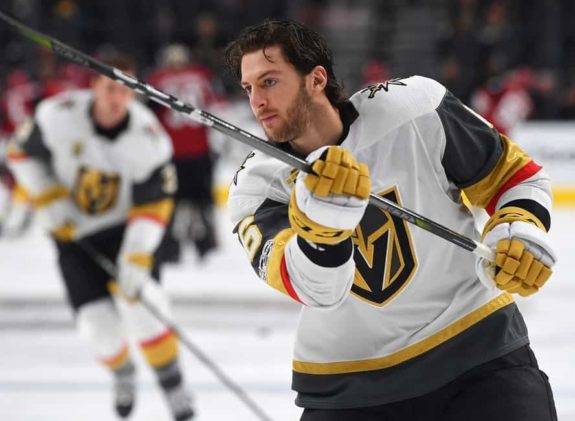 Despite all that, they cannot bring everyone back. Vegas general manager George McPhee is ready to make some huge moves in the coming weeks to keep his team on top of the league. Already the Golden Knights have been tied to Erik Karlsson and John Carlson to bolster their defense, and no doubt McPhee would love to keep some money open for a pitch to John Tavares should he leave the New York Islanders.
With all of these goals to achieve, Vegas just can't afford to tie upwards of $10 million in cap space for middling wingers. If McPhee truly wants to take a big swing at this season's upcoming free agents, he is going to have to decide which one of his alternate captains he is letting go.
The Case for David Perron
Perron is an interesting case. After being drafted by the St. Louis Blues in 2007, he spent parts of six seasons with the team, becoming a semi-reliable second-line winger good for about 45 points per season. Then the Blues traded him to the Oilers, who traded him to the Penguins, who traded him to the Ducks before he wound up back in St. Louis as a free-agent signing. Then St. Louis left him exposed in the expansion draft.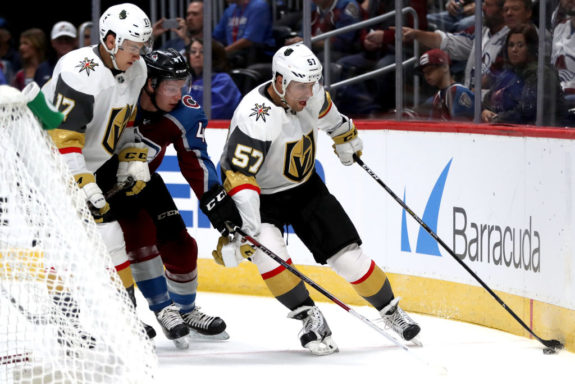 Clearly, Perron was never seen as irreplaceable. By the time he got to Vegas, he was exactly what this team was made out of: a pretty good, irked player who never got the opportunity to be the cornerstone of his team. In Vegas, he flourished, putting up a career-high 66 points in 70 games. He was third on the team in points and was a big factor on the power play, clocking in more power-play ice time on average than any other forward. Perron also threw the most hits on the team by a forward.
Related – NHL Rumors: Neal, Perron, Carlson, More
He has also not shown that he is slowing down his production like Neal has the past few seasons. They are the same age, but Perron has yet to hit that wall that usually comes once a player hits 30.
The Case for James Neal
Neal has been in the NHL since 2008 when he started his career off with the Dallas Stars. He was later traded to the Pittsburgh Penguins, where he saw his greatest success, and then was traded again to the Nashville Predators in 2014. Nashville got to the Final in 2017 and then left him exposed, meaning he has spent the last two seasons on the verge of a Stanley Cup.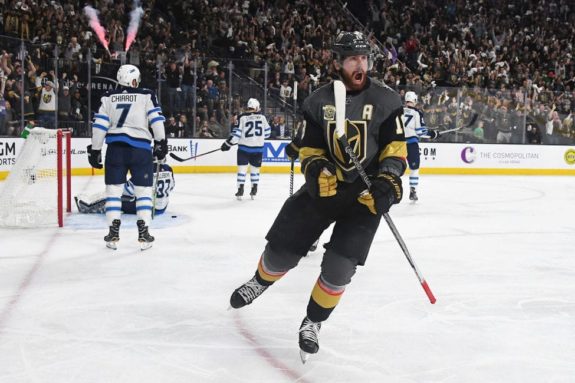 During his career, Neal has been a symbol of goal-scoring consistency. There has not been a season in his career where Neal has scored fewer than 20 goals. His typical season involves scoring about 25 goals and adding 20 assists. He has managed to hit the 30-goal mark twice, the last time being as recently as two seasons ago. In a world of uncertainties for Vegas next season, Neal scoring 20 goals is one of the only guarantees.
Related: The 'Real Deal' James Neal
A fan favorite and a definite leader to the team, Neal provides more than just goal scoring. He has proven playoff experience having made the playoffs for the past eight seasons in a row. Neal also has better possession numbers than Perron and could possibly cost less given Perron's significant production this past season.
Decision Time: Perron or Neal?
An even bigger question that shapes this discussion: what is Perron worth? He has never shown this amount of ability before (a statement I know carries little weight when talking about this Vegas team) and has never gotten the chance to secure a big contract.
Perron is surely looking to cash in on his great year, and reasonably so. However, that big contract may be too much for the Golden Knights to handle. They can't risk Perron taking up too much of their cap space or being on the books for too long if they want to make big moves. Not to mention Perron tends to be injury-prone and struggles in the playoffs, both of which were problems this season with the Golden Knights.
Neal did not put up the number of points that Perron managed last season, but it is clear that he is the better option for the team moving forward. While Perron's production will be a gamble next year, Neal's is almost set in stone. Since Perron will likely demand a longer contract, the sure thing in Neal is an easy choice.
Related: Vegas Golden Knights 2018 Draft Guide
There is no doubt McPhee is trying to fit both on the roster next season. If both players want to take discounts to stay on a team that has demonstrated their ability, Vegas would welcome them back with open arms. Most likely though, they want the contract they earned. They were both great players and great leaders to the team, but as the Golden Knights look towards next season they know one of the two will not fit into their future plans.
It's even possible neither player is back on the roster next season. However, if McPhee wants to keep one on board it is James Neal, due to his consistency and likely lower asking price, that he should focus on bringing back.
Mike was born and raised a big hockey fan. He is a recent Sports Management graduate from the University of Massachusetts at Amherst, and is now a writer for the Vegas Golden Knights. More of his work can be found at https://michaelmanleyahs.wixsite.com/mysite/work-samples.