Life is pretty great for Vegas Golden Knights forward James Neal. He's coming off a 25-goal season, two more than last year. He is the de facto leader of the Golden Knights forwards, bringing considerable postseason experience.
What is lacking in Neal's resume, however, is a Stanley Cup ring. This is his second consecutive Stanley Cup Final appearance. Last year, he was an integral part of the Nashville Predators' Cup run, racking up six goals and three assists. Despite his contributions, the Predators ran into a red-hot Sidney Crosby and the Pittsburgh Penguins, falling to them in six games.
What came after last season's playoffs was a complete transition in James's life. Just like rolling the dice in a craps game, the Knights would hedge their bets on Neal, signing the 30-year-old forward in the expansion draft.
"Honestly, I was more ready for what happened than in the past when it was just a phone call, 'You're traded'," Neal said. "This wasn't as bad."
Battling Adversity To Get To The NHL
The Knights forward knows about being overlooked and beating the odds. Born in Whitby, Ontario, a blue-collar steel town, hockey was seen as not just a pastime but a one-way ticket to success. At an early age, his parents made their driveway into a skating rink so that he could practice his hockey skills. He eventually became a star player for the Whitby Wildcats of the Ontario Minor Hockey Association.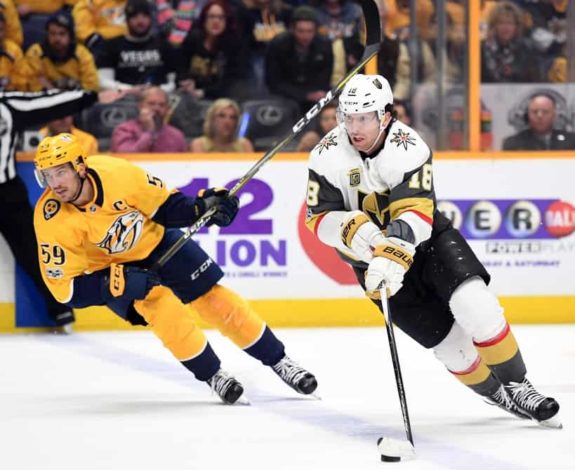 Neal's Achilles' heel was his height. At five-foot-nine in his draft year, he was overlooked by many teams in the OHL Priority Draft. It was the Plymouth Whalers who saw potential in the young forward and selected him with the 80th pick. While being tremendously undervalued in his age group, Neal proved the doubters wrong with his level of competitiveness. In his first season in Plymouth, he tallied 44 points in 67 games, ranked eighth among rookies.
In his final season with the club, James led the Whalers to their first OHL Championship in franchise history, highlighted by his overtime, Cup-clinching goal. In those playoffs, Neal led the team with 13 goals and 25 points, demonstrating that he was becoming a pure goal scorer that NHL teams would value.
James Neal – Jumping Around the NHL
The Knights are the fourth team that Neal has played for and he has made an immediate impact on every team he's been on. With his first NHL team, the Dallas Stars, he scored 24 goals (a Stars rookie record) was nominated for the Calder Trophy. Despite scoring 27 goals in his sophomore season, the young star was traded to the Pittsburgh Penguins.
At first, James was brought in to provide offensive support for a team that was missing Sidney Crosby and Evgeni Malkin due to injury. But Neal became a scoring force. In the 2011-12 season, he racked up 40 goals and 81 points, earning himself a spot on the Hart Trophy ballot. When the Penguins sent Neal to the Nashville Predators, he had his doubts.
"I was leaving a hockey market to go into what at the time wasn't the biggest market," Neal states. "It was tough, but as you get older you realize you're not going to be with a team forever."
It can be tough jumping from team to team, but for the talented goal scorer, it presented an opportunity to be a significant role player for a team that needed depth. As a result, James Neal and the Predators went from a first-round exit in 2015 to a Stanley Cup Finalist in 2017. Despite having pins and needles in his broken hand for the last two rounds, he was still able to make an impact, creating scoring opportunities in the attacking zone.
"Unless you're dead, you're getting on the ice," says Neal.
Big Risk, Huge Reward
James knew the risk of going to an expansion team. While the initial excitement of joining a newly formed team is contagious, there is a process that players, coaches, management and fans must first undergo, a few painful years before sustained success. But Vegas is unique.
As Neal says: "I think when you think 'expansion team,' you think you're going to lose, you're going to get good draft picks. But for us, we're here to win. Every guy in our dressing room has something to prove, and we're playing that way."
The Knights have proved all the naysayers wrong. They smashed records for an expansion team in its inaugural season with a record-setting 109 points to lead the Pacific Division.
Pundits believed Vegas had reached their peak entering the postseason. But this expansion team defeated the odds.  With their up-tempo, speedy hockey, the Golden Knights moved through the playoffs by beating the Los Angeles Kings in 4 games, the San Jose Sharks in 6 and the Winnipeg Jets, to advance to the Stanley Cup Final.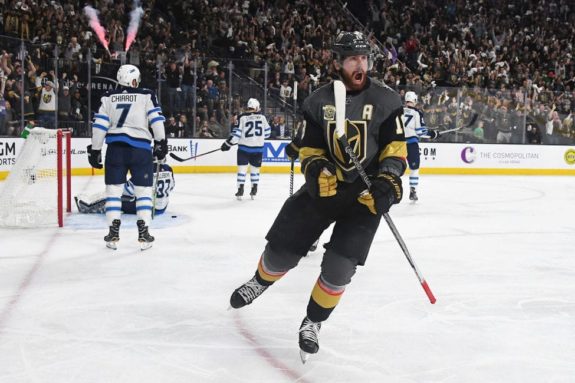 The Knights players have said they owe their success to Neal who has been an anchor for the team, both on and off the ice. "In the locker room he's a big voice," says Vegas goalie Marc-Andre Fleury, who has been to the Stanley Cup Final more than once. "He's been to the finals, so it's good to have someone else who can share that experience."
"He's been a mentor to me. He brought me aside today and told me what I could have done better on that shot but also that I have to move on," right winger Alex Tuch said. "Everyone knows how good a hockey player he is. I don't know if people knew he was that much of a leader. But this year he's been a huge leader for us, one of our (six alternate) captains, and it's been great."
As the Washington Capitals have noticed in the Stanley Cup Final, you cannot leave a player like James Neal untouched and with a shot on net. In Game 2, despite losing to the Caps 3-2, Neal got the scoring going, with a bar down shot that beat Braden Holtby.
Real Deal James Neal opens the scoring in Game 2! 🚨

Watch the #StanleyCup Final here → https://t.co/gNYh1Fpnml pic.twitter.com/xoOx06trQQ

— NHL on NBC Sports (@NHLonNBCSports) May 31, 2018
This caught the attention of Knights head coach Gerard Gallant: "When he scores goals like he that [in Game 2], he makes our job a lot easier as coaches. James has been outstanding for us. He definitely helps our room with the young players, for sure."
Now, the Golden Knights face their toughest challenge yet. Down 2-1 in the series after a disappointing Game 3 when they didn't have many scoring chances, the Knights aren't worried. Facing a defensive team like the Caps, which uses physicality and strong defense to prevent opposing teams from getting through the neutral zone, the Knights will have to rely on James to lead the forecheck and offensive pressure.
James Neal with the reverse hit on Orpik who was down for a bit pic.twitter.com/IvIyzxFdR3

— CJ Fogler 6'7" IQ 269 #BlackLivesMatter (@cjzero) June 3, 2018
"It's a special team and a special group of guys," Neal says. "I try to lead by example, do the right things on the ice. We've got a group that responds well."