Beginning June 1, NWHL teams can re-sign players from their 2017-18 roster and their draft picks. Additionally, for those players who have completed their college eligibility and want to continue their hockey careers, NWHL Free Agency provides the best opportunity to continue playing at the highest level of professional women's hockey. Players who were not drafted by an NWHL team, or who have previously played in a different league, in Europe or otherwise, are unrestricted free agents and may sign with any team that offers them a contract.
The fourth season of the NWHL will begin in October as the Metropolitan Riveters defend their Isobel Cup championship, and with the addition of a fifth team – the Minnesota Whitecaps – this will be the most competitive season yet.
My colleague Nathaniel Oliver will keep THW readers up-to-date on Buffalo and Boston's signings throughout the summer, while I post updates on Connecticut and the Rivs. Together we will be keeping readers informed of all of Minnesota's signings. 
Beauts Kick Off NWHL Free Agency
Beauts' Elia Signing Packs a Punch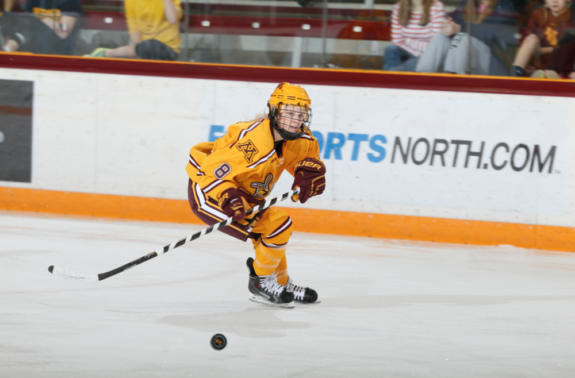 The Metropolitan Riveters kicked off the defense of their Isobel Cup championship by adding a gold medal-winning familiar face on June 4 when they came to terms with Amanda Kessel. In the second NWHL season, Kessel was with the then New York Riveters and was a difference maker in every game she played in. Last season the 26-year-old was not a part of the league as she pursued and contributed to Team USA's first gold medal at the Winter Olympics since 1998.
Wonder Woman
Kessel only played in eight NWHL regular season games and one playoff game in her first season as a pro, but she was a force to be reckoned with in putting up 19 points (4g-15a). She was also named as one of the two captains at the 2017 NWHL All-Star Game in Pittsburgh and didn't disappoint – taking home MVP honors and registering the first hat trick in league history at an All-Star Game.
Here's some humongous Big #NWHL news: Amanda Kessel (@AmandaKessel28) signs with the @Riveters 🤯 pic.twitter.com/uGXUBn0Fz1

— Dan Rice (@DRdiabloTHW) June 4, 2018
Kessel joined the Riveters after finishing a stellar career at the University of Minnesota that included three NCAA championships but one that was also interrupted by a concussion that she suffered at the 2014 Winter Olympics. Her 18 regular season points rank the former Golden Gopher ninth all-time in scoring in Riveters franchise history, and her 14 helpers are also good for ninth on the franchise's assist leaderboard. Kessel's 14 assists in one season ranks as the second most in a single Riveters season, only surpassed by Courtney Burke's 17 this past season.
GOLDen Gopher
Although Kessel only had one assist in five games at the recent Olympics, it was her shootout goal in the gold medal game against Canada that extended the game and also set the stage for Jocelyne Lamoureux-Davidson and Maddie Rooney to seal the deal for Team USA and become American legends. The re-addition of the former Golden Gopher on their roster gives the Riveters another offensive weapon to go along with the expected re-signings of core players like Alexa Gruschow, Rebecca Russo, and Madison Packer.
ima let u finish, but amanda kessel had one of the most clutch shootout goals OF ALL-TIME, one of the most clutch shootout goals of all-time ¯_(ツ)_/¯ pic.twitter.com/vd3oKh32wE

— ego (@notmalkinego) February 22, 2018
Kessel had mentioned on a New Jersey Devils telecast after the team had honored members of Team USA that she had hoped to re-sign with the Riveters – before her former squad had won the 2018 Isobel Cup – and now she gets to be a part of the team that will defend that title, and look to become the first back-to-back champions in league history.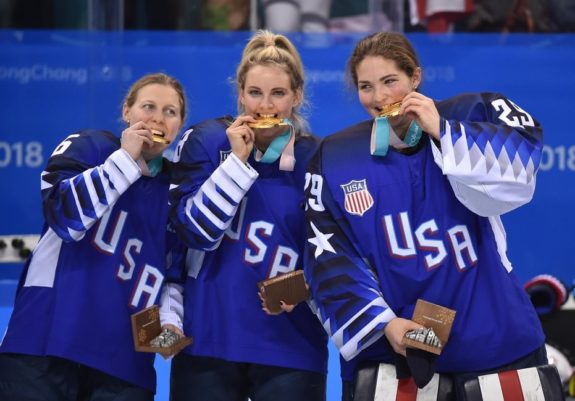 "I'm excited to announce my return to the NWHL and the Metropolitan Riveters, the defending Isobel Cup champions" the gold medalist said in a press release from the league. "We are coming off of one of the most exciting moments in US women's hockey with Team USA's Olympic gold medal victory and I want to keep this momentum going in the NWHL. I want the next generation of women's hockey players to see that a professional career in hockey is possible."
The press release mentioned that the league is planning a game in Pittsburgh for the third consecutive season. "The future for women's hockey and the NWHL is bright, and I'm looking forward to what is to come," added Kessel.