Sometimes in sports, a player winds up on a team and it seems like a perfect match. That appears to be the case for Rebecca Russo and the Metropolitan Riveters. Russo is one of the faces of the NWHL as it ends the third chapter and prepares to begin a fourth, and despite ties to Connecticut (home) and Boston (school) her game and personality have found a home as well as have been crucial in the success of the Riveters over her first two seasons.
The sky is the limit for the just-turned 24-year-old – on and off the ice. After a phenomenal season that culminated with a Riveters championship, Russo has been enjoying some well-deserved time off. But make no mistake about it, she doesn't have plans on relinquishing the Isobel Cup next season. As The Hockey Writers found out first hand in our exclusive chat with the two-time All-Star she has her sights set on helping the Rivs become the first team to win back-to-back NWHL championships.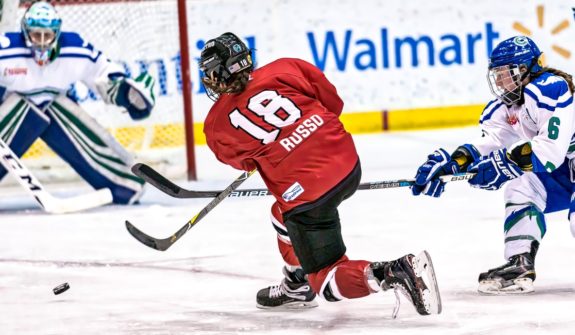 The Hockey Writers: One month ago today the Metropolitan Riveters won the Isobel Cup and became NWHL champions. Rebecca Russo is an Isobel Cup champion. First of all – how often have you thought about it, every day? 
Rebecca Russo: It has been a month since we won and it's pretty cool to look back on. Social media does a great job at continuing to post things about us winning which is amazing. I'm always reminded when I look at my (championship) hat sitting on my dresser. It's an amazing feeling and it still just being one month ago – it still feels surreal and I'm still kind of speechless about it. It's an exciting time of year and I'm looking forward to some events over the summer and bringing the Cup back to my hometown.
THW: Have you ever won a championship at any level before this?
RR: I did win a National Championship at Shattuck back in 2011. My freshman year at BU I was in the National Championship game but unfortunately lost. For me winning the Isobel Cup is the cherry on top. It's huge for women's hockey, not only for myself but my teammates and the league. We're just continuing to grow and three different teams won (in the NWHL's first three seasons) and it's pretty special with all of the talent across America. With all that being said I'm still excited that we won and I'm still a little speechless on it.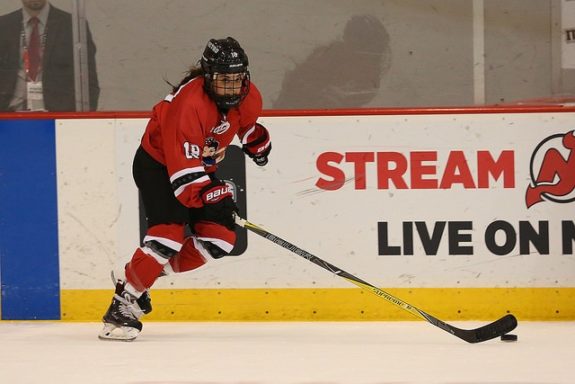 THW: A little less than two years ago you were at a free agent camp after finishing your career at Boston University attempting to earn a spot in the league. How did you corresponding with Chad Wiseman and eventually signing with the Riveters come about?
RR: The process was kind of short in a sense of – hey come to camp, I went to camp, showed my stuff, and next thing you know I'm getting a spot on the team. It was pretty unbelievable. When we won I hugged Chad and thanked him for taking a chance on me. I didn't get drafted so I had to go to camp and show who I was as a player, and as a person. It worked out really well for me. I look back at it like – damn, I came to camp two years ago at Barnabas Health Hockey House and my second year as a Riveter we won (in that building). It's amazing and I'm really happy with how it all worked out. I'm really proud of myself. I had a great four years at BU and now I'm a Riveter. Now I'm an Isobel Cup champ. Thank you to Chad Wiseman for picking me, for taking a chance and seeing something in me. I'm very grateful for the opportunity the last two years.
THW: You mentioned earlier you want to bring the Cup home to Westport, Connecticut. Have you thought about specifically what you wanna do with the Cup while you have it?
RR: Obviously I want to spend some time with my family and hopefully have a little gathering with my friends from back home. Including my trainer and the guys who I train with like Cam Atkinson and all of those buddies that I'm close with. Kevin Shattenkirk. I'd love to show them how hard I was working in the gym with Ben Prentiss, and them always supporting me at the 7 am workouts together. I wanna just share it with my trainer, my friends, and family, and hopefully, I can make it to my hometown rink that I skated at. I just want to show it off. Why not? I won. The Riveters won. Isobel being the daughter of Stanley is a pretty cool story, and when I tell people they are taken aback. It's really cool and I'm looking forward to it.
.@PrentissHockey! 💪🏻🏆#IsobelCupChampions #Riveters #NWHL pic.twitter.com/ykYkO49swg

— Rebecca Russo (@russooo18) March 27, 2018
THW: For you, what would be the ultimate or a dream invitation for you to be honored as a champion? (Tv, baseball game, hockey game, etc)
RR: I'm a New York Yankees fan so that would be cool to throw out the first pitch. Unfortunately, the New Jersey Devils are out of the playoffs, but I'd love to show it off there. I'd love to just show it off (anywhere), show it off to the community, to the hockey community. Just to bring awareness to who we are. You tell people about us and some know, some don't know. I think anywhere in the sports community, not just in hockey, anywhere just to show who we are and what this Cup is all about. What we go through each and every day to win this thing. 
Not many people have a full-time job 9-5 and go to practice, got to bed at midnight and then have to wake up the next morning (for work). Or travel eight hours on a bus to Buffalo and come back at five in the morning and then have to go to work. I just want to tell our story and I'm always into that. I'm a role model and I love being a role model to these young girls. My story by itself is amazing, as a little girl I was playing boys hockey and saying I'm going to be in the NHL. Guess what? I'm in the NWHL and I'm an Isobel Cup champion and I want people to know that. I want people to know about the Riveters and the NWHL in general. Any type of spotlight, anywhere in the sports field, in any type of field, brings awareness.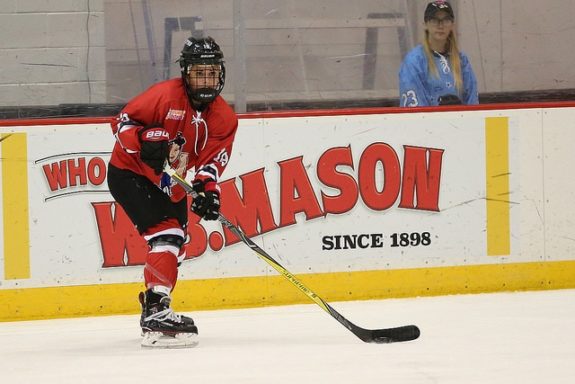 THW: As someone who has watched just about every pro game you've played it was pretty evident that you got better from last season to this season. What's next, what does the future hold for you?
RR: The future holds a lot of things in my life whether that's work, but also my other job hockey. I do want to come back, I am hoping to come back. I want to come back and I want to be a Riveter. I want to win again and I want to be back-to-back champions. That's going to be my goal starting now. I took a little time off but I'm going to get back in the gym, get back on the ice and I'm going to do whatever it takes to help the Riveters win another championship. I will be back, I'm 99.9% sure it all works out with my job and all of that other stuff. I want to be a champion again.
Dan Rice is in his 9th year of reporting for THW & has covered NJ Devils home games for 15+ years at various websites. He began his journey working for legendary broadcaster/writer Stan Fischler from 2002-04 & completed an internship at the ECHL; he also has been writing features for the NWHL (nwhl.zone) website since 2016.