Beginning June 1, NWHL teams can re-sign players from their 2017-18 roster and their draft picks. Additionally, for those players who have completed their college eligibility and want to continue their hockey careers, NWHL Free Agency provides the best opportunity to continue playing at the highest level of professional women's hockey. Players who were not drafted by an NWHL team, or who have previously played in a different league, in Europe or otherwise, are unrestricted free agents and may sign with any team that offers them a contract.
The fourth season of the NWHL will begin in October as the Metropolitan Riveters defend their Isobel Cup championship, and with the addition of a fifth team – the Minnesota Whitecaps – this will be the most competitive season yet.
My colleague Dan Rice will keep THW readers up-to-date on Metropolitan and Connecticut's signings throughout the summer, while I post updates on Buffalo and Boston. Together we will be keeping readers informed of all of Minnesota's signings. 
The Buffalo Beauts wasted no time in getting NWHL Free Agency started off with a big splash. On the first day in which signings could commence, the team retained the league's Rookie of the Year, forward Hayley Scamurra. The Beauts have now fired the first shot across the bow. With the hope that the Scamurra signing opens the free agency floodgates, it will be interesting to see how the other four NWHL teams respond.
Best All-Around Forward in the League?
There really isn't anything that Scamurra can't do. While she has more of a lithe build, she is incredibly powerful with her skating and her puck control – opposing players simply cannot overpower her in most instances. The ones that might be fortunate enough to strip a puck away from her or get a bit of a jump then need to outwork her. In Scamurra's case, that just isn't going to happen. Game in and game out, she gets the votes for hardest working player in the game.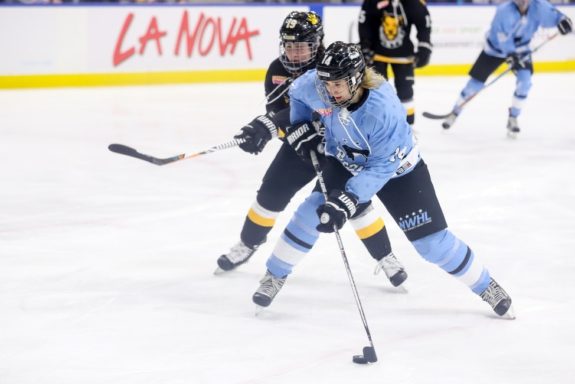 Scamurra can be utilized in every sort of game situation. Power play, shorthanded, five-on-three, assuming the role of the extra attacker, checking-line, top scoring line – she excels in all of the aforementioned instances, and then some. While other players in the NWHL might be a higher end player in a couple of those categories, it is hard to find another player that can do all of them at an elite level like Scamurra does.
Her innate abilities as a player and tenaciousness in getting the job done are part of what secured for her the NWHL's Rookie of the Year award for 2018 and saw her be elected the All-Star Game in Minnesota. Scamurra was named MVP of the All-Star competition as well.
Even More Production to Come
Through Scamurra's time in professional hockey she has maintained production at a point per game level. In 14 games last season, she scored seven goals and seven assists to tie her for the Beauts' team lead alongside Kourtney Kunichika and Maddie Elia – the trio were actually linemates throughout the entire year. In 15 total regular season games Scamurra has 15 total points, off of eight goals and seven assists. In he four career postseason contests she has accumulated five total points from a goal and four assists. There is no reason to think that in the upcoming 2018-19 season – her second full season in the league – that she won't boost those totals even more.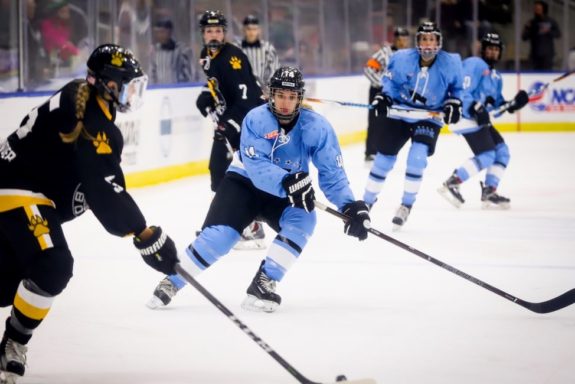 Newly named Beauts General Manager Nik Fattey said the following about Scamurra in an NWHL press release:
"We're excited to add a local player that has proven she can be a star in our league. Hayley was a key component in our offense last season and is extremely hard to play against. She has many of the qualities that we are looking for in a top player: she works hard every shift, has skill, and is a great teammate."
The proof is in the pudding. One look at Scamurra's statistics from the 2017-18 season can sum up her versatility quite nicely. She was the only Beaut to score a power play goal, a shorthanded one and a game-winner last year. Again, put Scamurra in any type of situation on the ice and she gets the job done. Knowing her capabilities, there is cause to think that once Scamurra hits her stride in 2018-19 she could lead the entire league in scoring. She has a full year under her belt now, and is still rising up to her prime as a professional hockey player.
The First Building Block Is in Place
Fattey has gotten the hardest part over with – making the first move as an NWHL general manager. Someone had to break the ice for the off-season signings, and he did so right on the first day. The fact that it was Scamurra only further solidifies the fact that the Buffalo Beauts mean business. They came up just short in the 2018 Isobel Cup Final, and they would love nothing more than to get the trophy back into their hands.
If Scamurra isn't the team's most talented player, she is certainly their best player overall (although there are conceivably a few more, who once signed, make a pretty good argument for that moniker as well). Other than getting their goaltending situated, securing Scamurra was likely the biggest "must-do" that the Beauts needed to address this summer. With her back in the fold on day one, the rest of the team can be nicely shaped around her.
Hey @HScamurra, #IsItOctoberYet?! pic.twitter.com/kSUvjOxxQL

— Buffalo Beauts (@BuffaloBeauts) June 1, 2018
Scamurra shared the following with the public through a video posted on social media:
"Hey Beauts fans, I'm so excited to come back to Buffalo this season. We're going to make another run for the Isobel Cup, and I can't wait to see all the fans that come out to show their support for us."
One of the NWHL's best players is inked, primed, and ready to get hockey underway again as a Buffalo Beaut. Minnesota, Connecticut, Metropolitan, and Boston, you have been put on notice – the next move is one of yours. Choose, but choose wisely. Hayley Scamurra and the Buffalo Beauts have started the NWHL arms race.