Three years time to reach a pinnacle in hockey can feel like eons. Especially when during the first two of those three years a team has poured its heart and soul into a victory mission, only to fall short of even making the championship round. It hurts – almost to the point of having your guts bruised – and it is even more wearying if you have been part of the process since day one. Chalk it up to relativity if you will, but three years time in hockey can be and is a long time to wait. More so when pro hockey players' playing careers are a rather small portion of their entire lives.
But then it comes. It finally happens. The elation that once seemed just out of reach and that players hankered for from year to year. A holy grail of sorts is bestowed upon a team because they have earned it and it belongs to them.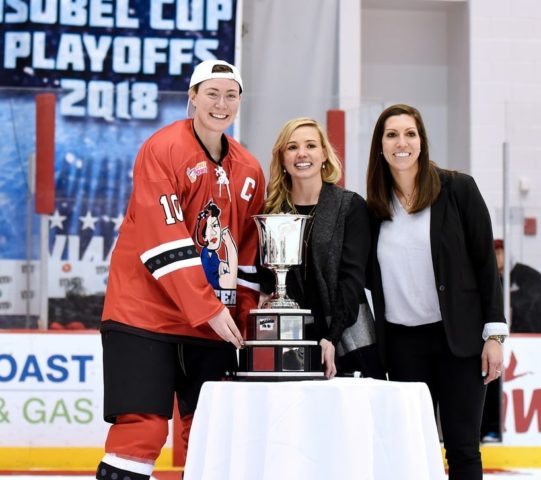 Having never made it past the opening round of the NWHL playoffs in the previous two seasons in league history, the Metropolitan Riveters' time has finally come – they are the 2018 Isobel Cup champions.
THW was at the Isobel Cup Final on Mar. 25 at the Barnabas Health Hockey House at the Prudential Center as the Rivs won their first championship. As the players joyously celebrated on the ice and each tried to out-bench press one another with the Cup in hand, we spoke with some of the players in an attempt to capture their emotions in the moment.
The Rivs Never Once Wavered
The most noticeable aspect of the Riveters 1-0 win over the Buffalo Beauts was that the team as a whole never wavered. There was never a sense that Metro was not in control of themselves during the game, and certainly not the tempo either. The Beauts bit back hard and as often as they could, but the Riveters remained steadfast.
This became apparent fairly early on. Particularly when the league's top point scorer Alexa Gruschow forced her way on a solo effort to the Buffalo goalmouth. Getting tripped up and then literally flying through the air, Gruschow swooped the puck up into the top corner of the net and over the glove of Beauts goalie Amanda Leveille. This would be the only tally of the game and Buffalo just could not knot it up from there.
We'll just sit here for the rest of the intermission watching @AlexaGruschow's goal over and over 😍🏆 #IsobelCupFinal

💻: https://t.co/qZskFADuF9 pic.twitter.com/5MfeslZI27

— Metropolitan Riveters (@Riveters) March 25, 2018
After that, while the Riveters kept their foot on the gas pedal in terms of their hustle, Buffalo began to look sluggish and then eventually tired. Operating like a well-oiled machine, the fact that the Rivs skated so thoroughly down to the minutest detail wore on Buffalo as the game went along.
Team captain and original Riveter Ashley Johnston told the media afterward that the details of the game remained Metro's focus throughout, even as Buffalo did everything they could to tie the score.
"I think the biggest thing was more of a mental game," Johnston said. "Our whole thing has been single process. So that meant every shift, every option, every little thing you think might not matter, make sure that you do it."
A Second Cup for Browne
An original member of the Buffalo Beauts, the Riveters' Harrison Browne won his second straight Isobel Cup and defeated his former team. THW spoke with Browne on the ice amid the celebration, and he seemed to echo Johnston's thoughts about following a simple process. A process that Browne attributed the success of to Metro's head coach, Chad Wiseman.
"I think all the good habits that we've been instilled with all year with Chad", Browne said. "He's taught us a really great game on trapping and everything like that. We took all those lessons and wrapped them all into one in that final game, and I think that's why we came out on top."
Browne, who scored three goals and six assists in 16 regular season games this year ended up having a shot on goal in the Final and was a plus-one. Winning back to back Cups, he also observed that there was a noticeable difference between his first Cup from last year and this year's victory, and it was not just a matter of what colors he was wearing.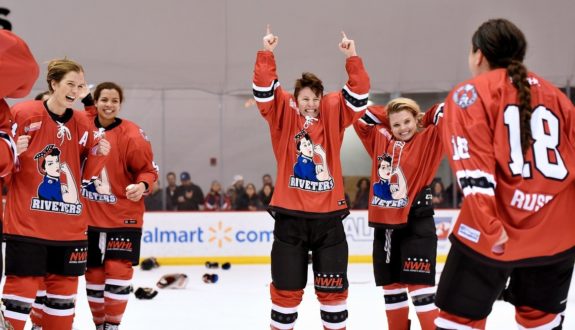 "I think last year we were the heavy underdog." Browne said referring to the Beauts. "I think this year it was pretty even, and you weren't really sure who was going to come out on top. I think that was the main difference, and we played our game just like we normally do, and we came out with that win."
His assessment was quite accurate. While Buffalo led the way in shots at this year's Final, it was not by much – 21 pucks on net, as opposed to the Riveters 18. Obviously a 1-0 score is quite close too. The major disparity from a statistics standpoint may very well have come down to infractions. The Riveters were assessed one minor penalty, while Buffalo encumbered three minors and a 10-minute misconduct. The Riveters may not have scored a power play goal, but with the Beauts already appearing worn out while trying to tie it up, and then having to play shorthanded, this only added insult to injury.
Russo Is Forever the Rivs' Fireball
Then there is the Riveters fireball, Rebecca Russo. Quite arguably the most popular player in the NWHL, Russo is also one of the Riveters' and the league's most proven snipers. In 16 games she was better than a point per game player this 2017-18 season, as she put forth nine goals and eight assists during the regular season. Russo tied for the team lead and the league lead in plus/minus with a plus-11.
Furthermore, she let out the loudest and most colorful battle cry as she and teammates raised Isobel overhead. As the celebration on ice poured forth, Russo seemingly wrapped her arms around every single Riveter and pulled them close. No image of love and sincere admiration was more visible on a Riveter's face than on hers. Understandably so, she had a hard time finding the right words to describe the emotions out on the ice.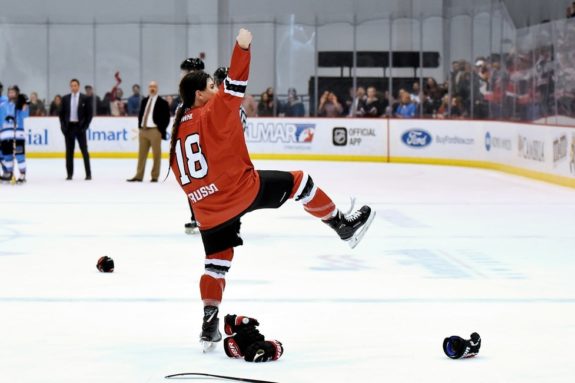 "I'm speechless right now," Russo said, practically vibrating with feeling. "The emotions are so high. We deserve this win so much. We put so much into this. Chad instilled so much into us, driving down from Canada everyday. We come to practice, we work our butts off – we deserve this. And I'm so happy that this group – our family – we came together and we won. We put everything out there. It was 1-0, but it really didn't feel like that. We really controlled the game the whole game. I'm speechless, I'm so happy right now, and I'm happy to be an Isobel Cup champion with this Riveters team."
Winning the Cup for Coach Wiseman
Russo was also the first to point out that the victory happened to come on Coach Wiseman's birthday. This, and in addition to the news that the game would also be Wiseman's last as coach of the team. Word came out from the OJHL's Burlington Cougars that Metro's inaugural coach would become their coach for the 2018-19 season. Wiseman, who is an alum of the organization, is also from Burlington and resides. Knowing that the Cup Final was his last game as their coach gave Russo and her teammates that much more inspiration to get the job done.
"We did it extra for him," she explained. "It's his birthday today. It's his last game as a Riveters head coach. He saw something in me when I came to tryouts two years ago. Two summers ago. He picked me, and I thank him everyday for that. I'm honored to have been coached by him. He's one of the greatest coaches that I've ever played for. He let me be myself, he let me be the player that I am, and he let me do my thing. I followed his systems, and he just let me do my thing. I'm so happy that we won."
"We Are the Champions"
The Isobel Cup on-ice celebration was a sea of emotion and humanity. Sticks and gloves tossed wildly. Smiles as wide as a goal crease. Throngs of writers and photographers. NWHL Commissioner Dani Rylan and Deputy Commissioner Hayley Moore handing off the trophy and enjoying the festivities almost as much as the Riveters themselves. It was the culmination of a highly successful third season for the league.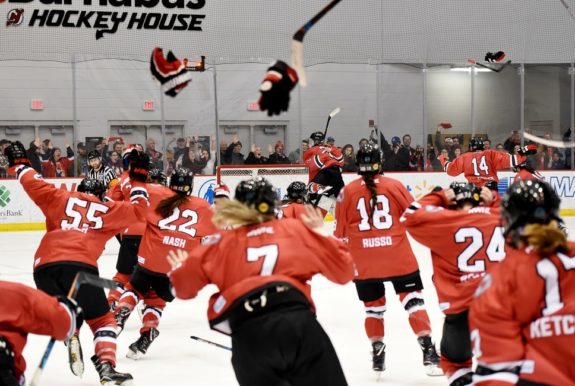 Amidst all of the excitement and a feeling of speechlessness, Russo still put forth a message. When THW asked her if she had anything she would like to say to the fans, she responded both adamantly and proudly:
"Thank you. THANK. YOU. They were so loud with the rally towels. Giving us fist bumps in between the periods going to the locker room. It helped us. It boosted us a little bit to win. We can't thank them enough, from last season with the pay cuts. They did GoFundMe. They did everything for us. These Riveter fans – and I'm not being biased right now – they are the best fans in the NWHL. Hands down."
There is no question that Russo, Wiseman, Browne, Johnston, and the entire Riveters team will now always walk as champions. Perpetually a united family. Their names shall be forevermore inscribed on the NWHL's chalice, and that most assuredly, shall feel like eons.