The 2018 NHL Entry Draft is approaching and teams are in a good scouting effort to finalize their draft list. While the U18 World Junior Championship is yet to start, and that's definitely an important tournament, there are three players skating in Russia that look like an easy pick and should definitely interest most of the NHL teams. Those players are Vitali Kravtsov, Grigori Denisenko and Danil Galenyuk.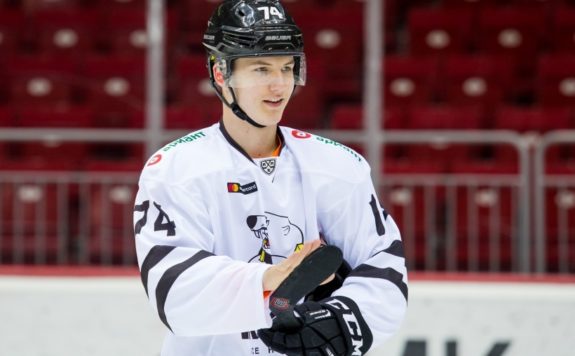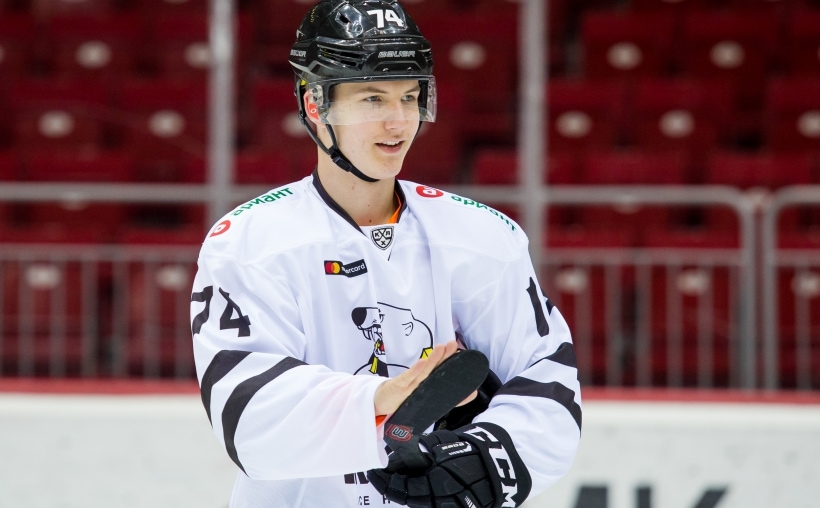 Vitali Kravtsov – Traktor Chelyabinsk
Kravtsov jumped out of nowhere last year when he scored the youngest KHL playoffs goal ever, generating hype since then. The Traktor Chelyabinsk prospect was very awaited for this season, but initially, he didn't live up to the expectations. After a good start, he suffered from a broken wrist that left him out for seven weeks. But the problems didn't limit to those seven weeks, as when he was back, he certainly lacked a gear in his game, without producing much. He represented Russia at the U20 Four Nations tournament, without getting any point. He was also invited to the WJC camp, but he didn't make the cut. With the new year, Kravtsov finally gained his past shape and he exploded in the playoffs, when he scored so far six goals and eleven points in eleven games.
Kravtsov is an appealing prospects for any NHL team. He's got a great size at 6'2″, 183 lbs. and an excellent nose for the net. He has smooth hands, but he usually doesn't play much the puck, preferring to hunt down chances with his very good play without the puck, fast release, and great shot accuracy. Kravtsov is posting numbers similar to what Valeri Nichushkin did in his draft year, but he has arguably had a bigger impact on his team. Expect Kravtsov to be called during the first round of the 2018 NHL Entry Draft.
Grigori Denisenko, Lokomotiv Yaroslavl
Denisenko is a completely different player than Kravtsov. For long time, and rightfully so, considered one of the top 2000-born players in Russia, Denisenko kept on improving and progressing and had finally his debut in the KHL during this year's playoffs. Denisenko was iced in Lokomotiv's first line, a further testament to his talent, as shown some character as one of his big hits on Nikolai Prokhorkin spurred up a fight during one of the games against SKA St. Petersburg, and didn't look out of place in spite of his young age.
Denisenko is an incredibly skilled player, but he has shown some problems with self-control as he has earned in the years a big number of match penalties. He has great hands, a very high top speed and a great ability in making plays, but he needs to mature his game as he tends a bit to play like a junior. His size (5'10", 165 lbs.) can also spur some minor concern. At this point, it may be easy to see both a team gambling on him in the first round or slipping down. It's very likely that is stock will be strongly influenced by his performance at the upcoming IIHF U18 WJC.
Danila Galenyuk, SKA St. Petersburg
Like Denisenko, Galenyuk is also on the scouts' notebook for a long time and he also represented Russia at last year's U18 WJC. After moving from Yugra Khanty-Mansiysk organization to KHL powerhouse SKA St. Petersburg, Galenyuk made his debut in the big league at only 17 years of age and showed good abilities there. Galenyuk was more of an offensive defenseman back in the days, but he added some size to the mix (he's now 6'1″, 201 lbs.) and some good physical play abilities.
LD Danila Galenyuk scored his first goal of the MHL season, that one-timer looks fast even in slow-mo. #2018NHLDraft pic.twitter.com/2XCpFq0SGU

— Russian Prospects (@RUSProspects) February 21, 2018
Galenyuk's progress hasn't been spectacularly fast, but definitely steady, and thus he is a great candidate for a relatively high selection at the upcoming 2018 NHL Entry Draft. He can score, pass, and hit and this combination of skills make him a very intriguing prospect for any team who is searching to add a reliable option on defense during the selections.