Beginning June 1, NWHL teams can re-sign players from their 2017-18 roster and their draft picks. Additionally, for those players who have completed their college eligibility and want to continue their hockey careers, NWHL Free Agency provides the best opportunity to continue playing at the highest level of professional women's hockey. Players who were not drafted by an NWHL team, or who have previously played in a different league, in Europe or otherwise, are unrestricted free agents and may sign with any team that offers them a contract.
The fourth season of the NWHL will begin in October as the Metropolitan Riveters defend their Isobel Cup championship, and with the addition of a fifth team – the Minnesota Whitecaps – this will be the most competitive season yet.
My colleague Dan Rice will keep THW readers up-to-date on Metropolitan and Connecticut's signings throughout the summer, while I post updates on Buffalo and Boston. Together we will be keeping readers informed of all of Minnesota's signings. 
Beauts Kick Off NWHL Free Agency
When the announcement of the Beauts re-signing Maddie Elia came out, the other four NWHL teams likely muttered under their breath and in unision: "crap…". Ask any player in the league, and the unanimous answer will always be that Elia is the toughest player to go up against. Hands down.
A Tasmanian devil. A whirling Dervish. Controlled chaos. Devil may care. However you choose to describe Elia's style of play, there is no question that she is the player with the most physicality in the NWHL. This became more apparent as each game went by during her rookie season with the Beauts in 2017-18. Now that she is back with Buffalo for the league's fourth season, look for that same sandpaper style of play from Elia once more. And then some.
Elia Deserved Nods for Rookie of the Year
While the award ended up going to her linemate, the recently re-signed Hayley Scamurra, Elia certainly deserved acknowledgement and strong consideration for Rookie of the Year honors. With she, Scamurra and veteran Kourtney Kunichika comprising the Beauts' top line, the trio shared the team lead in points with each having scored 14. Elia's point total came off of five goals and nine assists that she scored in 14 regular season games.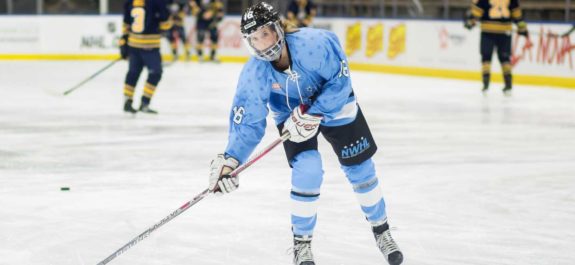 Newly named Beauts General Manager Nik Fattey stated the following about Elia through an NWHL press release:
"Maddie played an important role as a rookie last season, and brought skill and a high level of compete to the team. We're looking forward to seeing Maddie continue to prove she is one of the top players in the league."
With the Scamurra signing coming on the first day of NWHL Free Agency, and now Elia's signing announced on the second day, Fattey has two of the team's most marquee players secured onto the team's roster. Acknowledging that both players are two of the best on the team and in the league, it is perhaps a bit of icing on the cake that both players are native Western New Yorkers and take great pride in playing for their hometown team.
Retaining Draft Picks Is Key for Buffalo
Another interesting aspect to the signing is that Elia is a Beauts' draft choice. The team selected her as the 18th overall pick in the 2016 NWHL Draft. While there is no particular binding of rights when an NWHL team drafts a player, it is a positive sign organizationally whenever clubs can retain players that they think highly of and had spotted during their collegiate careers. Historically, Beauts draft selections Amanda Leveille (2015), Emily Janiga (2015), Scamurra (2016), and Elia all ended up playing at least some point with the team.
Janiga played last season with the CWHL's Vanke Rays in China after winning the Isobel Cup with the Beauts in 2017, and seems set on remaining overseas for the upcoming 2018-19 season. Leveille will need to be re-signed if Buffalo is to be the home of the NWHL's current Best Goaltender, though it is still extremely early into the free agency period. It will be interesting to see if the Beauts are able to add any of their selections from the 2017 NWHL Draft, none of whom became late season additions to the team after they finished their respective college careers in the 2017-18 season. One would hope that Buffalo is intent on signing all five picks from 2017, and that they can at least ink a couple of them.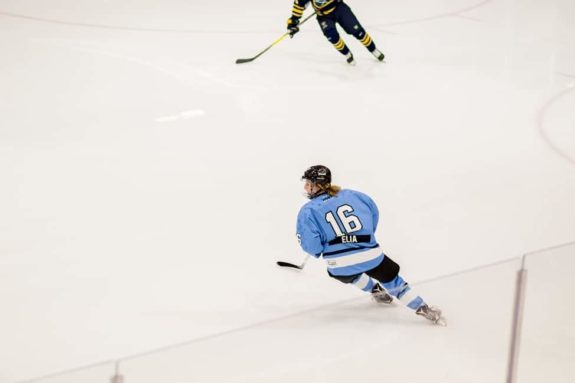 Regardless of what happens with the team's other draft picks, Elia is now definitely under contract and is extremely excited to get another season in Buffalo underway. She shared the following message in a video posted to social media:
"What's up, Beauts fans?! So excited to be coming back next year. Love being from Buffalo. Love playing for my hometown. It's going to be an awesome year, and I hope to see you all there."
Elia's Other Intangibles Are Key Too
In addition to her robust style of play on the ice and her ability to score, Elia is also a tremendous situational hockey player in general. She had the most face-off wins of any Beauts last season with 142, which was also the fourth most in the NWHL. The 42 shots she put on net during the regular season were the third most on the team, behind only Scamurra and Buffalo captain Corinne Buie.
.@madfrog126 will see you at @HARBORCTR, Beauts fans! #GoBeauts pic.twitter.com/voxLBPNQ1v

— Buffalo Beauts (@BuffaloBeauts) June 2, 2018
When the postseason came around, Elia continued her tremendous play as the Beauts made a third straight trip to the Isobel Cup Final. Playing in both Beauts playoff games, she led the team and the entire league in face-off wins with 24 of them. Elia's seven playoff shots were tied for second most for Buffalo. She was also one of just three Beauts to end the postseason as a plus-player (a plus-one, along with linemates Kunichika and Scamurra).
No matter how opposing players may feel about going up against Elia in games, no one can deny that number-16 generates results. She is the prime example of the player that you can't stand playing against, but would love to have on your team. Elia is made even more dangerous because she genuinely possess a tremendous amount of God-given talent.
Beauts are two for two now with their free agent signings. Maybe we can up that to being two and a half for two, because having Elia on a roster packs every punch possible and adds that much more to a club – she's a beast for the Beauts!
General Manager of the Buffalo Beauts (NWHL). Hockey history writer "The Hockey Writers". Credentialed media for the NHL Combine and 2018 IIHF World Junior Championships in Buffalo, NY, USA. Born and raised in Buffalo, NY. Lifelong hockey fan for over 40 years. Proponent of the women's game.