A new sensation has hit all parts of the hockey world and it became center stage at the NHL Combine.
Several prospects admitted that teams were asking them about video games and how much they play them. Specifically, teams asked about the ever-popular game Fortnite. This game has taken the hockey world by storm.
With the recent story by Jeff Marek going around that a prospect might not make the NHL because of a video game addiction, it's likely teams are asking prospects how big an influence are video games in their life.
Soo Greyhounds defenseman Rasmus Sandin spoke to us Saturday morning and told us about the Fortnite question. He then unleashed the money quote of the day.
"I usually win and I'm not one to hide in the bushes", Sandin said.
Immediate reaction to this was incredible.
Well Sandin is moving even higher up my draft board https://t.co/50BBMtF2hk

— Todd Cordell (@ToddCordell) June 2, 2018
Then Joel Farabee followed that up with a money quote of his own. "If you hide in the bushes, then I've lost all respect for you." Oh my!
In the eyes of some, this is taken as a positive because it could give insight to how they'd handle stuff in hockey. They're not one to shy away from a challenge and is confident he would come out on top. Conversely, teams might wonder how much an influence video games are and if it takes away from some of his attention in other things?
In Sandin's and Farabee's case, he had a great season so I'm inclined to think this is a positive. But that's for teams to decide.
So how popular is Fortnite? Worldwide, there are about 45 million who play the game. If you're not sure what it is, think of it as a cross between Minecraft and survival shooting games. The most popular game mode is what's called "Battle Royale" mode. In it, 100 players start and the last survivor wins. It's a violent game but not with a lot of blood involved. The most popular game mode is also free to play.
So it's easy to see why teams are asking the question. This appears to be a highly addictive game. Imagine you're a hockey player on a road trip and you're looking for something to do. Why not get together with 5 of your friends and play the game? Millions of users play Fortnite at the same time.
The phenomenon is only getting stronger. With many around the world battling video game addiction, could it creep into the hockey world on a larger scale? It's certainly possible. This seems to explain why teams brought the question up throughout Combine week. They're trying to get out in front of it to know if this is something a player will bring with them.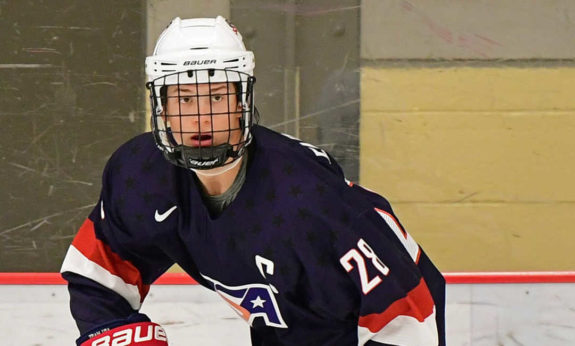 Other Interesting Questions
Fortnite dominated the week. But there were some other interesting questions thrown at prospects. Let me share a few examples with you.
You have to choose one. You could either be homeless in the city or stranded 50 miles from home in the wilderness with no phone or money, which would you choose and why?
What would your best friend say about you?
What one thing would you change if you were NHL commissioner for a day?
The Columbus Blue Jackets allowed prospects to ask them any question they wanted. Blake McLaughlin asked how Artemi Panarin is doing? According to McLaughlin, the Blue Jackets among other things said Panarin is always smiling no matter what. Speaking of Panarin, Dominik Bokk admitted that Panarin is his favorite player growing up. Wait, what?
The Washington Capitals asked prospects about the bus. A picture of what appeared to be a symmetrical bus was handed to the prospects on a piece of paper. The question posed was which way is the bus driving? Most every prospect who got this question got it wrong. When asked what the correct answer is, the Capitals said they tell them if they got drafted. Zing! Do you know the answer to this question?
And perhaps my favorite question involved prospects who played NHL on Play Station. Would you try to increase your player rating on the game or keep everything as is? Windsor's Curtis Douglas said he make it 100's and score multiple hat tricks. Akil Thomas said that's not who I am. A little integrity on Thomas' part there.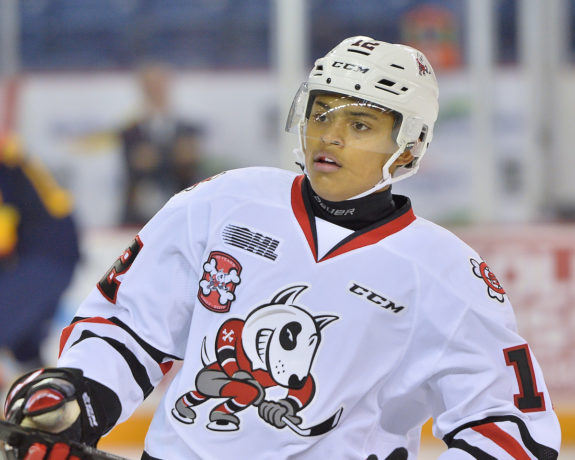 Random Thoughts From the Day
There was so much to take in. From trying to get a hold of the buzz to running around catching prospects after their testing, it was a busy day. In no particular order, here are some things that appeared in my notebook that I think will be interesting to keep in mind.
Rasmus Dahlin gets the attention. But Sweden as a whole is really churning out some interesting prospects. They dominated the early sessions in Buffalo and most of them had anywhere from 23-29 teams who wanted to speak to them. Adam Ginning, Filip Hallander, Isac Lundestrom and Jacob Olofsson were all amongst that group. This at least suggests that we could see a very European flavor in the first round of the NHL Draft.
Jesperi Kotkaniemi is THE wildcard of the top of the draft. Depending who you ask, he seems to be the one player that is generating the most positive buzz but nobody seems to know where he'll go for sure. I had some suggest he could go as high as fourth or fifth. Could you imagine? He would shape the lottery portion of the draft. Imagine you're a team like Edmonton at 10th. Their eyes are set on one of the four non-Dahlin defensemen (Adam Boqvist, Evan Bouchard, Noah Dobson or Quinn Hughes) or Oliver Wahlstrom. If Kotkaniemi goes in the top-10 and the first four picks go as planned, the Oilers will get one of those guys guaranteed.
Kotkaniemi admitted to us he was treated to a steak dinner three times this week. THREE! I'm lucky to get one a month. One of the teams who treated him? The Detroit Red Wings. Oh hey, they pick 6th. And related, are the Red Wings open to trading the 6th pick? I think so.
Dahlin to Buffalo, Andrei Svechnikov to Carolina, Brady Tkachuk to Montreal? There's a chance. The general consensus barring trades is that Tkachuk/Filip Zadina will go 3/4 in some order. Ottawa would sure love it if Tkachuk goes to Montreal. Zadina to me is the clear-cut third pick. But it's not certain and therefore it's something to watch on draft night.
Chicago at eighth is in a good spot. See Oilers, Edmonton but two spots higher. They will land any one of the four defenseman or Wahlstrom. The Blackhawks won't reach for anyone nor do they have to. They can let the draft unfold in front of them.
So what does my mock top-10 look like post-Combine?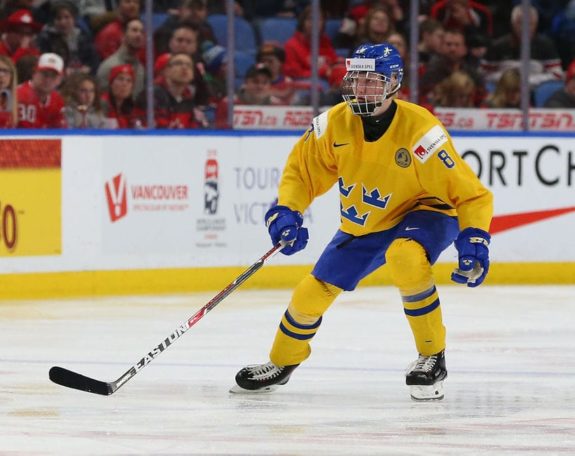 Buffalo – Rasmus Dahlin
Carolina – Andrei Svechnikov
Montreal – Filip Zadina
Ottawa – Brady Tkachuk
Arizona – Adam Boqvist
Detroit – Evan Bouchard (Kotkaniemi possible)
Vancouver – Quinn Hughes
Chicago – Wahlstrom/Dobson
New York Rangers – Wahlstrom/Dobson
Edmonton – Kotkaniemi (though I could see them take Bode Wilde or Ty Smith also)
Thoughts on my mock. I think Arizona is open to trading from 5th. If they don't, I think they target a defenseman. Nothing wrong with having OEL mentor countryman Boqvist. I get a feeling Detroit would love Evan Bouchard on their blue line. Although if they believe strongly enough in Kotkaniemi, they'll definitely take him. Vancouver and Quinn Hughes makes way too much sense. The Blackhawks would likely decide between the winger and the defenseman with the Rangers scooping the other up. I still think Edmonton targets a defenseman so we'll see what's left when they're on the clock.
From pick 11 on, all bets are off. This has the makings of being one of the most unpredictable first rounds in recent memory. In asking prospects if they had a sense of where they could go, most didn't know. I asked this of Ryan Merkley. His response? "I have no idea."
Speaking of Merkley, I spoke to him at the end of the Combine. He said that his relationship with coach George Burnett is good even after being disciplined. He said he knows what he needs to work on and was thankful he got to tell his side of the story to 25 teams. Everyone asked about the stories going around. From what I'm gathering, I think Merkley goes in round two. Someone's going to have a killer draft as a result.
Tyler Madden spoke to 29 teams, including the Devils and Blue Jackets. Imagine going into a meeting with a team with those you've golfed with before? John Madden is the coach of Columbus' AHL affiliate so let's just say there's plenty of familiarity there.
Speaking of the Blue Jackets, keep an eye on center Jay O'Brien. He's a name that generated some buzz this week and could go in the first round. When I spoke to him, he admitted that not only did he meet with the Blue Jackets, he said they went to Thayer Academy "four or five times" this season to watch him. As they say, the Blue Jackets frequented his games. They want center depth. O'Brien is an excellent skater. He's also the best prep skater available in this draft. This adds up. Let's see what happens in Dallas now.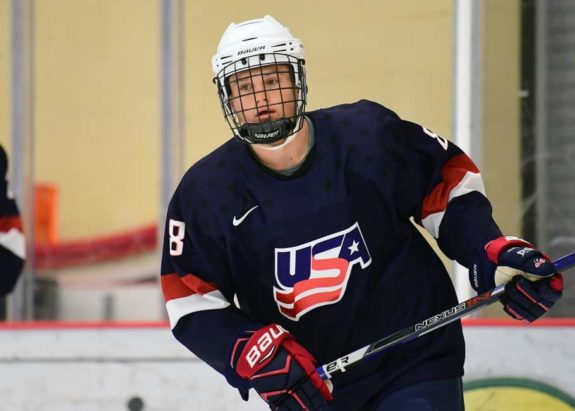 Cool story alert! The United Kingdom's Liam Kirk could become the first born and trained Englander to play in the NHL. He said he wants to come to North America and play in the CHL next season. The CHL Import Draft is later this month. He could get his wish.
Who's the most agile in fitness testing this week? Jonathan Tychonick was 4.2 seconds TO EACH SIDE.
Three players did not do the fitness testing: Martin Kaut, Quinn Hughes and Niklas Nordgren.
Oliver Wahlstrom with a refreshing quote about who he is: " I think I'm the best shooter in this draft." Great to see after the way the U18's ended.
Noah Dobson is going to make someone really happy. He's composed and can do everything on the ice. He helped the Titan win the Memorial Cup. He could have skipped testing. Nope. He competed. That's the kind of player I would want on my team.
Could Bode Wilde be Saginaw bound? Well if Blade Jenkins has his way it'll happen. Jenkins told me he is trying to sweet talk Wilde into coming to Saginaw. Jenkins said going to Saginaw was good for him in the best interest of his game and playing against the best. The Spirit's outlook is good. It becomes bright if Wilde makes the jump. I've heard nothing to indicate Wilde will go, but Jenkins is recruiting.
Need a defenseman later in the draft if you miss on the top guys? Sean Durzi plays a lot like Evan Bouchard but gets less buzz. He might be an appealing option for someone.
Curtis Douglas is 6-foot-8.5. My goodness. He said he's going to work on power skating. Could you imagine if he becomes even an above average skater? He's also a center. I suspect he hears his name sometime in the middle of the draft.
Ryan McLeod and the San Jose Sharks make too much sense to me. Big body who can skate and play the middle. Just a gut feel.
Kevin Bahl had a nice quote. "I want to be the guy that does better and works harder than my peers." He's a big defenseman that knows what he needs to work on. The thing you cannot question about him is his work ethic. Whoever drafts him will get someone who gives everything he has to get better.
Perhaps the best player outside the top-10 in this draft arguably is Ty Dellandrea. He spoke to 29 teams, everyone but Tampa Bay and Los Angeles. He feels he's a number one center at the next level and said he excels at faceoffs. When asked if playing in Flint put him under the radar, he seemed to think so. If anything, he was confident. Definitely a first rounder for me. Not often playoff teams can land a potential top center later in the draft.
Brady Tkachuk is sick and tired of your where's he playing hockey next questions. He's a BU commit but there is some question with the departure of David Quinn. At this point it appears he's staying but stay tuned.
Isac Lundestrom and Dominik Bokk each said they'll play next season in Sweden.
Want the top-25 in each fitness test? Here you go.
There you have it. My notebook is empty for another NHL Combine. This season's draft has the potential to be very exciting and unpredictable because of the questions about how the first round could go. Stay with the Hockey Writers as we'll keep you updated with everything we hear leading up to Dallas.