As the Washington Capitals and Vegas Golden Knights go at it in the Stanley Cup Final, Alex Ovechkin is taking in his first Final appearance with great intensity, both on and off the ice.
From his celebrations on the bench for his teammates' goals to Braden Holtby's Game 2 save, Ovechkin has been animated through these playoffs, and he said that his enthusiasm through this postseason has come naturally.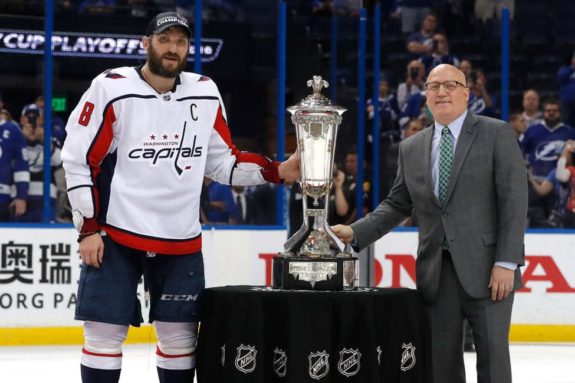 "Right now, it just automatic," Ovechkin said. "You just get excited. Holts makes a big save, you see whole bench just like jump and get excited."
Not only is Ovechkin's excitement rallying his teammates, but the Capitals' captain is leading by example with his passionate and emotional demeanor, as well as his on-ice play beyond the goal-scoring.
"Last couple games, he's set the tone," head coach Barry Trotz said.
Ovechkin Rallying Teammates
The 33-year-old has been known for playing with tremendous energy throughout his career. However, his enthusiasm and personality are amplified, on full blast in this playoff campaign, evident by his reactions to his teammates' goals and key plays in each game.
"If [Kuznetsov] score or [Smith-Pelly] score, it's huge moments for us," Ovechkin said. "You just want to give emotions to your teammates and to yourself as well."
While Ovechkin is clearly making the biggest difference with critical goals and plays on the ice, his passion and emotion on the bench is huge for the rest of his team, a necessity in times like these.
"That's what we need," Lars Eller said of Ovechkin's attitude, as well as his persistence on ice. "There's a lot of guys playing with something. That's what these players are made of. That's how bad they want it."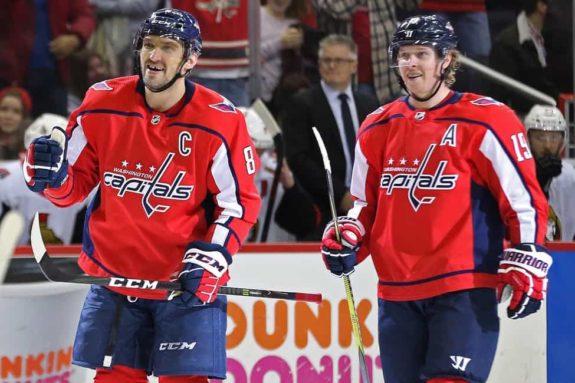 Eller added that at crucial times, especially after big goals, "it should be emotional on the bench," and that is what Ovechkin brings to the table.
It's clear that his teammates are feeding off his energy and that his personality is contagious. With this kind of emotion, the Russian winger is helping lead and motivate his teammates by simply being a big personality on the bench and creating a buy-in, positive team culture.
Capitals Inspired by Ovechkin
Not only is Ovechkin being a positive presence on the bench and in the room, but he has been playing with full effort and commitment. He has made key plays that have been crucial to the team throughout this postseason, and that dedication has carried into the Final. Ovechkin is doing everything he can at both ends of the ice, and this was on full display in Game 3.
Ovechkin had eight shot attempts in the first period of Saturday's victory, and his goal that opened the scoring came on a play of desperation, where he kept whacking at the puck before finally backhanding it past Fleury as he fell over Brayden McNabb.
"That is Ovi," Eller laughed. "He shows his emotions, and he definitely showed it on that goal. That's just what we want to see. It was a goal with a lot of second or third effort."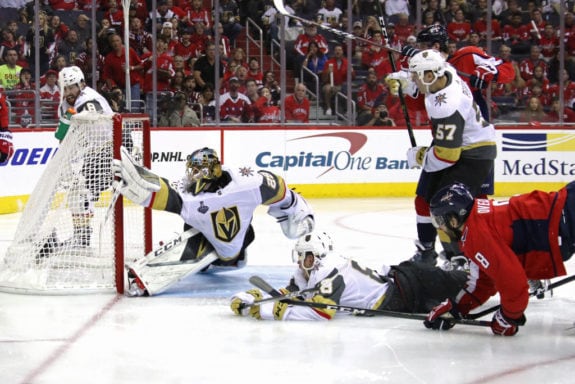 In addition to his effort on offense, Ovechkin has also been a factor on the backcheck. He has played well defensively, not only using physicality but sacrificing himself for big shot blocks. This postseason and in this Final, Ovechkin has been a jack of all trades, no longer just a goal scorer.
"It doesn't matter what you're gonna do out there, you just have to do your best," Ovechkin said. "If you block a shot or give a hit or get a hit, it just give energy to your teammates."
Trotz also acknowledged that with Ovechkin's play, he is paving the way for his teammates to follow in his footsteps and play with full commitment.
"As a coach, you want your top players to set the tone and he did, he set the tone with intensity, with physicality and he did all the details. He blocked shots, he got the puck out, he scores at a massive rate. He adds all those other little things to his game, the whole team is going to follow."
As the Capitals move forward, Ovechkin shows no signs of slowing down and will likely keep the same level of passion until the end, no matter the result.
"It's the Stanley Cup Final," he said. "What are you [going to] do?"
Sammi Silber covers the Capitals beat for The Hockey Writers and is an NHL contributor with Sporting News. She has also contributed to USA TODAY College, Huffington Post, FanSided and the Nation Network. Silber has written four books and recently worked on graphics for the film, The California Golden Seals Movie.