Before the draft chaos ensues, the Detroit Red Wings announced a calming move in the hire of Dan Bylsma as an assistant coach. This spring, the veteran NHL coach assisted Red Wings head coach Jeff Blashill in the World Championships for Team USA.
UPDATE: Detroit #RedWings EVP and GM Ken Holland announced today that the team has hired Dan Bylsma as an assistant coach.

Details: https://t.co/To8H1x4OPZ pic.twitter.com/ZMUFoq8Ppr

— Detroit Red Wings (@DetroitRedWings) June 22, 2018
The move came after former associate coach John Torchetti and the organization parted ways after two seasons. Bylsma is expected to oversee the offense and power play – two areas in need of improvement following a disastrous 2017-18 season.
Familiar Face
During times of stronger Red Wings teams, Bylsma prevented Detroit from winning back-to-back championships as head coach of the Pittsburgh Penguins. His 2008-09 squad spoiled Hockeytown's fun with victories in Game 6 and 7 of the 2009 Stanley Cup Finals to give Pittsburgh their first title in nearly 20 years.
In addition, the Michigan-native was a key free agent the year Mike Babcock left Detroit for a more lucrative contract in Toronto. Bylsma was also on the market after being recently let go from Pittsburgh.
While the Red Wings had their sights set on Blashill to become their next coach, Bylsma was also out there and eventually chose Buffalo as his next gig. Along with Babcock, the two helped drive coaches' salaries up after not much growth in previous years. Barry Trotz followed a similar path after he walked away from an extension with the Washington Capitals and later signed on to become the New York Islanders' coach for far more money and a longer-term deal.
In his career as a head coach, Bylsma has compiled a 320-190-55 record with Pittsburgh and Buffalo. In the postseason, he's won 43 of 88 games coached – something Bylsma surely wants to improve. He also spent some time as an assistant for the Islanders during the 2005-06 season.
Hockeytown Help on the Way
With Bylsma now on board, the Red Wings will have a great mentor for their young team and a brilliant mind to help Blashill and assistant coach Doug Houda strategize. In response to the hire, Detroit's head coach had the following to say about his new benchmate:
His resume speaks for itself, including the Stanley Cup championship and Jack Adams Award. I also had the unique opportunity to work with Dan at this year's World Championship, and that experience leaves no doubt that Dan will bring innovative ideas and tremendous attention to detail to our coaching staff.
There's no doubt that Bylsma can help Dylan Larkin, Anthony Mantha, and Andreas Athanasiou reach another level of play, while sparking the likes of Tyler Bertuzzi, Evgeny Svechnikov, and potentially Michael Rasmussen as they adapt to the NHL's pace on a nightly basis.
Related: Red Wings Final Grades – Forwards
Coach in Waiting?
It should be noted that Blashill is in the last year of his contract and no extension reports have surfaced to date. While the two are close following their time at the World Championships, it's possible that Bylsma considered this circumstance when accepting the position with the Red Wings.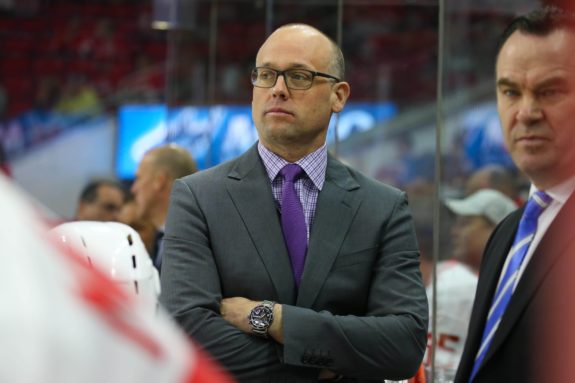 If Detroit does not choose to retain Blashill beyond this season, Bylsma would be an excellent replacement. Having a year of experience on Detroit's bench and time getting to know the players would make him the favorite.
However, this requires the Red Wings to part ways with Blashill, which is not a given. If Ken Holland can receive a two-year deal to guide the team through the rebuild, it's entirely possible that he'll want to keep his coach around as well. Having Bylsma there could just be a solid safety net for Detroit and also give Bylsma a prime opportunity to become a head coach once again.