When NHL deputy commissioner Bill Daly revealed that the Detroit Red Wings would be picking sixth in the upcoming 2018 NHL Draft, Michael Rasmussen's role for next year became a little bit more clear. Considering who might be available at No. 6, it's highly unlikely that Detroit will draft a forward or a player that will contribute at the NHL level next season.
Rasmussen, Detroit's ninth overall lottery selection from the 2017 NHL Draft, has been tearing up the WHL playoffs following a stellar regular season with the Tri-City Americans. Even after suffering a wrist injury and missing time due to surgery, Rasmussen managed to have a career year.
| | | | | |
| --- | --- | --- | --- | --- |
| Year | GP | G | A | PTS |
| 2017-18 Regular Season | 47 | 31 | 28 | 59 |
| 2018 Playoffs | 14 | 16 | 17 | 33 |
| 2017-18 Totals | 60 | 47 | 45 | 92 |
With little to prove in the WHL, Rasmussen should make the jump to the NHL next season. Detroit or yet another year with Tri-City are his only options, as Rasmussen would still be too young to play in the AHL full-time with WHL eligibility remaining. But will there be room in Hockeytown for the highly touted prospect? And if so, how will he be deployed?
Related: The Grind Line: Intriguing Red Wings Draft Options at No. 6
Big Forward, Little Room
It's no secret that Rasmussen's size would be an asset given Detroit's smaller lineup. But is there even roster space to give to the forward?
As it presently stands, the Red Wings have seven forwards (including "hybrid" Luke Witkowski) under contract next season. They also have five pending restricted free agents, each of whom will be back. Plus, there's Evgeny Svechnikov, who still does not need waivers to be assigned to Grand Rapids. That leaves one roster spot left for Rasmussen or another player, whether that be a different prospect, free agent, or eighth defenseman.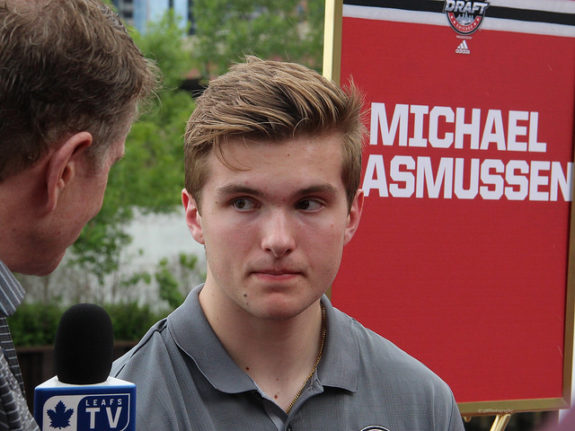 Things can change – it's possible that Ken Holland trades someone prior to the start of next season. But as of now, Jeff Blashill will need to find ice time for everyone. Detroit has veterans who are continually relied upon to guide the young players on and off the ice. And, of course, there's the next generation of Red Wings players who need experience. Only Witkowski stands out as someone who would be scratched more often than not.
If Rasmussen makes the cut and earns a spot in the top-12, how would the slick-skating power forward be utilized in the lineup?
Deploying Michael Rasmussen
In the past, the Red Wings have relied on Henrik Zetterberg to teach rookies the ropes. Dylan Larkin, Anthony Mantha, and Tyler Bertuzzi all spent significant portions of their first full NHL seasons flanking Detroit's captain. It's likely that Rasmussen will do the same opposite Gustav Nyquist. This, of course, would push Bertuzzi to another line after a fantastic half-season on Zetterberg's wing.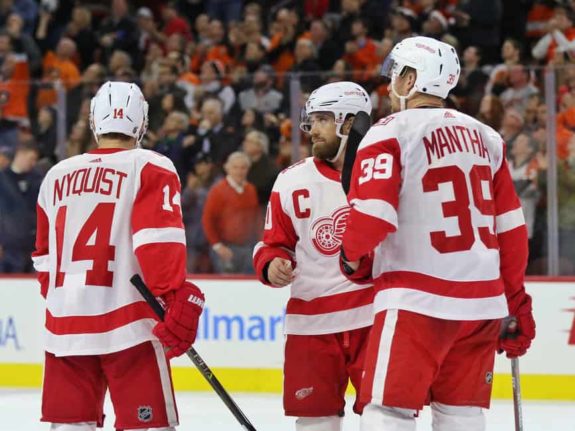 Now, top-six minutes would be a lot to ask of a 19-year-old entering his first season of professional hockey, so it's also likely that Blashill will move Rasmussen around in the lineup. Rookies often have difficulty adapting to an 82-game schedule and Rasmussen will likely fare the same, as he's already missed time the past two seasons with separate wrist injuries. There will be times when the converted wing plays fewer minutes than most desire, and that's okay. A whole NHL season will do wonders for his development, even if he plays 12 minutes or less in a handful of games.
Related – The Grind Line: 5 Reasons for Red Wings Optimism
Rasmussen will also receive power-play time, where he's earned a reputation in juniors as a premier threat. His size, strength, and hand-eye coordination make him an immovable, offensive force in front of the net. Rasmussen's 2017 preseason efforts showed that he could be effective in this role at the NHL level and he's had another season of development to refine his skills. And he's done just that according to Detroit's director of player development, Shawn Horcoff, who recently spoke with MLive's Ansar Khan about Rasmussen's recent play:
He's making some great offensive plays, some great passes, showing some really good vision from below the tops of the circles, which is a nice asset to go along with his good hands and scoring touch out front.
But the power play is Rasmussen's bread and butter. The forward would be a welcomed addition to Detroit's man-advantage units, which combined for the NHL's 24th-ranked power play this past season at a paltry 17.5-percent conversion rate.
The @TCAmericans have been led in the series by captain Michael Rasmussen with 7pts (4G-3A) in three games. #EVTvsTC #WHLPlayoffs pic.twitter.com/N6kNUHkyyb

— The WHL (@TheWHL) April 27, 2018
Final Word
Holland promised to feature more young players in the Red Wings' lineup next season, and Rasmussen should be there to further develop his skill set on Zetterberg's wing. He has nothing more to prove with Tri-City.
If Holland is serious about the youth movement, he and the rest of Detroit's management team should give Rasmussen a long look next season, provided he has another strong training camp and preseason. A truly earned reward for hard work will pay high dividends for Rasmussen and the Red Wings.
Do you think Michael Rasmussen with stick with the Detroit Red Wings next season? Comment below.