For the second time in three years, the Los Angeles Kings were unceremoniously bounced from the playoffs in the first round, this time at the hands of the expansion Vegas Golden Knights. Having won Stanley Cups in 2012 and 2014, the Kings have struggled to maintain that level of success as the league has shifted to a more speed-based, quick puck movement game that doesn't play to their strengths.
They won playing a heavy game of dump and chase, taking the body at every opportunity and wearing down their opponents. The organization saw fit to make a change at the top prior to this season, replacing general manager Dean Lombardi and head coach Darryl Sutter with Rob Blake and John Stevens, respectively.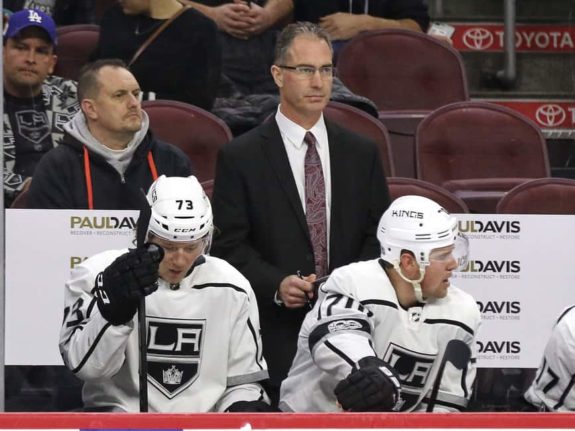 Stevens implemented an offensive structure designed to generate more scoring opportunities through quicker puck movement and a free-flowing, up-tempo pace of play. The team did see an increase in overall scoring this season and were still able to maintain their standing as one of the top defensive teams in the league. Their inability to score consistently still became their ultimate downfall, though, as they scored only three goals in being swept in four games by Vegas. The question becomes, where do they go from here in an attempt to regain their championship form?
Kopitar & Doughty Garner Award Consideration
Under Stevens' more free-flowing system, the Kings saw resurgent seasons from many of their star players. Captain Anze Kopitar bounced back from a subpar 2016-17 season when he scored just 12 goals while tallying a career-low 52 points to have an MVP caliber season. Kopitar set career highs in all three major offensive categories with 35 goals, 57 assists, and 92 points, which tied for seventh in the league. His performance landed him as a finalist for the Hart Trophy as league MVP as well as being one of three finalists for the Selke Trophy as best defensive forward in the league.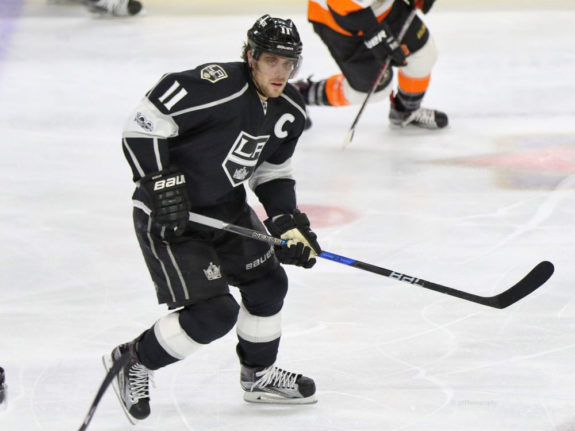 Defenseman Drew Doughty, a perennial Norris Trophy candidate – he was named a finalist for the fourth time this season – had arguably his best season to date. He set career highs in points (60) and assists (50) while leading the league in time on ice.
Resurgent Brown & Healthy Quick Make Big Contributions
Playing alongside Kopitar for most of the season, former captain Dustin Brown had a major resurgence of his own. After having struggled for most of the past four seasons, averaging just 13 goals and 30 points over that time span, Brown was second on the team with both 28 goals and a career-high 61 points. His 33 assists were also a career-high
Goalie Jonathan Quick had a return to form after missing 59 games in 2016-17 with a groin injury, posting a .921 save percentage, the second-best of his career behind only his spectacular 2012 campaign. The performance of Doughty and Quick were key reasons why the Kings captured the Jennings Trophy for the fewest goals allowed for the second time in team history,
Lack of Secondary Scoring Kings Downfall
While the Kings got superb play for most of their star players, they struggled for much of the year to find consistent secondary scoring. Jeff Carter, who led the team in goals with 32 and points with 66 the previous year, missed 55 games when he suffered a deep cut to his leg that required surgery. While he was productive when he returned, tallying 13 goals in 21 games, his absence left a huge void in the lineup and on the scoresheet. That void was filled for a while by rookie Adrian Kempe, who amassed 16 goals and 26 points through early February. However, he ended the season with a 29-game goalless drought despite being dropped to a less scoring-oriented role on the third line when Carter returned.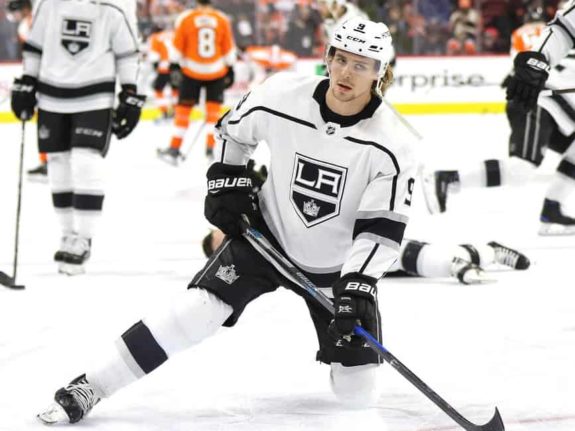 Carter's linemates on the "That's 70's" line, Tyler Toffoli and Tanner Pearson, also struggled to consistently find the back of the net. For Toffoli, who led the team with 31 goals two years ago, it was a tale of two seasons. Through the end of December, he had 17 goals and 28 points in 39 games. From January on, he tallied just seven goals and 19 points in 43 games. Pearson was unable to match what appeared to be a breakout season in 2016-17 when he scored 24 goals. This season he only put in 15 goals, although he did set a career high with 25 assists.
Kopitar & Carter Dominance Key to Cup Victories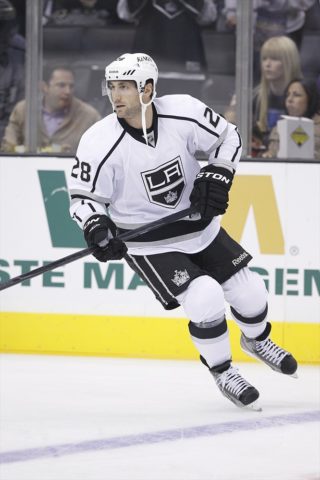 After such a disappointing end to the season, the questions quickly shift to how to fix it so that such an anemic offensive showing in a playoff series doesn't happen again. On many Kings fan boards these days, the debate wages on as to whether the Kings need a few tweaks or a major overhaul to get back into legitimate championship contention. I would argue they are not as far away as some might think.
One of the big strengths of the Kings teams that won championships was their strength down the middle with Kopitar, Carter, Jarett Stoll and Mike Richards, who provided the Kings with as strong a group of centers as any team in the league. This depth existed for several reasons. It came from their ability to put goals on the scoreboard, their ability to play a 200-foot game, to win faceoffs, and to roll out four lines consistently throughout the game. This depth allowed them to keep their top players fresh late in the game to come up with those big game-winning types of plays that are needed come playoff time.
Kempe & Vilardi Key to Dominance in the Middle
The current version of the Kings has the potential to match that depth, although some of it comes in the form of unproven talent. The Kings still possess the potent combo of Kopitar and Carter, as formidable a 1-2 combo at center as any in the league. After that comes Kempe, who has the potential to be a strong No. 3. Netting 16 goals as a rookie is a strong starting point. Given that it includes that 29-game goalless drought, the future could be bright for Kempe as a goal-scorer if he can find ways to not go through those extended droughts.
However, the biggest thing in his game that needs to improve to truly help him solidify the Kings down the middle is his ability in the faceoff circle. He struggled mightily in that area this season, winning just 38.5% of his draws this season. However, there is potential there for him to improve as evidenced by the 44.7% he won in January. With some work on this during the offseason and training camp, Kempe could definitely fortify the third-line center spot for the Kings next season.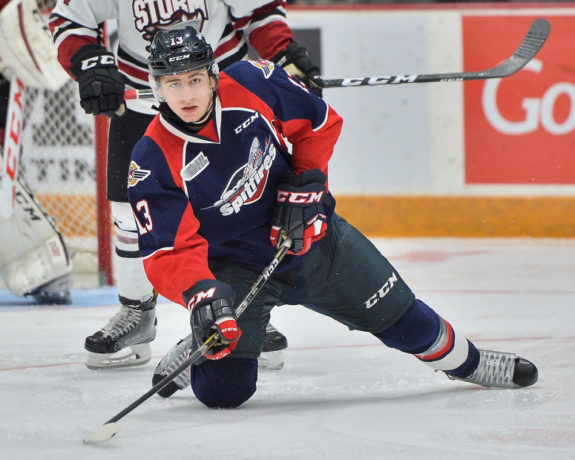 The wild-card in this whole equation is 2017 first-round pick Gabriel Vilardi. From everything the Kings management has been saying, it appears Vilardi, who will be just 19 years old when next season starts, will be given every opportunity to make the roster next season.
Elite Prospects states Vilardi is "a dangerous two-way center who stays poised, calm and composed in all situations. Individual puck skills are at an elite level and he is able to play a finesse role. Makes excellent decisions with the puck and showcases a well-rounded understanding of both the offensive and defensive game. Uses his size to his advantage and keeps the opposition guessing because he is able to do so many different things, including taking it himself to the net and powering through, making a seeing-eye pass, or holding off to piggyback a possession play. He already plays a mature yet dynamic game, and that indicates success for a long time at higher levels. All-in-all, a dexterous 200-foot player who is a consistent threat every time he is on the ice."
If he is indeed all these things, he could be the next Kopitar for a Kings team in desperate need of a new breakout young star. If he shows that he is ready in the fall, he could make the Kings a much more dynamic offensive team.
Los Angeles also has some other young players in the pipeline that are a year or two away, like Sheldon Rempal and 2017 second-round pick Jaret Anderson-Dolan, that possess some of the speed and up-tempo skills the Kings need to compete in today's NHL.
Contenders or Pretenders
This is the vision Stevens and Blake have for the future of the Kings, infusing these young players in alongside the Kopitars and the Doughtys that they already have and transitioning into that type of faster-paced hockey team. Blake was kind of left a bare cupboard in this regard by Lombardi, who sacrificed a lot of first-round picks for rentals over the past few years to keep the Kings in contention. As evidenced by the selections of Vilardi and Dolan last year, Blake has no intentions of sacrificing the potential future core of the franchise for a quick fix today.
One other thing to consider as far as the Kings offense goes is that they made huge strides this season under Stevens' new system. Giving players like Kopitar, Carter, and Doughty a full season to digest the system gives them the opportunity to go into the offseason and work on getting better at playing it. The second year of that free-flowing offense has the potential to be even better than this one as the players get more comfortable with it.
In the short term, you can re-sign restricted free agent Tobias Rieder or some other slightly cheaper free agent to plug the gaps until Anderson-Dolan or Rempal or the like are ready. What I would definitely not do is trade from the Kings' strength on the blueline, unless you are just blown away by an offer. If you could acquire a player like Anders Lee from the Islanders (or someone similar), I would keep the D intact. Doughty, Derek Forbort, Jake Muzzin, Dion Phaneuf, and Alec Martinez are as strong a top-five D as any team in the league. This defense has kept the Kings in the top-10 in the league in goals allowed in each of the past nine seasons. Messing with that core would be a mistake in my opinion.
Ultimately, the growth of the Kings young players, their ability to retain Doughty and finding players to fit Stevens system will determine whether the Kings can return to the promised land and hoist the Stanley Cup once again, or if their championship window has closed.