With the 2017-18 season in the books, the Detroit Red Wings will once again head into the offseason without a chance to compete for the Stanley Cup. This marks the second year in a row that the Red Wings missed the playoffs after a quarter-century of qualifying.
While a rebuild is just what the doctor ordered, this is a proud franchise that prides itself on success. Missing the playoffs and inconsistent play throughout the season are not what the organization anticipated heading into the campaign.
For many fans, frustrations grew over poor play, questionable lineup choices, and a lack of transparency this year. But after Detroit's sustained, dynastic success, anything less than the Stanley Cup could be considered a failure. Hockeytown has certainly been spoiled with a quality on-ice product until recently.
Despite their paltry record—which worsened from the prior year—there are positives that came out of the 2017-18 season. In this week's edition of The Grind Line, The Hockey Writers' Red Wings coverage team highlights Detroit's constructive takeaways as the next phase of the rebuild begins.
Tony Wolak: Forward Depth & Clear Organizational Direction
When given the opportunity to listen to Ken Kal and Paul Woods cover Red Wings games, one organizational plus they always hit on is the forward depth. Lineup choices aside, the Red Wings have some quality depth up front that will be even better heading into next season.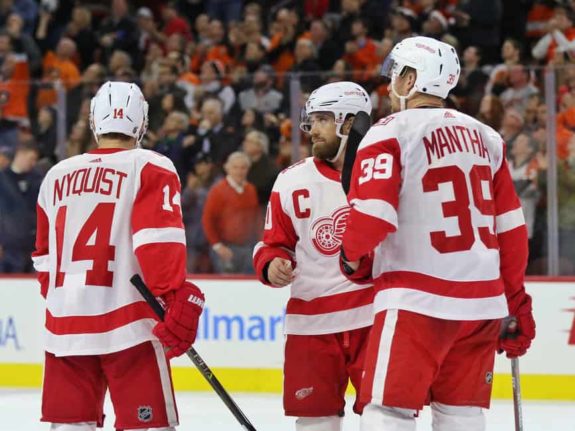 In addition to Evgeny Svechnikov and potentially Michael Rasmussen and a 2018 lottery pick joining the forward group next year, Detroit's younger players will have another year of experience under their belts. Dylan Larkin is turning into a dynamic, top-line center (more from Jacob on that later). Anthony Mantha should eclipse 30 goals next season. Andreas Athanasiou, Tyler Bertuzzi, and Martin Frk are all rounding out their respective games as they become more responsible players in all three zones. And that's just the under-25 crowd – veterans Henrik Zetterberg, Gustav Nyquist, and Frans Nielsen can still contribute, while Justin Abdelkader, Darren Helm, and Luke Glendening are effective in their own right.
Yes, a top-tier forward—perhaps John Tavares—would push the Red Wings over the top offensively. But, in the meantime, there are quality players in place. Those players took a step forward this season and have an entire offseason to train and come ready to compete in the fall. Ice time will certainly be in demand. Ken Holland and his team will have plenty of decisions to make on how to divvy that ice time. And on that note…
Of my many predictions, Holland receiving a two-year extension actually happened, and Detroit's long-time general manager has a plan. Dealing Tomas Tatar for draft picks tipped his hand and showed Red Wings fans that the organization wants to get younger now.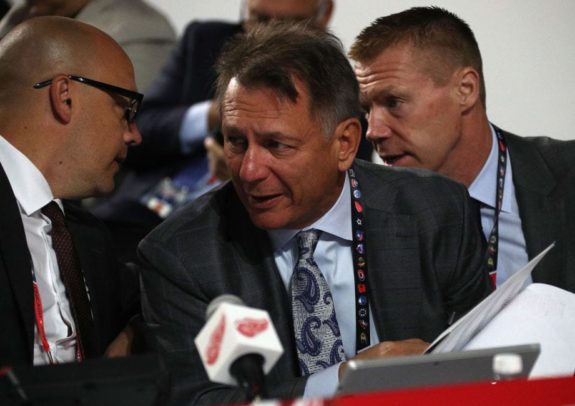 Holland and owner Christopher Ilitch want to continue the rebuild and follow the most aggressive path back to contention possible. But if you go back a few months, not many outside the organization knew what was going on or who would be making the decisions beyond the season finale.
There was no letter to the season ticket holders. There was no public game plan heading into the trade deadline either. Only a couple weeks ago, Holland could not provide any details about whether or not his contract would be extended beyond this season.
Now we know. Holland will be back. Jeff Blashill likely, too. The lineup is expected to get even younger and Holland will be aggressive in reshaping the roster to resemble that of a contender. He's planning for contention in 2020 and, until then, younger players will be held to a higher standard so that they learn to play the game the right way.
There will be growing pains along the way, but the Red Wings are headed in the right direction – one that Holland has clearly articulated to the Hockeytown faithful.
Related: Ken Holland's Red Wings Rebuild Is Rolling
Jacob Messing: Dylan Larkin's Progress & Top-8 Pick
As Tony briefly alluded to, Larkin is the absolute best thing to come out of the Red Wings this season. After a drastic sophomore slump, he bounced right back on the development track with 16 goals and 47 assists for 63 points.
For those who didn't give him the benefit of the doubt about the full-time move to center last season weighing on his offensive numbers, just take a look at Claude Giroux's bounce-back after a shift to the wing.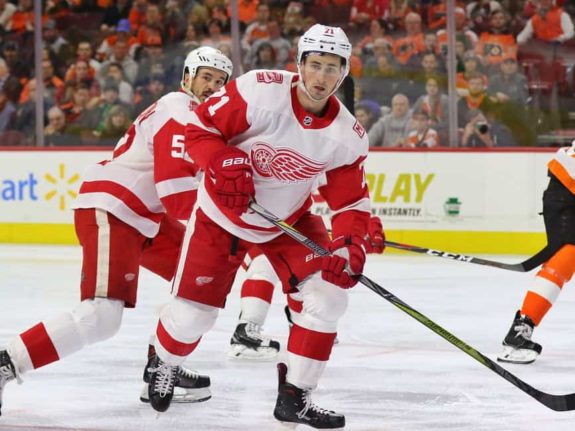 His second full year as a center came along nicely, winning a modest 49.9 percent of his 1,314 draws while hitting the scoresheet on a fairly consistent basis. The 16 goals marked another decrease from his 23 as a rookie and 17 in 2016-17, but his 6.9 shooting percentage was a big drop from his career 10.0 percent.
The homegrown player is living up to his 15th overall selection in 2014 as a big-minute player with high-end speed, a proven ability to kill penalties and the knack for big plays. After a reported change in some attributes of his stick with 10 games remaining, Larkin recorded six goals and 13 points down the stretch. Placebo effect or not, he could be headed for an even bigger breakout in 2018-19.
Larkin still has a lot of learning to do, but the 21-year-old has shown the ability to be the next Red Wings star, even if he never reaches the caliber of a Sidney Crosby or Connor McDavid. He was a bright spot in a dark year for Hockeytown.
The dark year that Detroit has had does bring a benefit: it is about to bring Detroit top-tier talent. It's the kind of talent that comes from finishing in 27th place in the NHL. In 27th place, the Red Wings have an 8.5-percent chance of winning the first overall pick—whether they deserve it or not.
Even if the top pick isn't in the cards, Detroit still has a chance at moving up with the right opponents getting some lottery luck. Conversely, Detroit's luck could be the bad kind that sees them fall up to three spots back, drafting as low as eighth overall.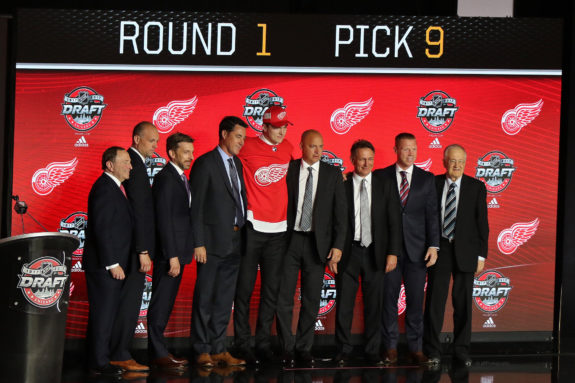 But it's expected to be a deep draft and with various respective team needs around the bottom-dwellers, Detroit could still end up with a player ready to crack the lineup in October.
Behind unanimous top pick Rasmus Dahlin are forwards Andrei Svechnikov, Filip Zadina, Brady Tkachuk and Oliver Wahlstrom. On the back end are Adam Boqvist, Noah Dobson, Quinn Hughes and Evan Bouchard.
Help is on the horizon, even if it's not NHL-ready in 2018-19.
Related: 3 Potential Red Wings Draft Strategies
Franklin Steele: Front Office Stability
I know that I am going to be in the minority here because the Red Wings' echo chamber decided that Ken Holland couldn't lead the rebuilding process long ago, but I feel that having some certainty in the general manager position is a good thing moving forward.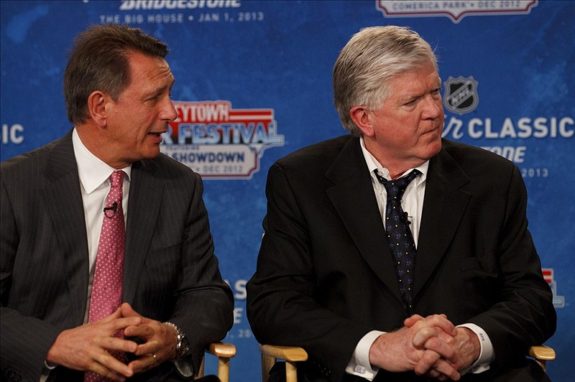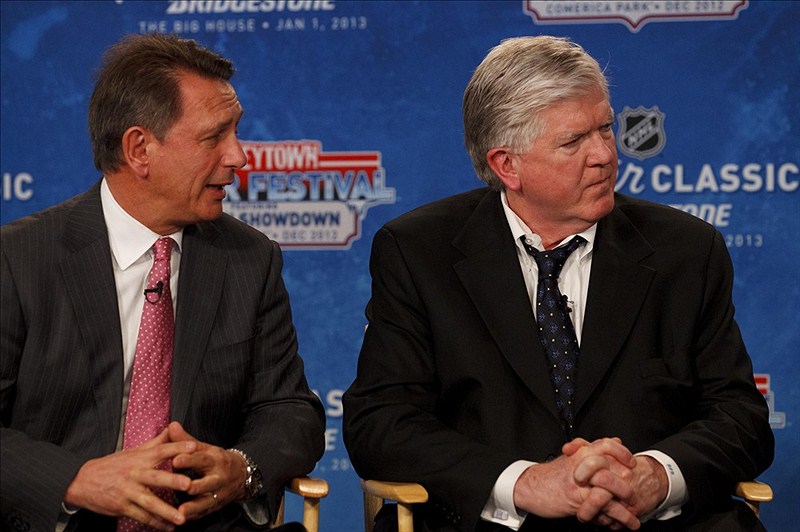 Fans sometimes don't actively consider what "just" making the playoffs does for an organization. From ownership's standpoint, it makes all the sense in the world to push for extra home postseason games. It's just extra money going into the coffer, hand over fist. Back in 2010, Ken Belson of the New York Times examined what the actual cost of missing the playoffs would be for the New York Rangers, and determined that the team would be missing out on $2 million in extra revenue per contest.
And that's not even taking into consideration how much extra cash would be generated through playoff merchandise sales, concessions, and so on.
So yes, of course the Red Wings wanted to keep the playoff streak alive, even if it made more sense from an armchair GM's position to strip the team down to the bones in the name of a higher draft pick. It's worth mentioning at this juncture that a high selection doesn't guarantee improvement in the standings either.
Just look at the Edmonton Oilers. A bad general manager making poor choices can badly set a team back, even if they roster the best offensive player alive.
Which really brings me back to Holland. Now that the "playoffs or bust" directive from ownership has shifted, the veteran GM will be able to make the kinds of moves that fans have been clamoring for over the last few seasons. He's handled the last two trade deadlines quite well, and it gives hope that Detroit will be on the up and up sooner rather than later with Holland at the helm.
He's handed out a few bad contracts to depth players, but he's also managed to ditch a handful of those deals over the last 18 months. It will be interesting to see what this team looks like a year from now and whether Holland can surprise some people and succeed at rebuilding this franchise.
Related: Red Wings All-Time Salary Cap Team
What about the Detroit Red Wings has you optimistic heading into the offseason? Comment below with your thoughts.