What's The Grind Line? Apart from the once-famous line of Kris Draper, Kirk Maltby, and either Joe Kocur or Darren McCarty, The Grind Line is also The Hockey Writers' weekly column about the Detroit Red Wings. Jacob Messing, Griffin Schroeder, and Tony Wolak are the muckers who make up THW's forechecking unit and sound off on Red Wings topics.
---
Over the past few weeks, we've covered how the Detroit Red Wings could approach the 2018 NHL trade deadline substantially, including commentary on Mike Green, other trade chips, and Detroit's goaltenders. It's only fair – this month could be quite busy for GM Ken Holland as he looks to build for the future.
But there is more to the deadline then roster players being jettisoning from Hockeytown. With each trade, the Red Wings will likely pick up prospects and draft picks. Plus, prospects already in the system will be called upon to fill in for those who are traded.
Related: State of the Red Wings Rebuild
In this week's edition of The Grind Line, The Hockey Writers' Red Wings coverage team shares their thoughts on Detroit's present prospect pipeline, potential trade deadline additions, and the upcoming 2018 NHL Entry Draft. While today's Red Wings may not be setting the hockey world on fire, the future of the organization does burn bright.
Tony Wolak: High-End Goaltending Depth Needed
If the Red Wings decide to move on from Petr Mrazek at the trade deadline (or in the offseason), they'll need to address their goaltending depth. Quantity is not the issue – quality may be, though.
Sure, 2016 draft pick Filip Larsson has had a spectacular season with the USHL's Tri-City Storm. But as we've seen with 2017 selection Keith Petruzzelli, success in the USHL doesn't always translate to college hockey – right away, at least. However, Petruzzelli is just a freshman and has time to take his game to the next level. Larsson will also have four years of collegiate competition to grow as a netminder with the University of Denver.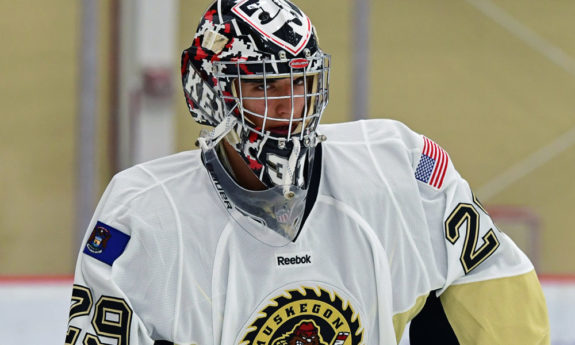 Those two, plus Swiss goaltender Joren van Pottelberghe, are still years away from NHL action. In the interim, the Red Wings also have Kaden Fulcher in the OHL and Matej "Macho Man" Machovsky in the ECHL. Neither has a particularly high ceiling like Petruzzelli and Larsson, but each could develop into a serviceable netminder.
With that being said, the Red Wings really don't have a quality goaltending option who will be hitting their prime as the organization emerges from their rebuild in three-plus years. Mrazek could be that option – if he's still around. But otherwise, no other goaltender in the system fits the bill. In fact, goaltending is probably the least "rebuilt" position when compared to defensemen and forwards.
As Detroit continues to build its prospect pipeline and move out veterans, the organization should give serious consideration to acquiring a top goaltending prospect. No goaltender in their system now is a sure thing, so why not supplement their depth with a quality netminder from another organization?
Griffin Schroeder: Hronek Hrising Through the Hranks
Frankly, at the start of this season, I expected to slot in pipeline mainstays like Joe Hicketts, Vili Saarijarvi, or Evgeny Svechnikov as call-up candidates post-trade deadline. Yet, here is Filip Hronek, an AHL rookie who has stolen the spotlight from each of them.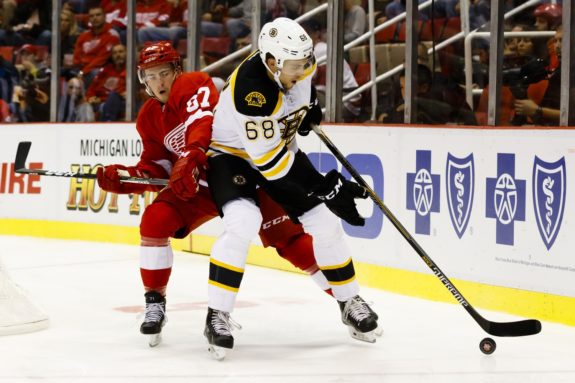 Once the Wings unload Mike Green, there will be a prime spot on the blue line available for an offensively-minded rearguard to get NHL reps. Hronek certainly fits that bill. For one, the 20-year-old currently leads the Griffins defense in goals (7) and points (26), an offensive carryover from his 2016-17 OHL performance with the Saginaw Spirit.
Nearly half of the 2016 second-round pick's overall scoring (12) has come on the man-advantage, but his strong play has extended to all situations. At even strength, he's posted a strong 68.42-percent 5-on-5 goals-for percentage, good for fourth in the league among blueliners that have played in at least 30 games.
The Hradec Kralove-native's numbers in his draft year were off-putting on the surface (4 points in 40 games in the Czech league). However, he was an 18-year-old playing in a men's league, a feat in itself. Now in North America, that maturity is shining and starting to get more recognition now that he's one step from the big leagues.
As early as 2019, Detroit's defense will look drastically younger. Green will be long gone, Niklas Kronwall will in all likelihood retire, and Jonathan Ericsson could be a buyout candidate. It will be important to get fresh faces like Hronek some reps as early as possible so they can be ready to fill full-time roles.
He's earned the opportunity to be one of the first to get his feet wet.
Jacob Messing: Stockpile Even More Draft Picks
The Red Wings seem to have some real talent growing on the farm and the "on-the-fly" retool could prove to be a strong vision of Ken Holland. Detroit's long-time general manager has lost the confidence of Red Wings fans over the past few seasons with long-term contracts and a neglect for rising prospects and replaceable players.
This February, he has a chance to slightly right his wrongs if he can prove to be as smart at the deadline as he was last year. Mike Green should fetch a first-rounder at the very least and other assets—given Detroit's immense need to dump salary—could also bring in decent drafts picks in a notably strong draft year.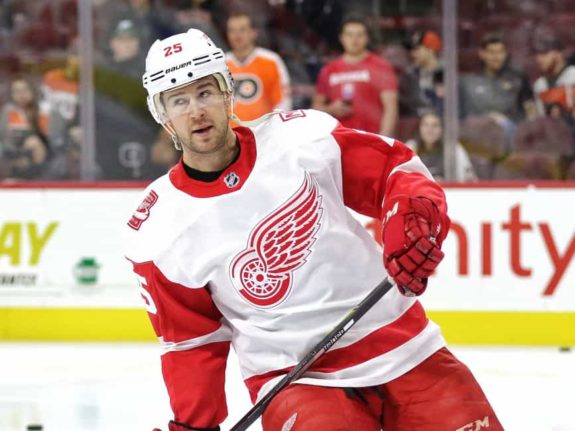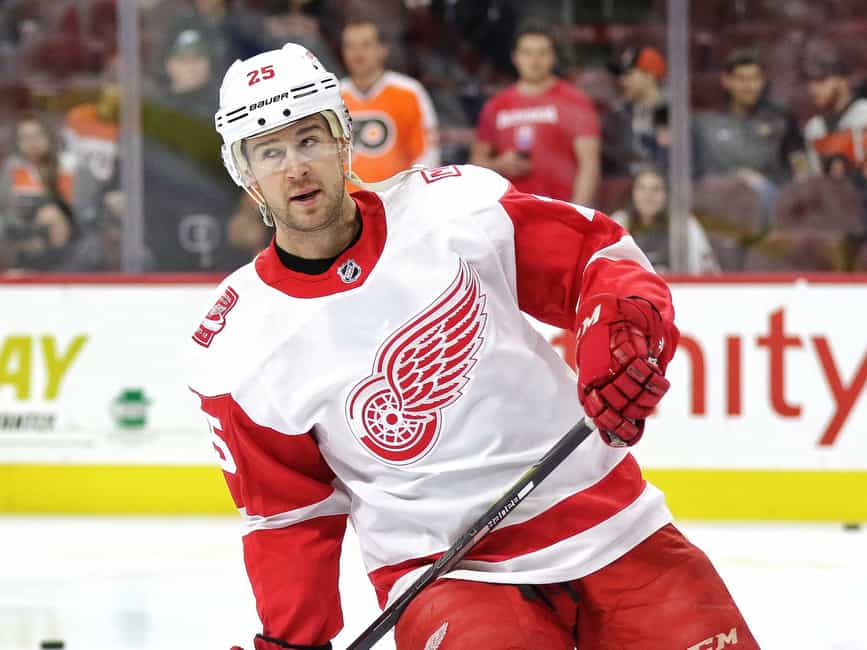 With offensive prospects including Evgeny Svechnikov, Michael Rasmussen, and Givani Smith, plus Filip Hronek, Joe Hicketts, and Dennis Cholowski knocking on the door, the Red Wings aren't in a bind at either skater position. The crease isn't deplorable either, which means Holland's number-one priority should be bringing in picks for the "retool."
While Detroit isn't among the teams with the deepest prospect pool, its top prospects have taken a nice step this season. But with a chance of never making it to the NHL, bringing in other prospects in an aforementioned deep draft could and should go a long way in Hockeytown.
Which Detroit Red Wings prospects are you most looking forward to seeing in Hockeytown? Comment below with your pick.