Since the Detroit Red Wings declared themselves as sellers prior to the 2017 NHL trade deadline, general manager Ken Holland has generally done a good job of guiding the franchise through a "rebuild on the fly." Good enough to warrant a contract extension for the long-time GM? We'll see.
Whether or not Holland is retained beyond the 2017-18 season—as the GM or in another front office role—he's acted with Detroit's best interest in mind. There has been no egotistical, lame duck mentality of sitting on his hands until a new contract is discussed. No, Holland is planning for the future – even if he's not involved.
He stated as much in his press conference to cover the Petr Mrazek trade.
"My mindset isn't about 17-18 or even 18-19. It is more about 19-20." Says again he's looking to build a couple years down the road. #RedWings

— Dave Hogg (@stareagle) February 20, 2018
A return to the postseason in 2020 is the goal. Three years of rebuilding is a little closer to the duration of Toronto's rebuild than that of Edmonton, Buffalo, or Arizona. It's a plausible goal, but having an Auston Matthews-type player certainly improves its chances of succeeding. And though Holland may not be around to see it all the way through, his efforts today will largely impact future success.
---
Related: Red Wings Trade Deadline Reactions
---
Make no mistake, most of the reason why the Red Wings are in rebuild/retool mode is because of the signings and trades that Holland has made over the past decade-plus. That, and the failure to replace Nicklas Lidstrom and Pavel Datsyuk adequately.
With that being said, once the organization's main priority turned to a rebuild/retool—but not a complete tear-down—Holland has actually executed well for the Red Wings.
Trade Deadline Additions and Subtractions
Over the course of two trade deadlines, Holland has been able to part with a handful of players who were not part of the long-term plans. Considering the Red Wings who were dealt, Holland's haul was actually pretty solid. In fact, a few trades were downright heists.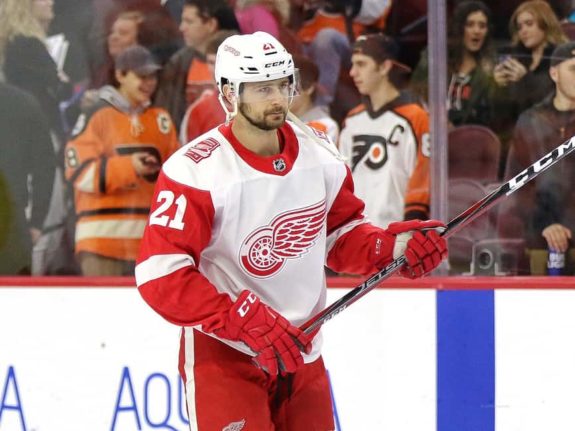 In exchange for moving Tomas Jurco, Brendan Smith, Thomas Vanek, Steve Ott, Petr Mrazek and Tomas Tatar, Holland was able to bring back what will likely amount to:
A first-round pick (2018)
Two second-round picks (2018 & 2019)
Five third-round picks (Keith Petruzzelli, Zach Gallant, Kasper Kotkansalo, 2018, 2021)
A sixth-round pick (2018)
Dylan McIlrath
Cap space
That's a pretty solid return for the players above, especially considering only Mrazek and Tatar could have contributed to a better, future Red Wings team. Everyone else was likely out the door regardless.
This year's extra first-round pick and the upcoming second-round selections will go a long way in stocking Detroit's prospect pipeline with talent. Additionally, Keith Petruzzelli could develop into a legitimate NHL goaltender with some more NCAA seasoning – the skill set is certainly there. Overall, the rebuilding phase haul is some of Holland's best work to date.
Detroit's Missed Opportunities
Yes, Mike Green was not traded. Neither were Danny DeKeyser, Luke Glendening, Jimmy Howard, Xavier Ouellet, or Gustav Nyquist. And that's fine—more on that later—but first, let's address the Green non-trade.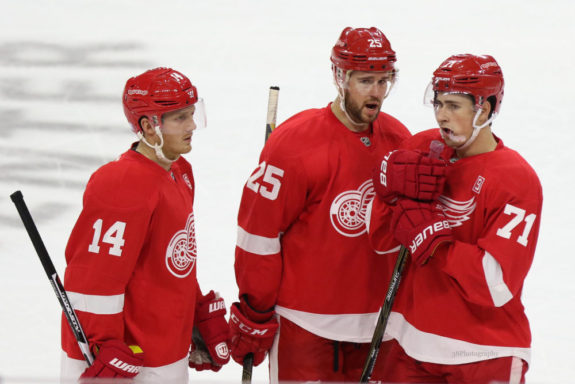 Clearly, Holland could not have predicted an injury would pop up. Or that Erik Karlsson would be the shiny object capturing the full attention of all NHL GMs leading up to the deadline. Or that Ottawa would pull an "lol jk" with the elite defenseman.
---
Related: Best & Worst Red Wings Trade Deadline Deals
---
There was prior interest in Green, but no one wanted to commit until the deadline, especially with Karlsson "on the table" and Detroit's defenseman ailing. Moving Green before his injury would have been great in theory, but no one will ever know—apart from Holland and his team—if anyone was ready to pull the trigger a few weeks ago. You can't fault Holland for the non-trade with all of these variables coming into play.
However, he does have the ability to make up for the missed opportunity.
Red Wings' Summer Plans
All of those players who were held onto at the deadline – Holland can (and should) make them available at the 2018 NHL Draft. There, he can continue to supplement the rebuild, open up cap space, and produce opportunities for his young players to step up and develop at the NHL level.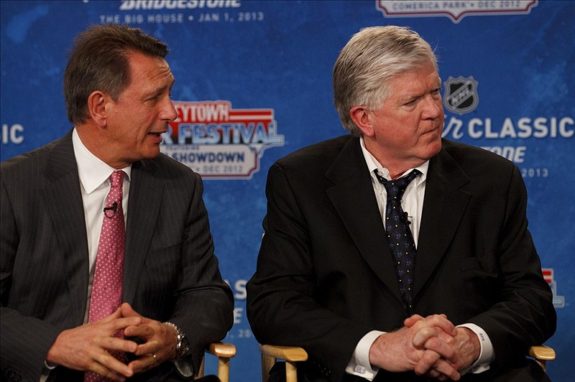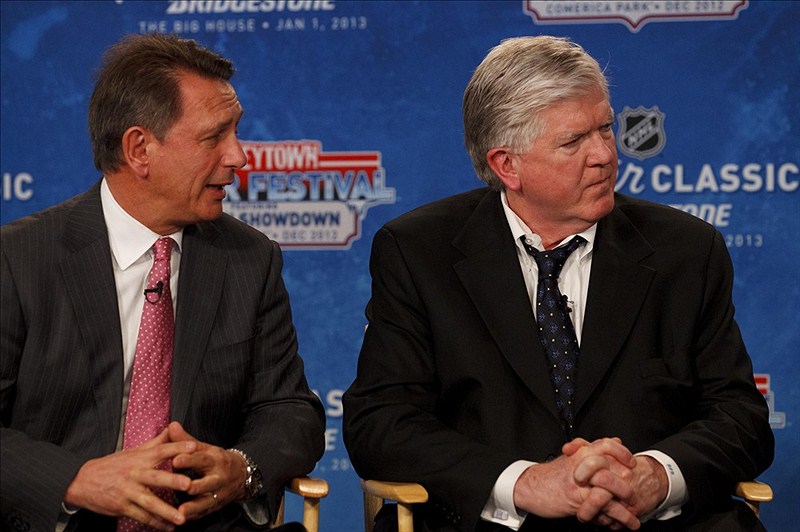 With Detroit expected to pitch Green on another contract, Holland could have a glut of NHL defensemen next season. Let's say Green signs with the Red Wings after all. Holland will return seven defensemen from this year's team, plus Joe Hicketts—who will require waivers to be sent down—and Filip Hronek knocking on the door next season. And don't forget about Dennis Cholowski and this year's lottery pick.
With the surplus of defensemen, Holland will likely need to move two over the summer. Nyquist could be an attractive option as well – perhaps Holland will learn from Green's injury and trade pending rental Nyquist while he's healthy. The same goes for Jimmy Howard.
Final Word
Given the body of work that's been accomplished since the rebuild decree, the often-criticized Holland has done a good job. It's plausible that ownership does not want a full-out tank given the need to succeed in the new arena, so this retool on-the-fly approach may be Holland's only real option.
If it was up to me, I'd give Holland a two-year extension with the demand that the team must be ready to compete heading into the 2019-20 season. That way, Holland has another year to make good on his goal – and he's not tied to the Red Wings long-term. Plus, there's time for Holland to improve his approval rating with a few offseason trades.
We love approval ratings here in DC. With that being said, do you approve of Ken Holland's rebuilding efforts to date? #LGRW

— Tony Wolak (@TonyWolak) February 27, 2018
In the interim, hold tight. Green will be back in the lineup soon. Hicketts and Hronek will join the Red Wings at some point, get their feet wet, and then play some meaningful minutes in the Grand Rapids Griffins' playoff run. Change is coming, Hockeytown – just be patient.
Has Ken Holland done a good job with the rebuilding efforts of the Detroit Red Wings? Comment below with your thoughts.