After weeks of speculation, the Detroit Red Wings and Philadelphia Flyers finally came together on a deal for goaltender Petr Mrazek. Detroit's Twitter account reported the trade late Monday night. With Mrazek heading to Philadelphia, the Red Wings are set to receive a 2018 conditional 4th Round draft pick and a 2019 conditional 3rd Round pick.
UPDATE: The Detroit #RedWings have traded G Petr Mrazek to the Philadelphia Flyers for a conditional 4th round pick in the 2018 NHL Entry Draft and a conditional 3rd round pick in the 2019 NHL Entry Draft. pic.twitter.com/nTR27IOfLM

— Detroit Red Wings (@DetroitRedWings) February 20, 2018
Mrazek is in the last year of a two-year contract with a $4 million AAV, though the actual dollar figure for this season is $4.15 million. The goaltender is scheduled to become a restricted free agent at season's end, though it's been speculated that he would not be qualified at his current salary this summer, making him an unrestricted free agent.
The Athletic's Craig Custance reported that the Red Wings will retain half of Mrazek's 2017-18 salary. In addition, TSN's Bob McKenzie noted the conditions of the draft picks that Detroit has acquired.
DET guaranteed no less than a 4th round for Mrazek. If PHI makes playoffs and Mrazek wins 5 games for PHI in reg season, 4th becomes a 3rd. If PHI advances to CF, and Mrazek wins six playoff games, the 3rd becomes a 2nd. If PHI re-signs him next season, DET gets PHI 3rd in 19.

— Bob McKenzie (@TSNBobMcKenzie) February 20, 2018
Injuries to Philadelphia's Goaltenders
Last week, it was announced that Flyers starting netminder Brian Elliott would miss five-to-six weeks following core surgery. Elliott had started the lion's share of games this season for Philadelphia before going under the knife. Through 41 games, the Newmarket, Ontario-native has posted a 21-11-7 record in his first season with the Flyers.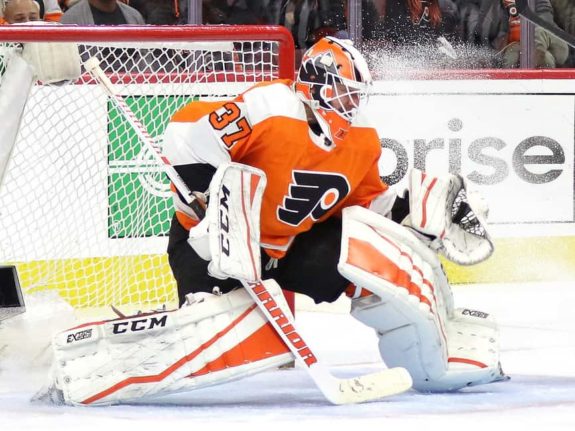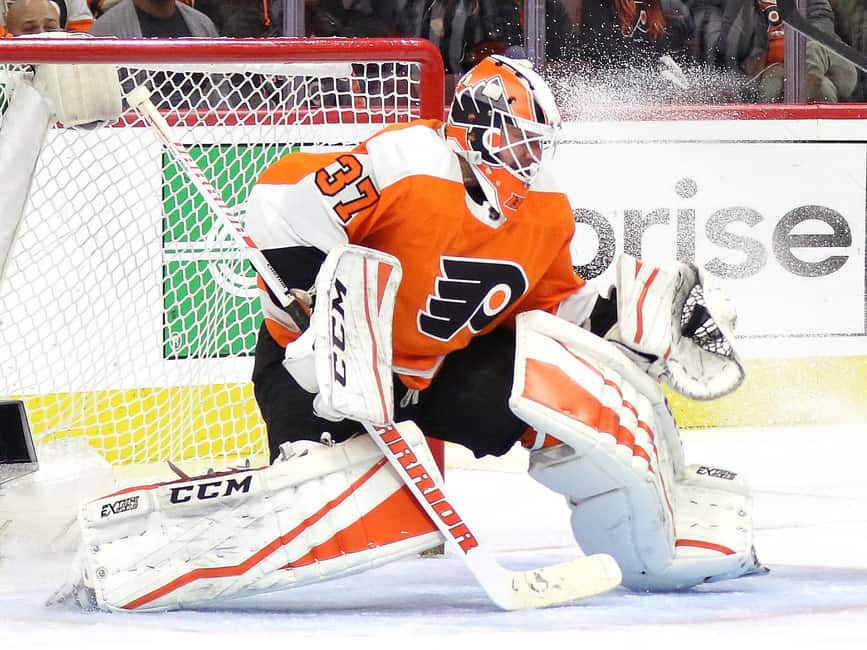 Losing Elliott was a big blow for Philadelphia as they push for a playoff berth. Losing backup goaltender Michal Neuvirth during Sunday's game against the New York Rangers made matters worse.
During the game, Neuvirth sustained a lower-body injury and was replaced by rookie Alex Lyon. Following Elliott's injury, Neuvirth posted a 3-0-1 record before his own injury occurred. With the second-year professional Lyon set to be Philadelphia's starting goalie and a postseason appearance on the line, many, including TSN's Darren Dreger, felt a move coming.
Mrazek Heating Up
After a slow start to the season, Mrazek finally found his form as the calendar turned to 2018. Save Detroit's regrettable loss to the New York Islanders, the Czech netminder has been spectacular for the Red Wings as of late.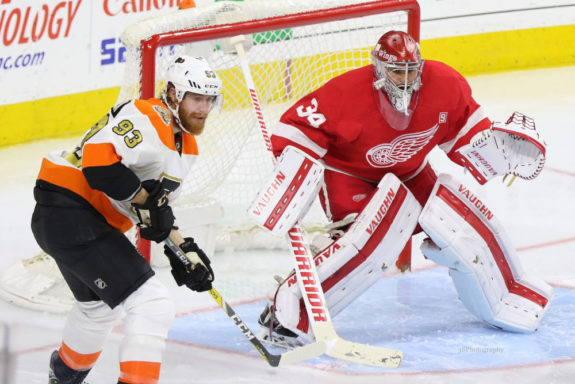 Since the beginning of January, Mrazek has posted a 5-3-2 record for underachieving Red Wings, along with a 2.29 goals-against average (GAA) and .925 save percentage (SV%). Philadelphia's newest addition has been splitting time with veteran Jimmy Howard in Hockeytown, but has been the "hot hand" for the Red Wings. With the Flyers, Mrazek will have the opportunity to start most nights until either Elliott or Neuvirth returns from their respective injuries.
Over parts of six seasons in Detroit, Mrazek has looked like the goaltender of the future at times. He's also looked quite the opposite. Mrazek's final record with the Red Wings stands at 72-58-20 through 166 NHL games, with a 2.60 GAA, .912 SV%, and 13 shutouts.
With Mrazek now in Philadelphia, Detroit will likely lean on Howard the rest of the way. American Hockey League Player of the Week Jared Coreau is expected to be recalled to serve as Howard's backup and start a few games down the road for the rebuilding Red Wings.