The Blackhawks have 19 games left in their regular season, and it's safe to say that they aren't making the playoffs. With Blackhawks fans not having the privilege of playoff hockey for the first time in a long time, they need to make the most of the remainder of the regular season.
Instead of checking the standings daily, which is a normality at this time of year, what should Blackhawks fans be watching out for instead?
1. Tommy Wingels
Wingels was traded from the Blackhawks to the Bruins on deadline day. The Blackhawks and Bruins face off in two matinee games this season: in Boston on March 10 at 12:00 p.m., and in Chicago on March 11 at 11:30 a.m.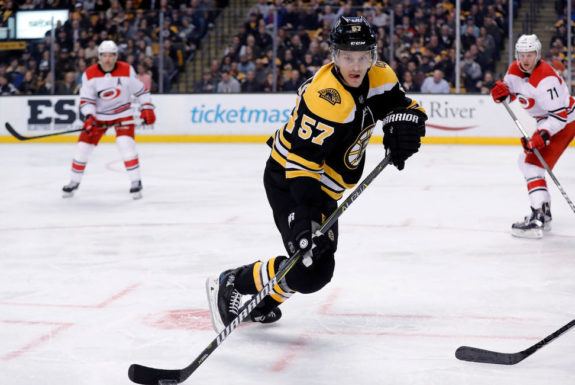 He played in 57 games with the Blackhawks this season and recorded 12 points, but his impact came mostly off the score sheet. Wingels was a hard worker who could play anywhere in the lineup and always stood up for his teammates. In his first game with the Bruins, he recorded a goal and an assist.
While there is a possibility that Wingels could re-sign in Chicago this off-season, he also could be a fan favorite in Boston for a long time.
2. Playing Spoiler
For the first time in a long time, the Blackhawks have the opportunity to play spoiler, something that coach Joel Quenneville isn't too excited about. They likely won't make the playoffs, yet they still have several big divisional games left on their schedule.
In the remainder of the schedule, they play:
San Jose (twice) – Second in the Pacific Division
Los Angeles – Third in the Pacific Division
Anaheim – Second wild card team in the Western Conference
Colorado (three times) – Sitting just outside a wild-card spot in the Western Conference
Carolina – Sitting just outside a wild card spot in the Eastern Conference
Boston (twice) – Third in the Atlantic Division
Winnipeg (three times) – Second in the Central Division
Buffalo – Last place in the Eastern Conference
St. Louis (three times) – Sitting just outside a wild card spot in the Western Conference
Vancouver – Second-worst team in the Western Conference
New York Islanders – Sitting just outside a wild card spot in the Eastern Conference
As you can see, other than the two games against Buffalo and Vancouver, every game the Blackhawks play is against a team either in a playoff position or just outside of one. This means that every game will be meaningful for their opponent and likely will have a high intensity level. The championship winning window might not be closed just yet, and playing in such meaningful games might pay off in the long run for their younger players.
For the Blackhawks, I don't think they would mind being the reason that St. Louis or Colorado misses the playoffs.
3. AHL Call-Ups
On deadline day, the Blackhawks recalled Matthew Highmore from the Rockford Ice Hogs of the AHL. In 56 games with Rockford this season, Highmore has tallied 35 points, 21 of which were goals.
While Highmore can play any of the three forward positions, he looks to be starting his NHL career as a right wing on the third line. Highmore can play on the powerplay and penalty kill, and he plays a solid 200-foot game.
The Blackhawks sent John Hayden down to Rockford in January, but it's likely he will get another shot in the NHL this season after spending 19 games with the Ice Hogs. In those 19 games he has tallied 14 points, five of which were goals.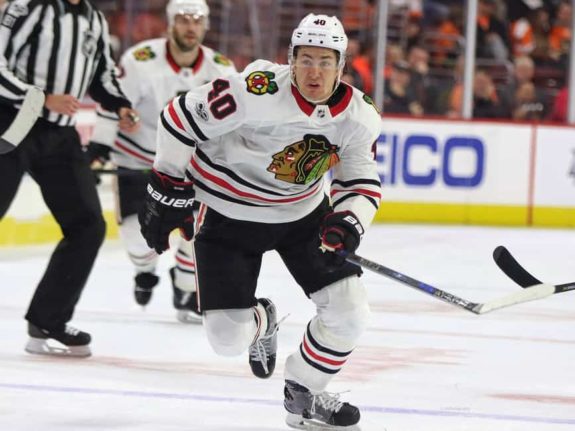 Before being sent down, Hayden played 51 regular season games and one playoff game with the Blackhawks over two seasons. In that span he had 15 points and 47 penalty minutes. Hayden found his role in Chicago as a power forward playing mostly in the bottom-six, a gritty player who stood up for his teammates and provided big hits while still driving the net and providing offense.
Other players who could get a call up (or sign a contract and play) include Dylan Sikura, Gustav Forsling, Anthony Louis, Tanner Kero, Alexandre Fortin, and Luc Snuggerud.
The Blackhawks should continue to play as many of these young guys as they possibly can this season to see what they have for next season, as well as get these players valuable minutes to help their development.
4. Carolina Hurricanes
Several former Blackhawks will return to the United Center on March 8 when the Blackhawks and Hurricanes face off at 7:30 p.m.
Trevor van Riemsdyk was selected by the Vegas Golden Knights in the expansion draft, and then was flipped to the Carolina Hurricanes. Similarly, Marcus Kruger was traded to Vegas in the offseason, and then he was eventually flipped to the Carolina Hurricanes. The Hurricanes recently put him on waivers.
Scott Darling was traded to the Hurricanes  in early 2017, and has since started 32 games for them, while appearing in 34. He has had a bit of a down year this season with Carolina, posting a 10-16-7 record.
Darling and Cam Ward have evenly split starts so far this season, so Blackhawks fans in attendance will just have to hope that Hurricanes head coach Bill Peters will give Darling the nod in his hometown against his former team.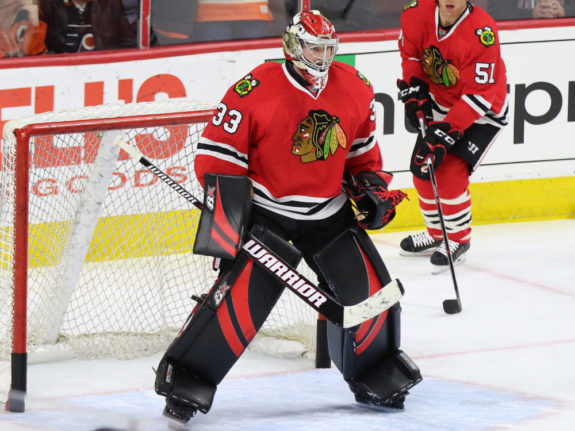 Darling will forever hold a spot in the heart of Blackhawks fans: he's a Lemont, IL native and has an incredible story that eventually landed him in the NHL. His relief appearance against the Predators in the 2015 playoffs was simply incredible, and his overall performance in the first round helped lead the team to winning the Stanley Cup.
Teuvo Teravainen is the one that got away in the eyes of most Blackhawks fans, and he would look incredible on this current team. He was traded to the Hurricanes as a sweetener in the Bryan Bickell trade back in 2016. It's hard to believe Teravainen has already played 259 NHL games, and he is having a career season this year. Through 63 games, he has 49 points.
Joakim Nordstrom and Klas Dahlbeck are the last two former Blackhawks on the Hurricanes roster. Nordstrom played 125 games for the Blackhawks across three seasons, and helped them to win the 2014-15 Stanley Cup. He was traded to the Hurricanes in 2015 along with Kris Versteeg. Dahlbeck only played four games for the Blackhawks before he was traded to Arizona and eventually picked up by Carolina off of waivers.
5. Team Leader in Goals
It's not often that someone on the Blackhawks scores more goals than Patrick Kane in a season. It hasn't happened since the 2013-14 season, when Patrick Sharp had five more goals than Kane. In the 2014-15 season, Toews had one more goal than Kane, but he had 20 more games played. That was the season Kane was playing at a Art Ross Trophy level until he broke his collarbone.
With 19 games to go in the season, Kane has 23 goals for the team lead, but Alex DeBrincat is on his tail with 22. They have both played 63 games. If DeBrincat, a rookie, scores more goals than Kane this season, that's a very positive sign for the future. Kane has been slumping a bit lately, but he is proven—everyone knows what he can do.
Alex DeBrincat was an unknown commodity at the NHL level coming into this season. Seeing him put up this kind of production is extremely encouraging, especially given that he has been in a bottom six role most of the season, on an overall slumping team.