The upcoming 2018 NHL Draft comes at a pivotal point in the Edmonton Oilers current trajectory. The club has now missed the playoffs in two of the first three seasons of Connor McDavid's career and will look to right that wrong in 2018-19. With this year's draft, the Oilers should be able to add a significant piece to their puzzle with the 10th overall pick.
The 2018 first-rounder isn't the only piece of the puzzle. Edmonton managed to hit it out of the park last year in Keith Gretzky's first year running the draft table and came away with several players that could factor into the club's future. Kailer Yamamoto leads the 2017 class and is the bonafide top prospect in the Oilers system.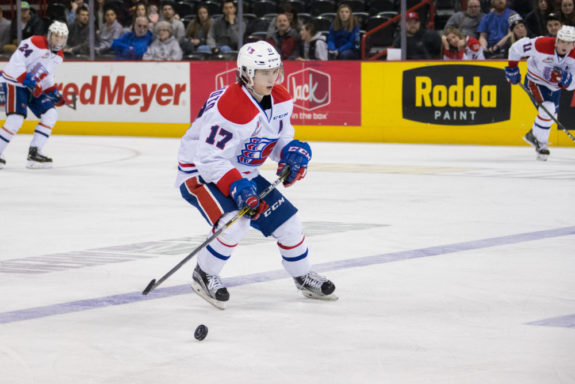 He's followed closely by a goaltender, Stuart Skinner, who stole the show throughout the WHL playoffs in 2017-18. There are also two prospects found in the middle rounds that look like they could be players down the road too. Look around the league, and you'll notice the trend of teams that are getting to the top — they're all drafting and developing from within.
Related: 5 Defensemen Worth Trading Oilers 10th Overall Pick For
Going over the past two decades, the Oilers have failed miserably at that aspect. This time around, although it's still early to project, the current crop of prospects coming through the system is much stronger than those of year's past. Here are Edmonton's 2017 NHL Draft selections revisited and how they're trending now.
Kailer Yamamoto –  Spokane Chiefs (WHL)
Position: RW | Pick: 22nd, 1st Round
2017-18 Team: Spokane Chiefs (WHL)
Stats: 40 GP – 21 G – 43 A – 64 PTS
After getting sent back to junior in November, Yamamoto tore the WHL apart with 64 points in 40 games. Part of that torrid pace included a 27 game run where he put up 19 goals and 52 points. He also put up four points en route to a bronze medal finish with the Americans at the 2018 World Juniors.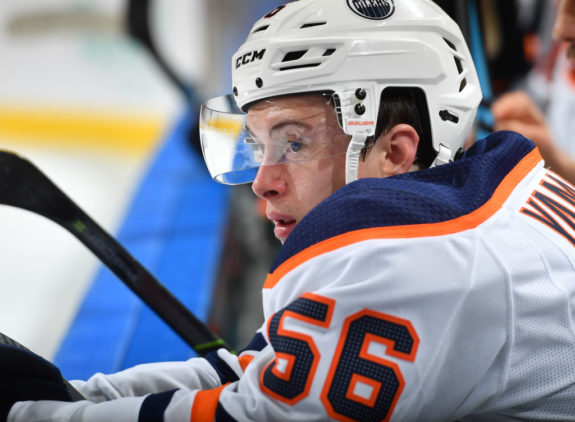 In the WHL playoffs, Spokane fell behind 3-1 and forced a Game 7, but ultimately was bounced in the first round by the Portland Winterhawks. Yamamoto had a good, not great, series against Portland with four points in seven games.
Related: Best Players Available for Oilers at 10th
Next season he'll be a 20-year-old and will have a shot at one of the top two wing spots in camp. If all else fails, expect Yamamoto to play a starring role for the Bakersfield Condors along with Tyler Benson and others.
Stuart Skinner – Lethbridge Hurricanes (WHL)
Position: G | Pick: 78th, 3rd Round
2017-18 Team: Swift Current Broncos (WHL)
Stats: 56 GP – 30 W – 3.07 GAA – .905 SV% – 6 SO
Skinner had a slower start to the year with Lethbridge until a mid-season trade to the powerhouse Swift Current Broncos turned things around. The 19-year-old went on to backstop the Broncos all the way to the 2018 Mastercard Memorial Cup. He was the team's best player since being acquired.
Swift Current essentially ran out of gas once they got to the Memorial Cup, but it wasn't without some incredible saves by Skinner. He's vaulted himself up the depth chart, and with that 6-foot-4 frame, has ideal size for an NHL starter. Skinner signed his entry-level contract (ELC) and will turn pro for 2018-19.
Dmitri Samorukov – Guelph Storm (OHL)
Position: D | Pick: 84th, 3rd Round
2017-18 Team: Guelph Storm (OHL)
Stats: 62 GP – 11 G – 23 A – 34 PTS
Samorukov was essentially Guelph's No. 3 defender this season behind Ryan Merkley and Garrett McFadden. A lot of criticism has been made of his overall upside, and in his defense, Samorukov improved his offensive output in his draft-plus-one year.
Related: 2018 NHL Draft – Oilers Best 3rd Round Options
With the McFadden departure, Samorukov will naturally slide into a top-pairing role with the Storm for 2018-19. His overall upside could be as a No. 4-5 blueliner in the NHL. Samorukov will likely play out the final year of junior before joining the Condors in 2019-20. He's also expected to be a returnee with Russia for the upcoming WJC.
Ostap Safin – Sparta (Czech Jrs)
Position: RW | Pick: 115th, 4th Round
2017-18 Team: Saint John Sea Dogs (QMJHL)
Stats: 61 GP – 26 G – 32 A – 58 PTS
After being picked up by the Saint John Sea Dogs of the QMJHL in the CHL Import Draft, Safin went on a tear early in the season. His linemate was one of the projected first-round picks for this year's draft Joe Veleno. After the Veleno trade, things started to slow down for Safin who was playing on one of the worst teams in the Q.
He still finished the season with strong numbers while being the only player on his team to score more than 42 points. Safin finished the year with nine games in Bakersfield and looked great despite poor boxcars. A trade to one of the QMJHL contenders next season will do wonders for a guy who projects as a top-nine power forward down the road.
Kirill Maksimov – Niagara Ice Dogs (OHL)
Position: RW | Pick: 146th, 5th Round
2017-18 Team: Niagara Ice Dogs (OHL)
Stats: 62 GP – 34 G – 46 A – 80 PTS
Aside from Yamamoto (1.60 points-per-game) and Cameron Hebig (1.30), no Oilers prospect had a better P/GP than Maksimov's 1.29. He doubled his point totals from the previous year, and there's the possibility of him scoring 50 goals in the OHL next year.
He's flanked by OHL top prospect Akil Thomas who outscored him by just one point. Maksimov has drastically improved his stock and looks like a player. He's also the third straight gem the Oilers have seemingly found in the fifth round in recent years (Dylan Wells, Ethan Bear being the others).
Skyler Brind'Amour – USNDT (USHL)
Position: C | Pick: 177th, 6th Round
2017-18 Team: Chilliwack Chiefs (BCHL)
Stats: 52 GP – 10 G – 14 A – 24 PTS
Brind'Amour looks like a long-term project who has a fringe potential to be an NHLer as a depth player. He was a top-six center who used his size to his advantage in the BCHL and helped the Chilliwack Chiefs win the 2018 RBC Cup.
Related: 2018 NHL Draft – Oilers Best Late Round Draft Options
The son of former NHLer, and now head coach of the Carolina Hurricanes, Rod Brind'Amour, Skyler is a two-way center. After a one and done year in the BCHL, he's on his way to play for Quinnipiac University of the NCAA next year. This one will take a few years, but Brind'Amour could be in the AHL in two or three years.
Philip Kemp – USNDT (USHL)
Position: D | Pick: 208th, 7th Round
2017-18 Team: Yale University (NCAA)
Stats: 26 GP – 3 G – 5 A – 8 PTS
A defensive defenseman with great leadership qualities, Kemp is a team-first kind of guy. He wrapped up his time with the US National Development Team and played for Yale University this past season.
Kemp put up eight points in 26 games, but saw minutes on both special teams and was a defensive ace for Yale. He'll look to expand upon that role, and might get another crack at making Team USA for the upcoming WJC. Kemp was one of the last cuts for the American's 2018 squad.