For Boston Bruins fans, Memorial Day Weekend ended with a bang.
Anders Bjork, arguably the organization's top forward prospect, inked a three-year, entry-level contract with Boston. With a quest for a national championship, likely participation in the 2018 Olympics and a college degree serving as legitimate grounds for a return to Notre Dame, the issue was in doubt for several months. Moreover, had he returned to South Bend, his option of unrestricted free agency could have proved too tempting to resist. With one stroke of a pen, Bjork quelled any concerns regarding his future in Boston.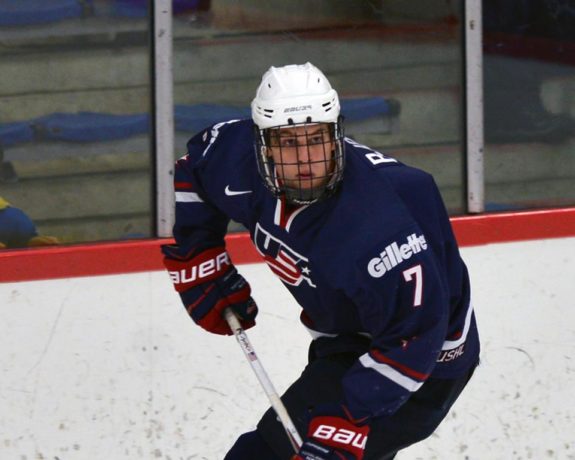 However, it's imperative for the organization and fans alike to not let the relief and excitement in the wake of his signing paint an unrealistic picture. Expecting him to immediately and seamlessly jump from the college ranks to an NHL Top Six is probably foolhardy. In fact, recent history suggests that it is. In order to properly develop and integrate Bjork into the lineup, patience, pragmatism and precaution must be exercised.
The Skinny on Bjork
The six-foot, 185-pound Wisconsin native (despite his über-Swedish name) is a jack-of-all-trades. He's a deft scorer and playmaker, though he's marginally more adept at the latter. He possesses an exemplary Hockey IQ, processing the game at an elevated rate. He's a plus-skater, showcasing excellent speed and agility. He also can make plays at that top speed. Being lightning-quick in a footrace is one thing; being able to make plays at top speed is what separates the men from the boys. He plays a strong 200-foot game, possessing an active stick and a relentless motor at both ends of the ice. These traits will make him an effective penalty killer at the NHL level, perhaps even immediately.
Bjork potted 21 goals and 52 points in 39 games last season en route to a Hobey Baker nomination. He led the Fighting Irish to the Frozen Four for just the third time in school history, notching two goals and five points through three tournament games. Also a nominee for the 2017 Hockey Humanitarian Award, Bjork is every bit as impressive off the ice as he is on it. One Indiana schoolteacher in particular was impressed:
I have been in the education world probably 20 years and never have I seen someone make that much of a difference.

-Schoolteacher Courtney Baranay to Eric Russo, NHL.com February 16, 2017
Bjork was used sparingly during last month's IIHF Tournament, suiting up for five games. His role and production (zero points) versus tougher competition show that while there is plenty to be excited about, there is work yet to be done.
Pragmatism
Boston has a glaring need on David Krejci's left wing. It's a void Boston was unable to fill last season with numerous players all taking their best crack at it. As such, it's easy to view a highly-touted prospect such as Bjork as the immediate answer to the organization's problem. However, history suggests that those are unrealistic and potentially counterproductive expectations to heap on a 21-year-old rookie. Consider Danton Heinen.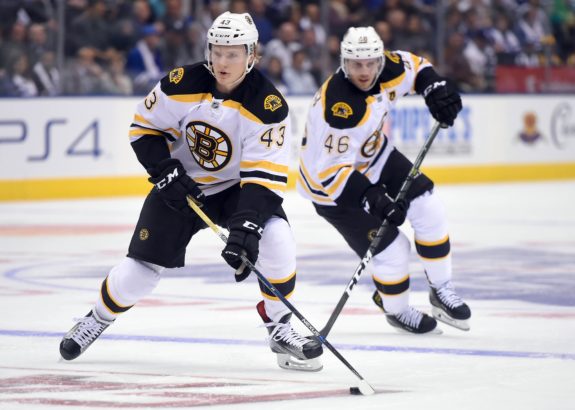 The similarities between Bjork and Heinen are plentiful. They were selected just 30 picks apart in the 2014 Draft (146th and 116th, respectively). They have virtually identical skill sets and frames. Both looked phenomenal during last year's development camp, turning heads left and right.
While Bjork returned to school for his junior year, Heinen made the jump to pro hockey, making the Bruins' roster out of camp. Playing almost exclusively in Boston's top six alongside Krejci, Heinen looked like he was punching out of his weight class. Making the jump from NCAA to NHL hockey is arduous enough; jumping immediately into an NHL top six and playing against the league's best players nightly is a tall task for even the most highly-touted rookies. Heinen's stint in Boston spanned eight games and resulted in zero points. More importantly, it was apparent that his confidence had taken a hit. Though he eventually turned things around en route to a solid regular season and a Herculean postseason, it took nearly two months following his demotion to re-discover his game.
Had Boston eased Heinen into the lineup with easier matchups and lowered expectations, perhaps he could have cracked the score sheet and developed enough confidence along the way to justify sticking in Boston. As such, the Bruins should walk before they run with Bjork.
Patience
Regardless of where he plays, Bjork will not score 25 goals next season. In all honesty, he very well might spend more time in Providence than in Boston; stranger things have happened.
When Brad Marchand (a fellow mid-round pick) was a 21-year-old rookie, he appeared in 20 NHL games. In those 20 NHL contests, he registered just a single assist. At the time, the Bruins were starving for offense, particularly from their left wings. But there was no need to panic, or rush the process, or put unfair expectations on a rookie. Boston took their time developing Marchand, playing him predominantly on the team's fourth line. One year later he posted a 20-20 season, led the team in postseason goals and won the Stanley Cup. Today he is one of the premier two-way wingers in the NHL.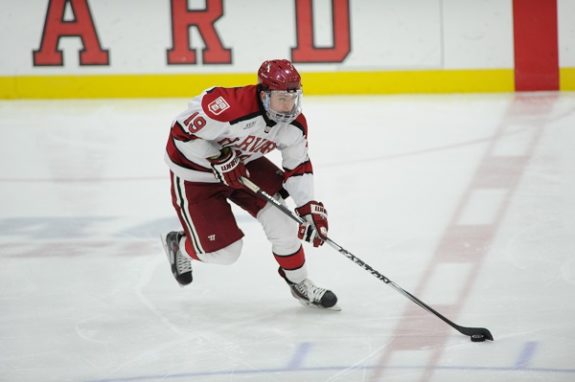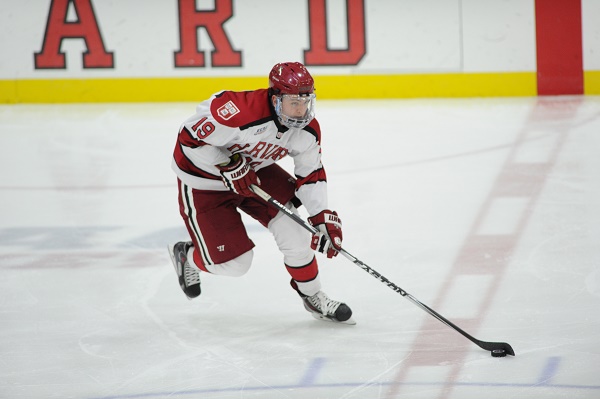 Jimmy Vesey is often mentioned in the same breath as Bjork. Typically, it's in reference to the aforementioned fear of losing Bjork via the "Vesey Loophole." In this instance, I want to examine Vesey's rookie season and how it pertains to Bjork.
Vesey got off to a torrid start last fall, recording six goals and nine points in his first 10 games. In the 70 games that followed, he registered just 10 goals and 18 points. Disappointing? Maybe in relation to the way his season started, but ultimately I don't know if I'd consider his campaign to be a disappointment. It's important to remember that an NHL season is twice as long as a collegiate campaign; all rookies hit a wall at one time or another. When (not if) Bjork hits that wall, it's imperative that the organization and fans remain patient, and operate with the "long game" in mind.
Precaution
We've established that Bjork is less than a slam-dunk to fill Boston's void on Krejci's left wing. By the logic used above, the same can be said for fellow prospects Jake DeBrusk, Peter Cehlarik and even Danton Heinen. As such, the team could use some insurance at the position. Someone to help insulate Bjork and allow him to slot into a more advantageous role while he finds his footing.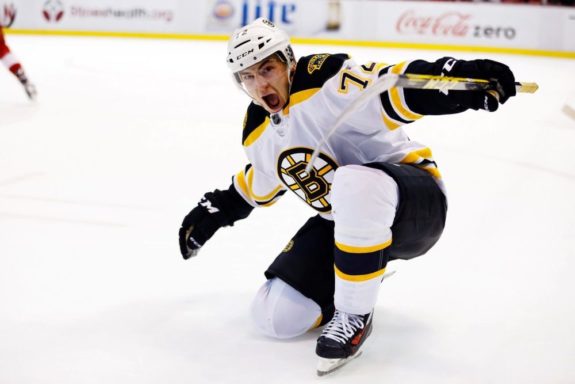 Frank Vatrano is returning, and possesses the kind of scoring ability that really can't be coached. When assessing his abilities, it's important to remember that he has only 83 NHL regular season games under his belt. In terms of games played, he's essentially just a second-year player. Becoming a more consistent performer and a better player away from the puck are his biggest areas to improve upon, and they can only be improved with experience. Should things "click" for Vatrano in year three, his shot could pay huge dividends alongside Krejci and Pastrnak.
Drew Stafford provided stability and impact following his arrival in Boston's middle six. His numbers in Boston average out to 18 goals and 36 points over an 82 game season. While those numbers are hardly eye-popping, they (combined with his ability to play either wing) warrant a closer look. He enjoyed his time in Boston, and if the price is right he could return to provide insurance and flexibility.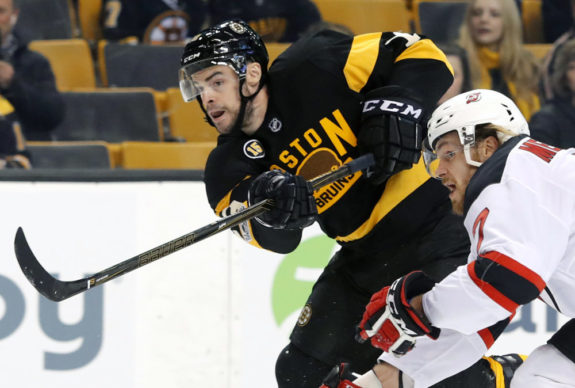 Trade Route?
Speaking of flexibility, that is precisely what Bjork's signing tangentially brings to Boston. Should Boston decide to chase down one of the bigger names at left wing in the offseason rumor mill, Bjork's signing further deepens an impressive pool of young forwards the team can comfortably dip into. Gabriel Landeskog and Evander Kane both have the look of players who would thrive alongside Krejci and Pastrnak. Whether or not Colorado lowers its demands for Landeskog and how comfortable Don Sweeney is in regards to trading within the division are conversations for another day and another article. The fact of the matter is that Boston is dying for top six talent at left wing, and even if he himself is not quite ready to fill that void, Anders Bjork's signing has further enabled Boston to comfortably navigate those waters and play ball in the trade market.
Summary
In just three years, Anders Bjork has transformed from a fifth-round pick to a Hobey Baker finalist and one of the top prospects in Boston's pipeline. In another three years he could very well develop into a dangerous, all-situations top six forward. For that to happen, it's imperative that Boston shield him from overzealous expectations and allow him to develop naturally. Lofty expectations and undue pressure have felled prospects with significantly-higher pedigrees than his. Despite possessing a glaring need at his position, Boston would be well served to treat that need and Bjork's development as separate issues. The "long game" worked for Marchand and countless others, and considering his abilities it will likely work for Bjork as well. Let him figure out how to be a player in the NHL before relying on him to be a great one.