For 396 regular season and playoff games played over parts of five seasons, Johnny Boychuk was a rock on the Boston Bruins' back end. With every bone-crunching check, heady defensive play and booming shot from the point he further endeared himself to the Boston faithful during the organization's renaissance.
He was a key component to the 2011 team that won the Stanley Cup, forming a formidable second pairing alongside Andrew Ference. He reprised that role two years later during Boston's second run to the Finals, playing an even larger and more impactful role during a run that fell just short.
After enjoying a career year in 2013-14, he was reluctantly shipped to the New York Islanders in a deal that unofficially marked the beginning of the end of the team's championship window. But it wasn't always sunshine, roses and "Johnny Rockets" for Boychuk and the Bruins. For the defenseman, it was a long, winding, arduous route to regular NHL minutes, let alone distinction.
In his final season with the Black and Gold, Boychuk shared a locker room with a rookie rearguard by the name of Kevan Miller. Though their respective hometowns (Edmonton and Los Angeles) could not be more different, the duo shared many things in common: Playing-style, snarl, size, etc. And with each passing day, Miller's maturation expands on that common ground.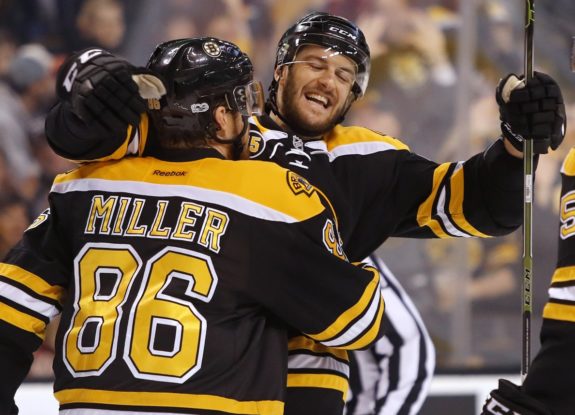 The Bruins chose to protect him instead of Colin Miller in last June's expansion draft. Though Colin has played the best hockey of his career with the upstart Golden Knights, Kevan's skill-set (with McAvoy, Krug and Grzelcyk in tow) fills a more important role for Boston.
In him, the Bruins have found their new Johnny Boychuk.
Similar Size, Skill-Sets and Statistics
In terms of physicality, the similarities between Boychuk and Miller are plain to see. Both are six-foot-two and are north of 210 pounds. Both are capable of delivering clean, devastating, momentum-altering checks like this one:
Neither has ever shied away from fisticuffs, with Miller's abilities, in particular, serving an increased purpose with Boston as the traditional "enforcers" of yore slowly go the way of the Dodo.
Something that might surprise you, however (given Boychuk's beloved status in Boston), is the statistical similarities between the two: In 317 regular season games with Boston, Boychuk registered 75 points, a rate of 19 per 82 games; Miller meanwhile has 50 points over 251 regular season games, a rate of 16 per 82 contests.
Boychuk averaged five goals per 82 games for Boston; Miller, to date, has averaged four per 82.  Johnny's single-season high of 23 points isn't far off from Kevan's personal best of 18. Boychuk's average ice time in Boston hovered around 20 minutes per contest; Miller's is north of 18 minutes. Boychuk averaged 1.71 blocked shots per game; Miller is averaging 1.53.
Though Miller doesn't launch "rockets" as frequently as his predecessor, his blast on Wednesday versus  the Ottawa Senators was "Boychuk-esque." He may not be quite where Boychuk was at the end of his time in Boston, but Miller is closer than you think. He's playing the best hockey of his career in his fifth year, which coincidentally was the final season of Boychuk's tenure.
Boychuk's Beginnings
When the Colorado Avalanche drafted Boychuk 61st overall in the 2002 NHL Draft, he had already played 137 games in the WHL. He would go on to play another 129 there before turning pro during the 2004-2005 lockout.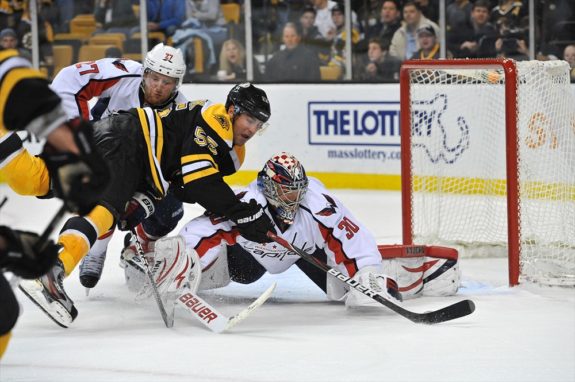 He played 294 games in the AHL before a four-game cameo with the Avalanche in 2008. Following that cup-of-coffee, it was on to another 78 AHL games, this time with the Providence Bruins, winning the AHL's "Eddie Shore Award," given to the best defenseman in the league.
For those keeping score, that's a total of 501 games played between Canadian juniors and the AHL after being drafted but before he'd played in five NHL games. And that's not including playoff games in his various stops along the way. By the time Boychuk found regular minutes in the NHL he was already 26 years old.
Not every defenseman is Charlie McAvoy, seamlessly transitioning to the NHL as a teenager. Come to think of it, only Charlie McAvoy is Charlie McAvoy. What he has done thus far is that incredible.
Patience is a Virtue
One of the more bandied-about yet seldom absorbed narratives in hockey is the steep learning curve defensemen face when attempting to make the transition to the NHL. We hear it every year and yet are so quick to criticize or admonish young defensemen when they make mistakes. The frequent critiques of 21-year-old Brandon Carlo is a testament to that.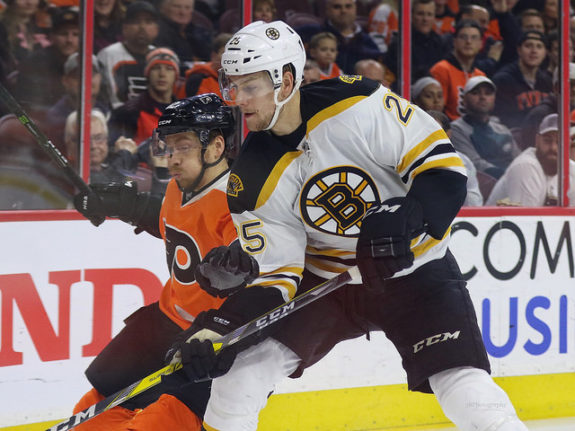 Things didn't click overnight for Boychuk. In fact, they didn't fully-click for thousands of nights. There was even a contest in February of 2011, just months before winning the Cup, when he was made a healthy scratch, ceding his spot in the lineup to Steven Kampfer.
The Bruins were patient, and eventually, they had a dominant defender in the fold; one whose play continued improving right up through his departure.
Miller's Maturation
Like Boychuk, Miller's road was a long one, full of bumps.
After four seasons and 144 games at the University of Vermont, Miller signed with the Providence Bruins as an undrafted free agent. While the parent club was making their playoff push in the spring of 2011, "Killer" was getting his first taste of professional hockey, appearing in six games with Providence.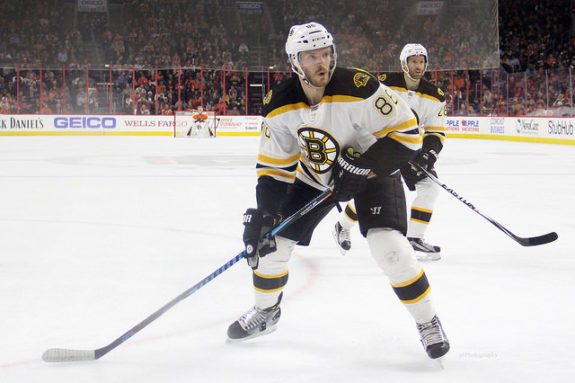 He'd play another 148 for the "Baby B's" before finally making it to Boston. Like Boychuk before him, he was 26 years old at the time.
Playing 47 games in the wake of serious injuries to Dennis Seidenberg and Adam McQuaid, Miller's play on Boston's bottom pair was a welcome, steadying force. In the playoffs, however, two unforced turnovers in consecutive games versus the Montreal Canadiens in Games 6 and 7 drove the nails into Boston's coffin. The glaring errors served to detract from what had been, for all intents and purposes, a solid debut season.
His following two seasons were largely defined by one serious injury as well as some streaky play. Frequent were the unforced turnovers, as well as blown coverages. As such, the four-year, $10 million extension he signed at the end of the 2015-16 season elicited groans and face-palms from fans and the media alike.
The Turnaround
The newly-minted millionaire wasted zero time in justifying that investment. During the offseason, he put in a considerable amount of work with former Bruin and NHL Hall of Famer Adam Oates, honing his puck skills and decision making; the areas of his game which had previously held him back. The positive results were immediate, and to this point, lasting.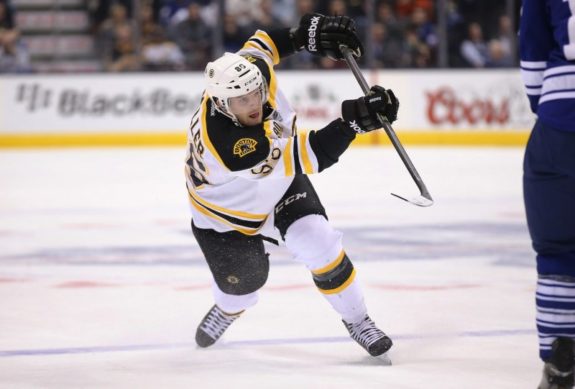 Previously considered no better than an organization's sixth or seventh defenseman, Miller's play down the stretch and especially in the playoffs proved the naysayers wrong.
With Torey Krug and Brandon Carlo sidelined for the entire series versus the Senators and Adam McQuaid and Colin Miller out for multiple contests, Miller elevated his game to unforeseen levels. He anchored the team's second-pairing, allowing a hobbled squad go toe-to-toe with an opponent that came within one goal of the Stanley Cup Finals.
This year, it's been more of the same from the 30-year-old. He has been stellar to the right of rookie Matt Grzelcyk, helping the Charlestown native to find his footing in the NHL and excel. The 23-year-old Grzelcyk is free to play to his strengths, joining the rush and pinching down the walls, knowing he has the rock-steady Miller covering him.
Miller is second on the team in hits, third on the team in blocked shots and third in shorthanded ice time. Moreover, the turnovers that once plagued him have all but disappeared; he has just nine giveaways over 36 games.
Summary
Quietly, steadily, Miller has improved his game to levels approaching that of a recent Bruins stalwart. The choruses of "redundant/one-dimensional skill-set" have been reduced to mere whispers in the seediest corners of the internet.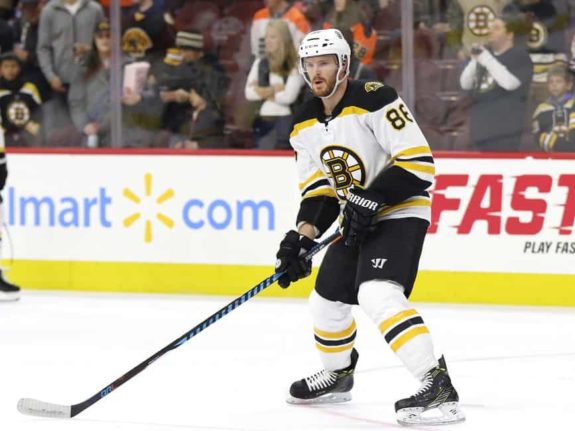 With each jarring hit, picked-up assignment, clean zone exit or old-fashioned knuckle sandwich he has turned a contract once deemed exorbitant into one of the more reasonable ones in the organization. At $2.5 million per year for two more seasons beyond this one, he makes less money than Dan Girardi, Clayton Stoner, Michael Stone, Mark Fayne and Josh Gorges, among others. He makes half as much money as Andrew MacDonald and Zack Bogosian. He makes roughly one-third of what Dion Phaneuf earns annually.
It took hundreds of games for Johnny Boychuk to become the player we all remember and dearly miss. In Kevan Miller, the Bruins may have improbably, finally, after 250 games and counting, found his replacement.