A couple of punches. That's all it took for Washington Capitals winger Tom Wilson to take down Sharks captain Joe Thornton in a Dec. 4 game against the San Jose Sharks. A period beforehand, Thornton delivered a blow to T.J. Oshie's head, and after that, Wilson knew what he had to do: avenge his teammate.
"That hit, I didn't like personally, I don't think the team liked it, any time a guy is down, it's kind of a no-hit zone," Wilson said regarding the fight. "It's part of the game. [Thornton] stood up for himself afterward and I respect him for that."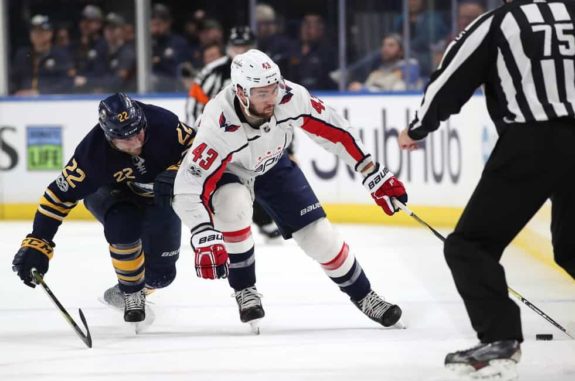 Wilson, like many players in the league, is his team's designated tough guy. Since coming into the league five years ago and trying to establish his role on the Capitals roster, he has not only been a physical presence but someone who's ready to drop the gloves and fight, whether it means bringing energy to the game, standing up for his teammates or simply making a statement.
"I think, in the game of hockey, there's always been that presence that if you have someone who's kind of willing to stand up for his teammates, it's a good thing, and that's something I believe in," Wilson said.
One of the NHL's Toughest Customers
Looking at the 6-foot-4, 210-pound winger, he is someone who possesses a lot of physical ability, considering his size and strength. Over his five-year NHL career, he has logged 710 PIM and 989 hits and is one of the league's toughest players and hardest-hitters. Since dropping the gloves 14 times in his rookie season in 2013-14, Wilson has totaled 47 fights throughout his career.
As a physical player, Wilson sees himself as somewhat of a guardian for his team, always willing to stick up for his teammates and drop the gloves if necessary.
"If there's a guy on their team that's gonna take a cheap shot or a liberty on one of our guys, that's kind of my job," Wilson said. "I feel that I need to go out and protect my teammates."
Through 34 games this season, the 23-year-old has been in seven fights so far; he's won four of those fights, and two resulted in a draw, according to hockeyfights.com. He's only lost one bout, a matchup with Canucks defenseman Erik Gunbrandson.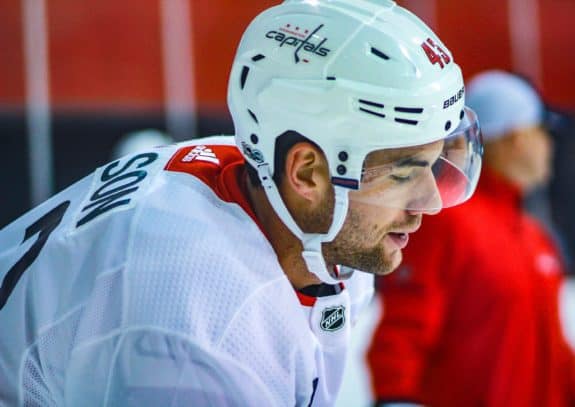 While the 23-year-old is said that he knows fighting is "obviously a hot topic right now," but believes that it allows him to stand up for his fellow players and that he knows when fights are called for and when they're not.
"For me, it's just getting out there and defending a teammate, and you know what, there's times for it and there's times to be smart and not do it," Wilson said.
Expanding on his Role
Wilson's start to the 2017-18 season didn't go exactly as planned when a boarding call in the preseason led to a four-game suspension to start the year. However, prior to opening night, Wilson said that he has always trusted himself to play within the rules and that, though he wasn't going to shy away from his physical play, he was preparing to take on a bigger role.
"That's part of being a more mature player and going into your fourth or fifth year, continuing to grow every season and adding aspects to your game and being more confident and comfortable out there," Wilson said.
He also told reporters that one goal he set for himself was proving that he is more than a "goon," and can do more than deliver bone-crushing checks or win fights every now and then.
"Enough people call you a goon, you want to get out there and prove to them that you can score some goals," Wilson told NBC Sports Washington. "That's always been a part of my game. There's always been that, can he play? Is he just physical? Can he play? I want to continue to develop my game. I want to continue to be rounded into that all-around player and now more than ever in hockey, you've got to be able to play, you've got to be able to produce offensively."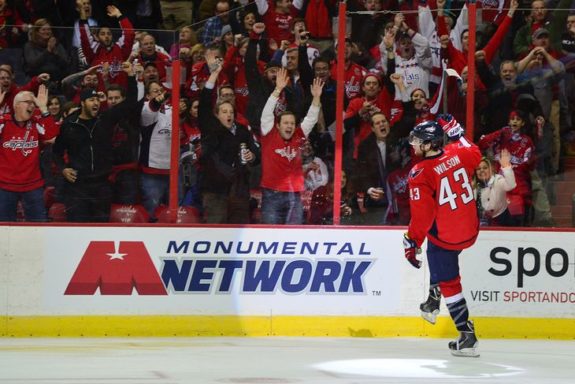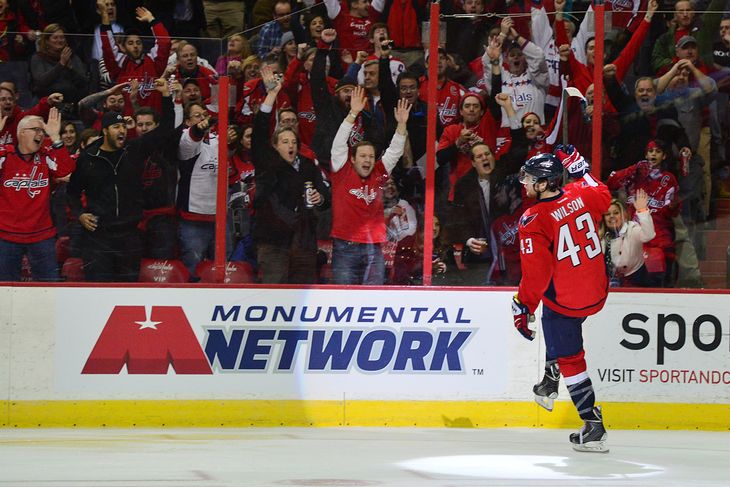 And he's done just that so far this year. Though Wilson has made a name for himself as one of the league's top tough guys, he is also working to solidify a top-six role for himself this season, and has, for the most part, succeeded. He has been skating on the top line alongside Nicklas Backstrom and Alex Ovechkin since before the Thanksgiving break and has five goals and 17 points so far this season.
"I think for me, it's just keeping my feet moving, creating energy, creating an element that's hard to play against for that line," Wilson said.
While production is also a priority, Wilson looks to do more in the form of creating space and generating momentum for his linemates, in addition to using his size and grit to win battles for the puck. He's also on pace to finish the year with a career-high 11 goals and 38 points, which would be another step forward for the young winger as he continues to evolve, find his game and carve out a role for himself.
"My goal is to be the best player that I can be and take my responsibilities that the coaches give me and just work with that," Wilson said prior to the start of the year. "It's a team sport. I hope to just help the team. I want to be the best player I can be in order to help the team."