The NHL's mandated bye week couldn't come at a worse time for the Boston Bruins.
The B's are 17-3-3 since a mid-November loss to Anaheim dropped them one game below .500. They're currently riding an 11-game point streak (8-0-3) in which they've outscored their opponents by a 46-19 margin. Furthermore, nearly one-third of those goals allowed came in just one contest. The Bruins themselves have scored five or more goals in five of their last six contests, blowing opponents out of the barn with reckless abandon.
Things are humming. Clicking. Firing on all cylinders. Et cetera.
Moreover, it's not as though anyone in the locker room needs to use this time to nurse an injury, at least as far as public knowledge is concerned. I'm sure Patrice Bergeron's knee felt better before blocking Kris Letang's blast in Sunday's affair, but "Bergie" was no worse for wear; he returned to start the next period, as all of Bruins Nation let out a collective sigh of relief.
Patrice Bergeron needed several stitches on his right knee postgame. Flesh wound.

— Fluto Shinzawa (@FlutoShinzawa) January 8, 2018
As such, five days off at this juncture is probably the last thing anyone who's not getting blasted with vulcanized rubber wants at this point, coaching staff included. Boston is playing their best hockey in four years and the layoff puts them at risk of losing their mojo. Right?
However ill-timed the break may be, actively worrying about what five days off will do to a team playing so well is most likely pointless. Their recent play, history with the bye week and the NHL's tweaks to the bye itself suggest no significant detriment will come about due to the hiatus.
The Bye Week Itself
The implementation of a bye week during the 2016-17 season was something the players themselves lobbied for in exchange for playing the extremely taxing three-on-three format at the All-Star Game. With the NHL's current CBA mandating that players be given a minimum of just four days off per month, the five-day hiatus is a welcome respite from the most grueling schedule in professional sports.
This is important for fans and those worried about potential side effects to remember: The players themselves want this. Not everyone will be participating in the All-Star Game, but everyone could use a couple days off from time to time. Having a lucrative, desirable profession doesn't preclude one from enjoying some time off spent with family or on a beach somewhere not covered in several feet of snow. As such, the hope is that players come back feeling rejuvenated – mental health and mindset are just as important as fresh muscles and joints.
One Major Tweak
Arguably the biggest thing the Bruins have going for them is the major tweak made to the bye week this season. Last year, 26 teams emerged from their bye to face a team playing an unbroken string of games; the 8-14-4 record posted by teams coming off their bye illustrates the difficulty of getting back up to game speed versus opponents "in the zone."
The bye week hit the Washington Capitals particularly hard last season. The Caps rode a streak similar to the one currently put forth by Boston (17-2-1) into their bye, only to lose consecutive games out of the gate for the first time in over two months as well as seven of their next 12.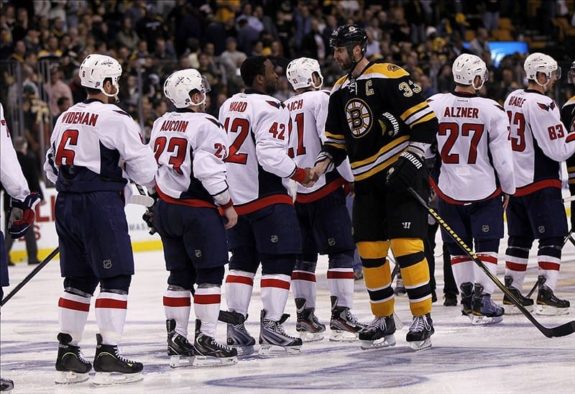 Conversely, Boston played quite well last season following the break. They won their initial contest back (Bruce Cassidy's fourth game as head coach) as well as four of five following the hiatus.
This year, fortunately, all 31 NHL teams will receive their bye in a two-week span. Furthermore, teams emerging from their bye will play their first game back against an opponent also coming off their bye, hopefully eliminating any competitive imbalance created by the schedule. This figures to be a significant helping hand for the B's as they try to round back into form.
The Road Back from Break
Boston's first game back will be at the Bell Centre, against their most bitter rivals and former head coach, in the first meeting of the year between the two teams. It's hard to imagine the Bruins being disengaged or unfocused for that tilt.
Moreover, it will be the first of three meetings in eight days between the two clubs. Familiarity breeds contempt, as we all know, and if there was a team who could snap Boston back into focus immediately, it would be "Les Habitants." It's the fiercest rivalry in the history of the NHL, and Montreal's arrival on the schedule could not have come at a better time.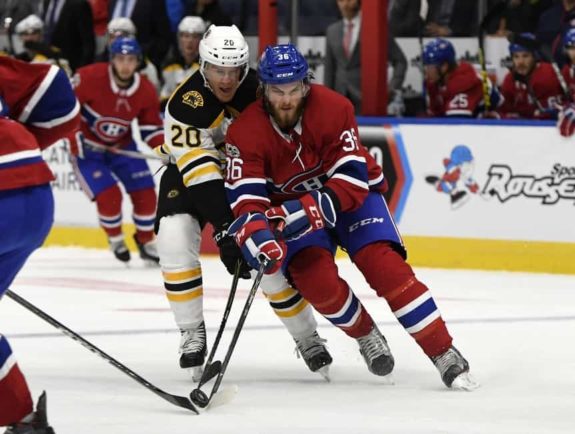 The rivalry itself aside, Montreal limped into their own bye with just 40 points in 42 games; the third-worst record in the Eastern Conference. Three games in eight days against a struggling foe could be an exceptionally smooth transition back into the schedule for Boston.
Beyond Montreal, the Bruins have a Martin Luther King Day matinee at home versus Dallas and a road tilt versus the Islanders to round-out their first five games back from break. They've yet to face the Stars this season (currently in a Wild Card spot in the West), but have handled the Islanders rather easily of late, outscoring them 8-2 en route to two wins over Tavares and Co in a three-week span. New York is in last place in the Metropolitan Division as of this writing, having lost five of their last six.
Finally, five days off is….just five days. It's not as though the Bruins are embarking upon a two-week hiatus for the Olympics. Hell, one of those five days off is going to include traveling to Montreal. For context, Boston has had six separate three-day layoffs this season and another stretch of four days wherein they played zero games. Though practices were included during those periods between games so too were multiple days off, as per the aforementioned CBA clause.
Five days is nothing.
Bruins Are Their Own Biggest Threat
Time and again we hear coaches talk about focusing on things the team can control; chiefly, its own play. Which is why it ultimately doesn't matter who the Bruins play when they return, or where. All that matters is that the team maintains its hunger, drive and attention to detail during the hiatus.
Sunday's roller-coaster of a loss to Pittsburgh might wind up being a blessing in disguise for the Bruins for that very reason. Though Boston undoubtedly would have liked to have emerged from that contest victorious and with two points instead of just one, the team now gets five days to let that loss stew. Stick in their craw. Fester. Et cetera.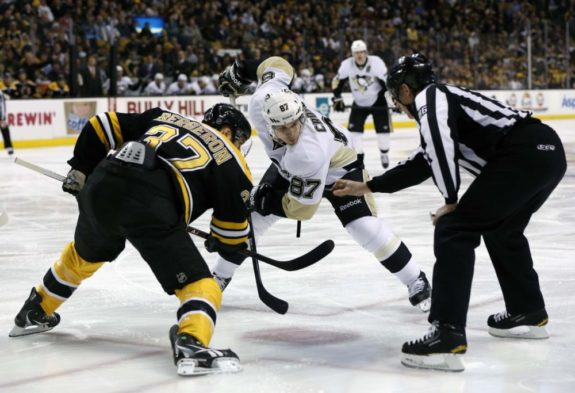 The subtle psychological difference between going into the break on a "can't lose" streak versus having last left the ice following a disappointing defeat could wind up being the difference between staying hot come next week and losing their mojo while laying on various beaches, thinking about how well things have been going lately. That line of thinking may be a bit down the hypothetical, proverbial "rabbit hole," but they wouldn't be the first team to let a hot streak slip away while feeling great about themselves.
There's nothing wrong with staying a little hungry.
Don't Worry, Be Happy
So, if you're worried about what five days off will do to this club, don't be. Bruce Cassidy has demonstrated through his first 67 games as Boston's bench boss (41-18-8) that he has his team's pulse and a firm grasp of its attention. He knows what buttons to push, and when. And, with a strong leadership core intact amongst the players themselves, there's no reason to believe that five days spent off the ice will revert the Bruins back to their old ways under Claude Julien.
They can prove me right by beating Claude's Canadiens on Saturday.