The Philadelphia Flyers' bye week has officially arrived and it's time to take a dive into their 2017-18 season. If there is one obvious flaw on this team, it has been the lack of consistency. The Flyers are an elite team at finding new ways to lose and blow leads on regular basis. Which team is going to show up from one night to the other?
Re-Girouxvenated
It goes without saying that the captain is back. After many fans bounced ideas about a potential trade, Giroux is looking like the player he was in 2012 when he notched 93 points, putting his foot in the mouth of those who doubted him. His skating is dynamic, his vision and creativity have helped the Flyers tremendously so far and everyone is breathing a huge sigh of relief.
Part of Giroux's excellent campaign can also be attributed to the offensive success of right winger Jakub Voracek and the breakout season of Sean Couturier. Together, they formed one of the most prolific lines in the NHL at both ends of the ice but were split up to disperse the talent throughout the lineup. We're finally witnessing the offensive side of Couturier that was so apparent in the QMJHL and it shouldn't be a surprise, considering he's been an even-strength force for a so long and is finally getting a shot on the power play.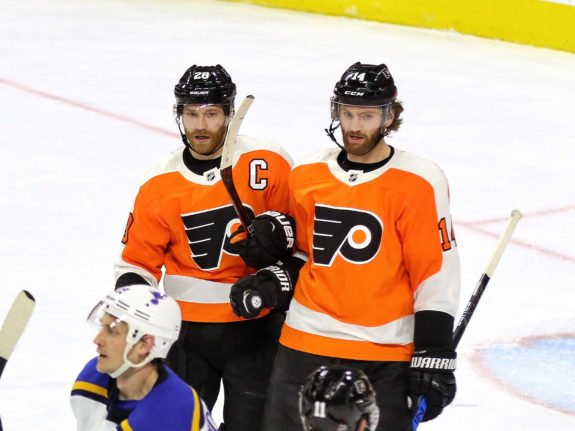 Couturier has surpassed his career highs in goals, points, power play points and game-winning goals already and isn't slowing down. His strong two-way play has finally pushed him into the Selke talks, which is unfortunate considering he's done a fantastic job in his own zone during previous years, too.
Meanwhile, Voracek is back to his old self, leading the league with 43 assists and being a constant threat on the ice. The same can also be said of Shayne Gostisbehere, who currently sits third in NHL scoring among defensemen, behind only John Carlson and John Klingberg. His luck had to eventually turn around, and it seems like it has. His play has sparked the Flyers' blue line and it's no surprise he is ranked first for power play points among defensemen.
The guys who were expected to produce for the Flyers are doing their job, except for Wayne Simmonds who is struggling a little to find consistent production but is still on pace for close to 30 goals again.
Provorov Leading the Defense
If there is one player who will never receive recognition for his outstanding play, it's Ivan Provorov. Constantly playing against the top players – on the penalty kill and even on the power play – Provorov has managed to make Philadelphia's defense appear somewhat bearable. Averaging close to 25 minutes a game, his ability to knock players off pucks, skate or pass the puck out of trouble and have outstanding gap control is something unbelievable for a sophomore.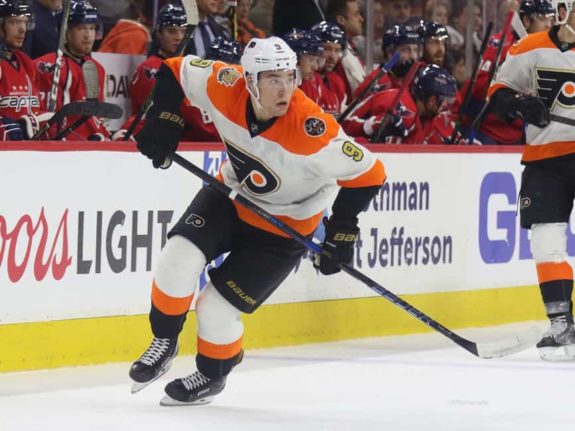 With 20 points already this year, the young Russian will surely surpass his career high of 30 points set last year in his rookie campaign. He is simply too smart and too good. You could count on one hand the number of bad games Provorov has had to start his career – that's how good he's been, despite what the Flyers overall defense and record look like.
Surrounding him are rookies Robert Hagg and Travis Sanheim. While Sanheim has been in and out of the lineup due to Hakstol's decisions, he's been good in the times he's played. He will make the occasional error that we see from many rookies, but he's still learning how to transition into the NHL. Hagg, on the other hand, has been an exciting surprise.
The Swedish defensemen drafted in the second round in 2013, has been a physical force on the ice (second in the league in hits). He never hesitates to take the body and plays a sound, stay-at-home style of defense. He will never dazzle you with his skill but can be one of those Niklas Hjalmarsson/Mattias Ekholm types a few years down the road.
Elliott's Stellar Play
Brian Elliott was not expected to perform this well. he struggled to start the season but had a great December that saw him post an 8-4-1 record with a .927 save percentage. He's had the odd bad game, like every goalie, but still has 17 quality starts in a total of 34 starts. He's been good for the Flyers and he's given them a shot to win on most nights. Fatigue started to hit Elliott after starting a string of 16 games, with an injury to goalie Michal Neuvirth, Hakstol opted to play the 32-year-old over Alex Lyon, who was called up.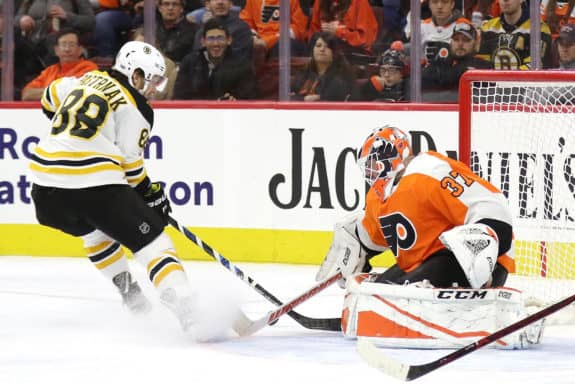 Opposite Special Teams
The Flyers power play tends to be lethal.
The penalty kill, not so much.
Their power play currently ranks 10th in the NHL, clicking at a rate of 20.8%, which should be expected when you have elite offensive threats on either side of the opposing goal. In previous years, the Flyers would rely on their passing to get scoring opportunities. After being figured out by other teams, assistant coach Kris Knoblauch decided to add a little more movement to the power play, which forces defenders to often chase and open up scoring areas.
The penalty kill, ran by Ian Laperrière, is due for a massive reset. The PK is at 75%, third worst in the entire league. This also isn't shocking, as the system implemented allows for way too many high-danger shots from the points. Despite having some good penalty killers to shuffle around, Laperrière hasn't changed his tactics and it's obvious that this area of the Flyers' game needs a revamp.
Despite some setbacks, which included the 10-game losing streak, the Flyers have managed to stay competitive and sit only one point out of the final wild-card spot behind their rivals, the Pittsburgh Penguins. There have also been questionable coaching decisions by Hakstol, but he is still learning at the NHL level, opting to play veterans over young and coming talent, much to the dismay of fans.
The wheels are in motion for the Flyers.
Midseason Grade: B
Former intern at The Hockey News. Young, passionate hockey writer with a wealth of hockey knowledge. Journalism graduate. Always following the current hockey news in the NHL and CHL. Primarily write about the Philadelphia Flyers.