The steady drumbeat demanding the firing of Montreal Canadiens GM Marc Bergevin got a bit louder in Montreal last week. Brendan Kelly offered enough justifications for most fans who have lost faith.
He argued they will miss the playoffs for the second time in three seasons. Two have been a disaster and one was pretty mediocre. Kelly also revisited the now well-worn observation that despite walking into the job with a strong core — Price, Pacioretty and P.K. Subban – and then acquiring Alex Galchenyuk, the team is worse off today. Bergevin is responsible for bad contracts, poor player management, and a fundamental failure to build the team for the future.
Sure being the GM in Montreal is tough. Yet despite missteps and outright mistakes, despite running out of excuses, and some truly terrible contracts, Bergevin maintains his delusions of grandeur. In any other market, it seems impossible he would be able to keep his job. In Montreal, some are seriously suggesting he be allowed to lead a retool.
Amidst the most scrutiny he has faced to date, Bergevin gave a mid-season news conference before Sunday night's game against the Vancouver Canucks at the Bell Centre this week. While some are praising Bergevin's "honesty," for fans it was a mess. Bergevin was dismissive, detracting, and downright delusional.
Dismissing Reality
One would imagine in an era in which apologies are parsed with precision, Bergevin would have found a way to acknowledge the concerns of many many fans. Instead, to his critics, Bergevin offered this soundbite.
"Have I made mistakes? Yes. Have I done some good things? Yes. But that's the reality for a general manager. But I'm proud of what we've done." -Marc Bergevin#GoHabsGo

— Canadiens Montréal (@CanadiensMTL) January 7, 2018
To be proud of the decisions that resulted in this outcome for the team is disrespectful to the organization and dismissive of legitimate concerns about the team. Failing to provide examples of his mistakes means he can't (or won't) take responsibility for them. As Stu Cowan points out: Most of the problems for the Canadiens rest on Bergevin's shoulders.
"The plan was not to get eight million bucks under the cap," Bergevin said Sunday. "We had money for certain players and they decided not to take the offer and went somewhere else and that's out of our control."
This is denying reality. In the cases of Andrei Markov and Alexander Radulov, Bergevin didn't treat them with any respect. There is no value in acknowledging an error and then immediately defending your work. It suggests Bergevin suffers from a fundamental misunderstanding of this moment in his tenure.
Detracting from Drouin
While Bergevin has made a career of calling out his players, making grand pronouncements about their role and level of effort, this quote was astounding:
"In an ideal world, he's a winger. But for now that's the position where he can help the team the most. It's not his ideal position, we realize that, but it can't hurt him…But the day he goes back to the wing, he'll be the player he's capable of" – Bergevin on Drouin playing C.

— Аrpon Basu (@ArponBasu) January 7, 2018
What he is saying here is a double detraction. The first and most obvious slight is to Drouin, who having been asked to play center is now being criticized by the man who traded for him. To add insult to injury, he said: "There are certainly some players who did not live up to the organization's expectations, nor their own."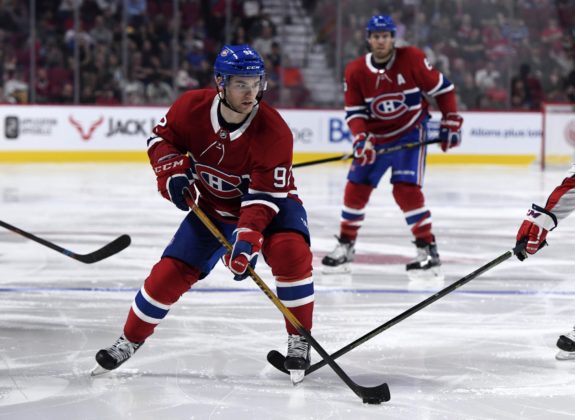 It is a curious management technique to malign your much-touted French Canadian star. Even in Bergevin adjusted terms, it is bizarre. To say, Drouin while flawed is your best option is faint praise. However, it also has the effect of again maligning Galchenyuk. Fans won't forget that Galchenyuk is the player who has played best at the center position. Despite this, Drouin was given an opportunity to learn on the job.
Downright Delusional
In an already strange press conference, there was one quote that suggests Bergevin is simply out of his league. "I believe [making the playoffs] is possible, but a lot of things have to change. There are times where I've seen them capable of doing it."
Bergevin says he hasn't thrown in the towel yet on the Canadiens making the playoffs this season. He wants everyone to know he expects his coaches and players to fight, and rage, rage against the dying of the light.
This is madness. The Habs are not in a playoff position. It is not just wildly optimistic to think otherwise, it is a denial of all evidence to the contrary. The idea that you can fool fans into paying top price to watch this team is disrespectful. To detract from your players and dismissing reality looks unbalanced. To suggest this team is still in playoff contention is delusional.
So where from here?
Lack of Alternatives
In a strange series of tweets, the otherwise even-handed and observant Brian Wilde defended and had an alternate take on the GM. In essence, Wilde stated: Bergevin is not awesome but he's not a train wreck either. He's like all general managers. He makes mistakes, but overall his record is better than many assume.
Another counter is that there is no established alternative available given the unique linguistic requirements in Montreal. Indeed, the alternative would amount to rolling the dice on another assistant general manager.
This is the real problem in Montreal. Even a GM whose best effort over six years into his tenure has been an abject failure seems safe. Marc Bergevin's delusions of grandeur are founded on the reality that Geoff Molson can't easily replace him.
Criminologist by training. Hab fan for life. Aspiring Beer League hockey star.