The Providence Bruins came away with a resilient 5-4 shootout win Wednesday night over the Utica Comets. The P-Bruins erased a 4-2 third-period deficit to come away with the win. Jakob Forsbacka-Karlsson had a goal and an assist in the game, while recent addition Matt Beleskey scored the tying goal with just over a minute left in regulation. The P-Bruins completed the sweep of their stay in Utica Friday night with a 3-1 win before dropping an overtime game to Belleville Saturday.
As the P-Bruins approach the halfway point of the schedule, it's a good time to assess how some of the organization's top prospects in Providence have performed to this point. While it's great to see Beleskey, a veteran hoping to regain form and confidence, score a big goal, the AHL is about development. It's no secret the big club in Boston has a lot of youngsters on the current roster, but Providence has some players worth keeping an eye on as well.
Goaltending: Room for Improvement
Goaltending may be the biggest question mark for this P-Bruins team. Jordan Binnington has performed well on loan from St. Louis, but the story for Bruins fans is the struggles of Zane McIntyre. McIntyre was a 2010 sixth-round pick and left the University of North Dakota after three stellar seasons with the college hockey powerhouse. Despite an 11-6-2-1 record, McIntyre has a 3.01 goals-against average and .897 save percentage. Those numbers are almost identical to McIntyre's rookie season and a major step back from his 2016-17 performance.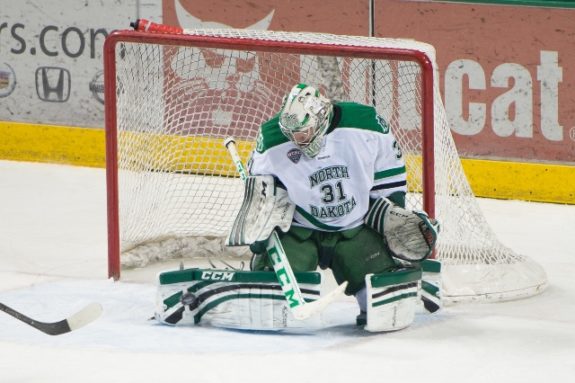 The Bruins' best goaltending prospect in the minor leagues may currently be in Atlanta. Twenty-year-old Daniel Vladar has played well in the 10 games he's appeared in a Providence uniform to start his career. He was sent to the ECHL's Atlanta Gladiators at the start of the season to gain more experience. This is Vladar's second professional season despite his age, as he made the rare jump from the United States Hockey League to professional hockey. The Bruins will be carefully monitoring his development, as there is a lot to like about his athleticism and 6-foot-5 frame.
P-Bruins Prospects Bring Size to Blue Line
The P-Bruins' top prospects on the blue line have one attribute in common: size. Rob O'Gara looks even bigger than his 6-foot-4 frame. He covers a lot of ground and moves well for a big defenseman. The former Yale Bulldog has already appeared in 11 games for Boston in his first two full pro seasons. He may never put up a ton of points, but he provides a strong presence on the blueline. With Matt Grzelcyk already playing well in Boston, O'Gara could be the next man up if there is a need for a defenseman.
Jakub Zboril is another player that seemingly plays larger than his 6-foot-2 frame. The 2015 first-rounder remains in the top 10 in the league with a plus-17 rating. Zboril is a smooth skater for his size and will likely be given an opportunity in Boston within the next two seasons. Boston would love to have a young, left-shot defenseman to add to a mix that currently has Charlie McAvoy and Brandon Carlo on the right side.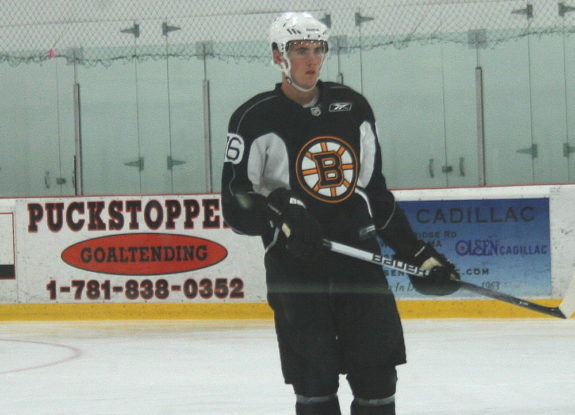 In addition to AHL veterans Tommy Cross and Chris Breen on the blueline, 2014 seventh-round pick Emil Johansson is playing his first full professional season in North America. The 21-year-old from Sweden is worth keeping an eye on; the late-round pick had a breakout 2016-17 season with Djurgardens IF in Sweden's top league.
Young Forwards Have Versatility
Comparing anyone to Patrice Bergeron is unfair, but in terms of style of play, Jakob Forsbacka-Karlsson plays a similar game. Forsbacka-Karlsson is a smart center who can play in all situations. After he was perhaps a little overshadowed on a loaded Boston University team in 2016-17, the Bruins made it clear how highly they think of the Swede, as he was called up for a game right after his sophomore season. Successful teams are usually built down the middle. If the center known as JFK can continue to develop his offensive game, he could provide valuable depth in Boston and Providence.
Zach Senyshyn has cooled off recently with just one assist in his last five games. He had 15 points in the team's first 26 contests. Senyshyn was taken 15th overall by the Bruins in the 2015 draft, and it may take some time before the organization truly knows what it has with Senyshyn. He displayed enough offensive skill in juniors to be a first-rounder and has the size to be a power forward in the NHL. It's important to remember Senyshyn is still only a 20-year-old rookie in his first season of professional hockey.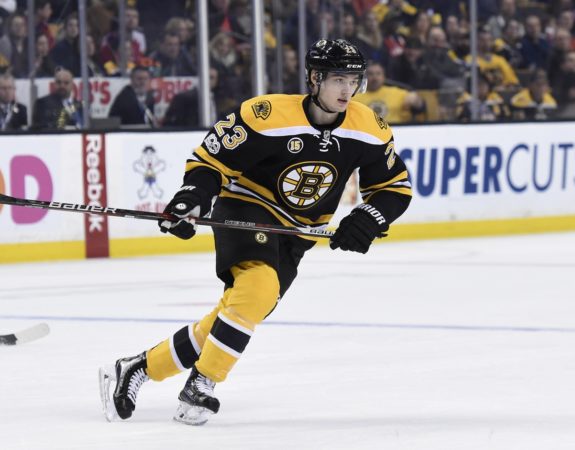 Ryan Fitzgerald returned from injury over the weekend and will be a welcome addition to the lineup. With Boston's fourth line currently playing well, Anton Blidh may have trouble cracking the Bruins' lineup. The 2013 sixth-round pick is starting to chip in more offensively in Providence and will easily surpass the point totals he put up in his first two seasons there. If a bottom-six forward goes down in Boston, Blidh may get the call, as he brings energy and the ability to kill penalties. In the meantime, the P-Bruins will benefit from his increased contributions on the offensive end.
A life-long follower of the game of hockey. Communications experience with the AHL'S Portland Pirates, and a former coach at the college club level. Covering the Providence Bruins and prospects.