At the beginning of the 2017-18 season, the Boston Bruins were on the outside looking in. The team was expected to barely squeak into the playoffs – if that – with very few pegging them as Cup contenders. All over New England, the expectation was simple: make it to the second round.
The way the Bruins performed throughout the latter half of the season was remarkable and surprising to many. No one figured the team's young prospects would have such an impact so early. For that reason, some think that a deep playoff run is in store, maybe even an appearance in the Stanley Cup Finals. With that said, the expectation of skating by the Toronto Maple Leafs in the first round has been bolstered.
Bruins' Ever-Improving Roster
The Bruins, despite missing the playoffs two seasons in a row before a first-round exit to the Ottawa Senators last year, had a lot to look forward to entering the 2017-18 season. Charlie McAvoy had a strong performance in the Senators series and players like Danton Heinen, Jake DeBrusk and Anders Bjork were jockeying for roster spots from the first puck drop of the preseason. The former two became Boston's No. 5 and No. 7 ranked point producers respectively.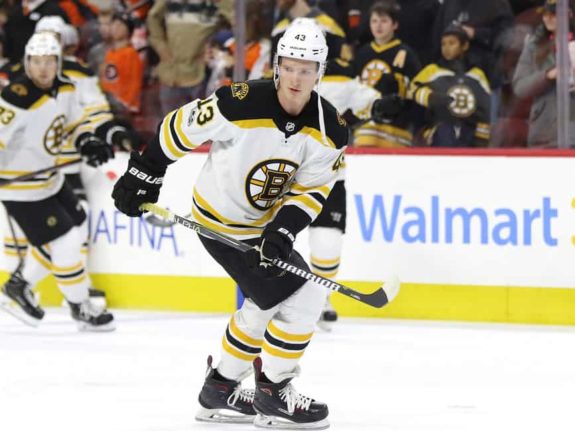 On top of that, other young Bruins showed signs of improvement. Matt Grzelcyk was able to solidify his status as an NHL defenseman, appearing in 61 games this season. Sean Kuraly found his niche within the system, appearing in 75 games. Brandon Carlo had a stellar sophomore season, blossoming into the top-4 shutdown defenseman he is capable of being. Then there's Ryan Donato, a Massachusetts native and Hobey Baker Award finalist who registered five goals and four assists in the first 12 games of his NHL career.
Even slightly older players like Noel Acciari, Tim Schaller, and Riley Nash had strong seasons, filling the role of reliable bottom-nine forwards that the team has desperately been searching for since the dismissal of Gregory Campbell and Daniel Paille. Even Kevan Miller has improved since last season. Better known for his hitting and fighting abilities, Miller has stepped up his puck possession, leading charges through the neutral zone and pitching in with 15 helpers – a career high for the 30-year-old.
The list goes on: Brad Marchand, David Pastrnak, and Patrice Bergeron were all 30-goal scorers this year – Bergeron and Marchand despite appearing in less than 70 games. Torey Krug accumulated 14 goals and 45 assists, both career highs.
Then there's Tuukka Rask whose 34-14-5 record is nothing to scoff at nor is his .917 save percentage (SV%) and 2.36 goals against average (GAA). After a rough start to the season, No. 40 went 9-0-1 in March while maintaining a .915 SV% and 2.50 GAA. Six of those 10 games came against playoff teams – the Pittsburgh Penguins, Philadelphia Flyers, Tampa Bay Lightning, Columbus Blue Jackets, and Minnesota Wild.
The Bruins are red hot, even if their last handful of games this season pointed to the contrary.
Bruins' Success Depends on Their Playoff Run
All of their regular season success will be overshadowed by a first-round exit this postseason. While their progress certainly cannot be discredited, the season will end with more negativity than positivity if the Bruins lose the series to the Leafs – their division rivals.
In fact, an early exit would place general manager Don Sweeney in the same position as last offseason: What needs to be added to make a push for the Cup?
Worsening the blow would be the fact that Sweeney has already put hefty wagers on Rick Nash and Nick Holden, both of whom are on expiring contracts. Expect No. 61 to be looking for more than the $3.9 million cap hit he had this season as the 33-year-old enters the latter stages of his career.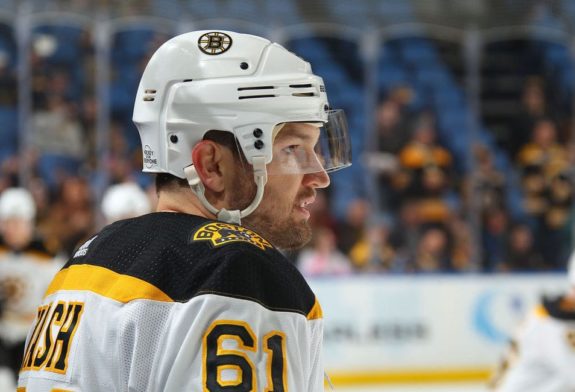 There's also David Backes' $6 million cap hit that will feel even heavier when the Bruins look to re-sign Schaller, Kuraly, Grzelcyk, Riley Nash, Anton Blidh, Austin Czarnik, and Colby Cave. Not to mention the fact that Sweeney will have to make the decision on Anton Khudobin who will be an unrestricted free agent this offseason.
All these moves will feel more justified after a solid playoff run. If the Bruins make it to the Eastern Conference Finals, Stanley Cup Finals, or even take the trophy home, it will be the icing on the cake. But one thing is certain: another first-round exit will leave the organization between a rock and a hard place, a position they've been in far too often since winning the Cup in 2011.
I cover the Boston Bruins and NCAA Hockey here at The Hockey Writers. Born and raised 10 miles north of Boston, I developed a love for the game of ice hockey at a very young age. There's really nothing better than this sport, though steak is a close second.