For a kid that grew up in the Boston area who loves to play hockey, what could be better than getting to play for both the Harvard Crimson and the Boston Bruins? Just ask 21-year-old Ryan Donato. He's currently living that dream.
He completed his junior season at Harvard by scoring 26 goals in 29 games — a pretty incredible stretch of hockey if you ask me. Once the season came to an end for the Crimson, Donato wasted no time in joining the Bruins. He signed a two-year entry-level contract on Sunday, and then made his NHL debut the very next night at the TD Garden. Even though the Bruins fell to the Columbus Blue Jackets 5-4 in overtime, Donato made his first NHL game a memorable one by scoring a goal and notching two assists.
"Obviously you're never really going to expect to play in your first NHL game and have chances," Donato said after the game via Bruins.com. "For me, I was just going in with a positive attitude, and no matter what role they had me in, I was going to try and do it my best."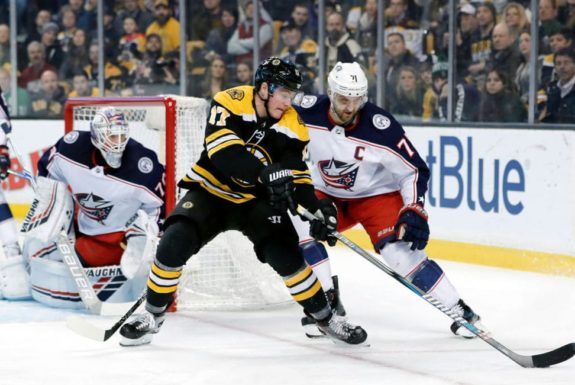 For any hockey-loving kid that was raised in the Boston area, life couldn't get much better than it is for Donato right now. He's living the dream as a student at one of the most prestigious universities in the world, while also playing for his hometown NHL team at the same time. Does it get any better than that? I would say no, and I'll bet Ryan Donato would say the same thing.
Donato – The Massachusetts Kid
Donato isn't just a kid from Scituate, Massachusetts. He's the son of former Bruins player Ted Donato, who also coached him at Harvard. He grew up around the organization. His dream has always been to win a Stanley Cup with the Bruins.
Many kids, regardless of what sport they play, grow up with the dream of one day playing for their hometown team. I'm not sure what the percentage is of kids who actually end up living out that dream, but I know it isn't very high. On the one hand, it's extremely difficult to actually be good enough to play sports at a professional level. That dream alone is one that many kids don't get to live out.
For the ones that are lucky enough to make it to the pros, the chances of actually getting chosen by their hometown team are pretty slim as well. As for the NHL, there are 30 other teams that they could end up with.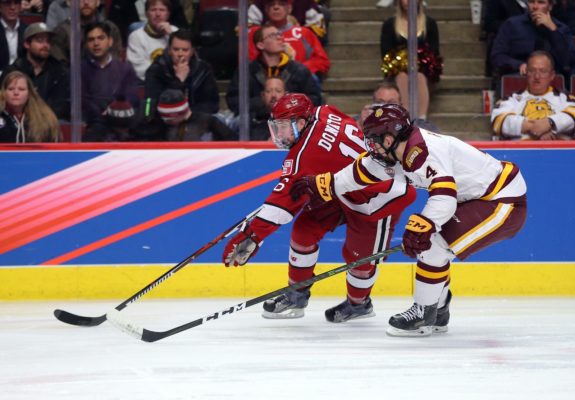 But Ryan Donato is one of the extremely lucky ones. He had the opportunity to play college hockey for Harvard University in Cambridge, Massachusetts while also being coached by his father. He was fortunate enough to be chosen by his hometown team in the second round of the 2014 NHL Entry Draft. He was fortunate enough to get to play for Team USA in the Olympics in South Korea, where he dazzled the world by notching five goals and six points in five games.
And when Donato finally made the leap to the NHL to join the Bruins, he was fortunate enough to get a solid amount of ice time in his debut. He took full advantage of the opportunity, and in the second period, he slapped a one-timer into the net for his first NHL goal.
Of course, like any good kid who realizes that he's lucky enough to be living every Boston kid's dream, he remained humble.
"I was fortunate to get a couple bounces," he said after the game. "It almost went in a couple times, and obviously one went in and that was great too."
Education Still Comes First
We've already established that Donato is living the high life right now. Even while he's doing it, he's not passing up on the opportunity to become a Harvard graduate. He'll be forgoing his senior season of hockey at Harvard to play in the NHL, but he's still going to keep working toward his degree in sociology.
"I plan on finishing this semester academically," Donato said on Monday morning. "Obviously it's going to be difficult, but for me it was a dream to graduate from Harvard."
After Monday night's game against Columbus, the Bruins flew to St. Louis in advance of their Wednesday night matchup against the St. Louis Blues. However, Donato didn't travel with the team and missed Tuesday's practice in St. Louis because he had a class commitment that he needed to attend to. He caught up with the team on Tuesday night, and will be ready to play against the Blues on Wednesday.
It's going to be a very busy spring for the 21-year-old. He'll be juggling the responsibilities of a Harvard student working towards a degree, while also trying to help the Bruins make a run at the Stanley Cup. It may sound like a difficult task, but that's what makes Donato such a special kid.
And even though he's still doing homework, nobody in the world is living the dream better than the newest member of the Bruins.
Cody Rivera is a sports writer covering the Boston Bruins for The Hockey Writers, as well as a contributor to SB Nation's PatsPulpit.com. In addition to the Bruins, Cody is also a devoted fan of the Boston Celtics, Boston Red Sox and New England Patriots. Send Cody an email at crivera0012@yahoo.com