Now that University of Minnesota Golden Gophers have been eliminated from the NCAA tournament, the Casey Mittelstadt watch has begun. The freshman had an impressive freshman year, putting up 11 goals and 19 assists for 30 points in 34 games. He was also a dominating figure at the World Junior Championship in Buffalo, being named tournament's most valuable player.
With his season officially over, the 2017 eighth overall pick by the Buffalo Sabres has some decisions to make regarding his future. Signing a contract with either the Sabres or the Americans would forfeit Mittelstadt's remaining NCAA availability. And while there's no doubt that the Sabres general manager Jason Botterill would love to get Mittelstadt signed and in the organization's system, he's not one to rush his prospects to the NHL. Botterill usually prefers to let them develop and mature before playing at the professional level.
There are several scenarios that could play out for the forward who was just named the No. 1 prospect by The Hockey News' Future Watch. Below are four of them and their ramifications.
Join the Sabres Now
Mittelstadt could sign an entry-level contract with the Sabres and begin his professional career in Buffalo as soon as today.
Why This Makes Sense for the Sabres:
The Sabres have ten games left in a season that's been horrific by nearly every measure. Giving Mittelstadt a taste of the NHL this season could give Botterill and head coach Phil Housley some further insight as to where Mittelstadt's game compares to grown men. It could also inject some energy into a lifeless arena that's seen season ticket holders grow apathetic about whether they should even make the trip downtown. It's also possible his play could even influence any off-season moves Botterill plans to make to shake up the team's roster.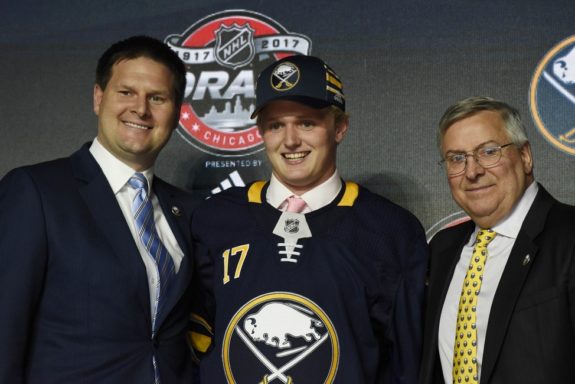 There are several precedents for players making the successful jump from college to the professional level. Among others, these include Boston Bruins' defenseman Charlie McAvoy and Arizona Coyotes' forward Clayton Keller.
Why This Doesn't Make Sense for the Sabres:
If Mittelstadt feels he's ready to leave school and pursue his dream of playing professional hockey, he could seek an NHL entry-level deal. Since he is 19 and turns 20 on Nov. 22, Mittelstadt is an exception to the Entry Level Slide (ELS), which is defined as such in the Collective Bargaining Agreement:
"ELS (Entry Level Slide) – If a player who is signed to an entry-level contract and is 18 or 19 years of age (as of September 15 of the signing year), does not play in a minimum of 10 NHL games (including both regular season and playoffs; AHL games do not count), their contract is considered to 'slide', or extend, by one year. For example, if a player signed an ELC for three seasons from 2015-16 to 2017-2018, and their contract slides, their contract is now effective from 2016-17 to 2018-19. An exception to this rule is that if the player is 19 on September 15 of the first year of their contract, and turns 20 between September 16 and December 31, their contract does not slide."
The last line of this stipulation is key. If Mittelstadt were to play even one game with the Sabres, it would burn the first year of his three-year entry-level contract. Also, if he should play in the NHL this season, Mittelstadt could not be sent down to the Amerks this year to participate in their playoff run.
The Sabres season is lost. Why burn an entire year on a prospect in ten (or fewer) meaningless games? While Mittelstadt played well in college hockey and was a force at the World Junior Championship, college hockey is not AHL hockey nor NHL hockey. The professional level is more grueling physically, the speed is much faster and the pace of play is dramatically quicker. Is it worth it to throw a kid into the deep end? It's anybody's guess. A cautious play here may be the smarter move for the Sabres.
Join the Amerks Now
Mittelstadt could sign an American Hockey League contract or an amateur tryout (ATO) contract and play for the Rochester Americans right away. While ATOs are typically used for college free agents and borderline draftees, this would give him the chance to play right away without burning a year of his entry-level contract (ELC).
Why This Makes Sense for the Sabres:
The Amerks are playoff bound. Signing Mittelstadt and sending him to Rochester gives them another weapon for their Calder Cup playoff run. The handful of remaining regular season games offers Mittelstadt a chance to get familiar with the team's system before the postseason begins. It'd be a nice stretch of games for him to begin developing and adjusting to the next level of play. It also doesn't count as a year against his ELC. This route also ensures he is still eligible for the Worlds, another great experience on the horizon.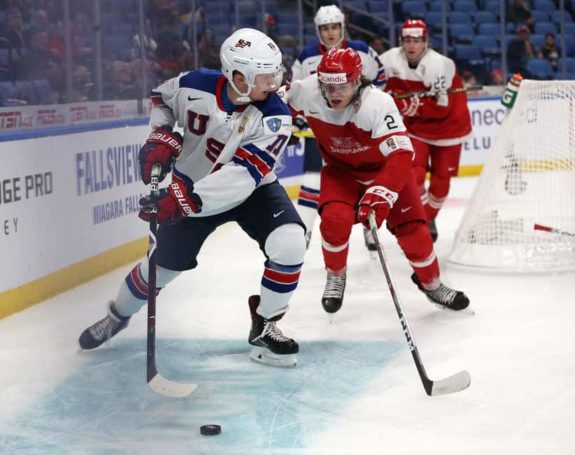 In a similar situation, Zach Werenski was drafted eighth overall by the Columbus Blue Jackets in the 2015 NHL Entry Draft. He signed an ATO with the Lake Erie Monsters, the Jackets' AHL affiliate, helping lead them to their first Calder Cup championship. In March 2016, he signed a three-year, entry-level contract with the Jackets starting with the 2016-17 season.
Werenski made his NHL debut in the 2016 season opener and has never looked back, setting the record for the most points scored by any Blue Jackets rookie in franchise history. He finished third in voting for the Calder Memorial Trophy, given annually to the league's best rookie (won by the Toronto Maple Leafs Auston Matthews).
Why This Doesn't Make Sense for the Sabres:
Playing Mittelstadt in Rochester does nothing to soothe over anxious Sabres fans who have reached a boiling point of frustration. While it may help the Sabres in the long run, it's hard to argue why this wouldn't make sense for the Sabres. From a business standpoint, it wouldn't be a smart decision for the rising star. While it could help his career and give him valuable minor league playoff experience, if he's going to leave school now, he's better off getting some playing time in Buffalo and burning a year off his ELC. Mittelstadt has enormous leverage in this scenario.
Wait Until Training Camp to Sign
News broke Tuesday afternoon that Minnesota's head coach, Don Lucia stepped down voluntarily. Though he has twice led the Golden Gophers to the NCAA National Championship title (2002 and 2003) and is one of 10 coaches to record more than 600 NCAA men's ice hockey wins, his team underachieved this year. He also failed to qualify for the NCAA tournament in half of the Gophers seasons of the past decade. Lucia leaving gives Mittelstadt another easy reason to leave school after one year.
By waiting until the summer or prospect camp to sign Mittelstadt to a contract (ELC), he can start in Rochester and if he excels, can be called up. Or if he appears ready, he'll crack the roster for the season opener.
There's a good chance Mittelstadt could make the adjustment and play in the NHL right now. However, his continued development is critical. This offseason would give him several months to build up his strength and conditioning in the weight room, as well as prep himself mentally for the next level of play. Even Sam Reinhart didn't start with the Sabres until his second season with the organization.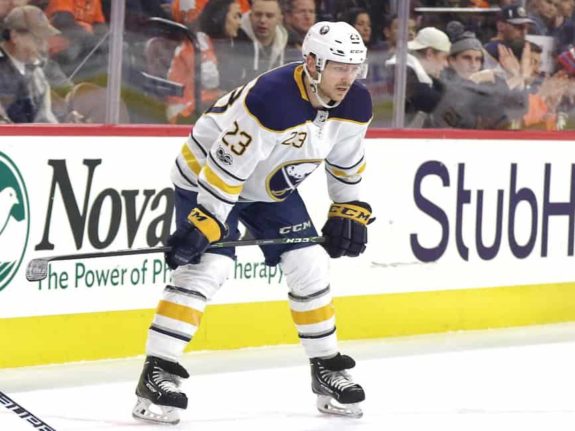 This option places more emphasis on the developmental aspect of prospects, which is something Botterill has mentioned many times as a foundational element to his team-building philosophy.
Stay in College
Mittelstadt, only 19 years old, could choose to go back to Minnesota for his sophomore season. Maybe he feels like he has unfinished business and wants to continue developing and growing in the college ranks. Perhaps what's best for his long-term development would be for him to lead his team into the playoffs next year and emerge as a Hobey Baker finalist (or winner). Maybe he doesn't like upheaval and change.  Maybe it would—or has—affected his game. There's absolutely no reason to rush him.
The Eden Prairie, Minnesota native was tied for 93rd place in total points (30) in Division 1 hockey and roughly 79th in points-per-game average (.882). Those are far from dominating numbers. There's plenty of room for improvement as well as physical maturity should he stay in school. It's not a bad option for either side.
While Mittelstadt has already has a slick highlight reel, there are plenty of Sabres prospects (i.e. Mikhail Grigorenko and Alex Nylander) who also had their fair share but haven't exactly lit it up since turning pro. Grigorenko tallied a whopping 22 goals in 217 NHL games and is now playing for CSKA Moscow in Russia. Though he's improved his play lately, Nylander has been a poster child for inconsistency with 52 points in 102 AHL games. Granted these players were both slightly younger than Mittelstadt, but not by much.
The Sabres' still hold Mittelstadt's rights for three more years. The chances of him 'pulling a Vesey' or a Cal Petersen and opting for free agency after playing out his college years is infinitesimally small–the Sabres want him and have not wavered for a moment in making that known.
It'll be interesting to see how it all plays out.