And the misery continues.
The Buffalo Sabres lost both ends of their home-and-home series this weekend with the Pittsburgh Penguins. They've now dropped four straight and have won just a single game of their last 12. The Sabres sport a dismal record of 6-17-4 for the season. Of their six wins, only five are in regulation. In cold, hard numbers, that means they've won 18 percent of their games in regulation.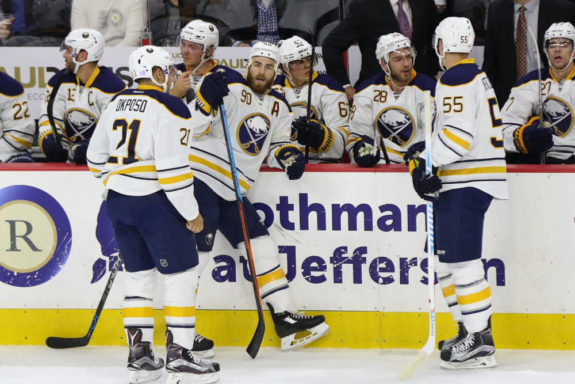 Bottoming out in 'Burgh
Saturday night's game was an easy one for the Penguins. They scored the game's first three goals with speed, determination and crisp passing. Jason Pominville mercifully put an end to the Sabres shutout streak, one-timing a backhanded pass from Jack Eichel who was behind the net. The shot beat rookie goaltender Tristan Jarry, ending the Sabre's franchise-record scoreless streak at 232 minutes, nine seconds–almost four games.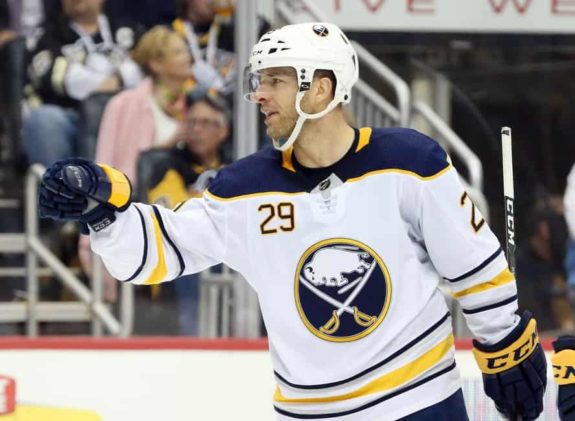 Phil Kessel's goal, a laser from the right side, put away a game that was basically over after the first period.
One Buffalo
This is a difficult time to be a Buffalo sports fan. It's almost torturous. For now, let's leave the Bills' and their playoff drought out of this conversation.
Sabres in the Basement
With the Arizona Coyotes Saturday night victory, the Sabres are once again alone in the NHL basement with a measly 16 points. They have the fourth-worst point total at the 27-game mark of any Sabres team that's come before them. Only the 2013-14 (13 points), 1970-71 (15 points) and 1986-87 (14 points) teams had fewer points after 27 games.
This team is on pace for 49 points for the season. That's worse than the two years (2013-14 and 2014-15) in which they were tanking to secure high draft picks. To further add context, the Tampa Bay Lightning and Winnipeg Jets both have 38 points already.
Fans Have Lost Hope
The warm and welcoming folks of Western New York are a hospitable bunch. They'll help you push your car out of a snow bank and deliver meals to the elderly. They'll get on board and rally behind a team or a cause. Look no further than this summer's 11-Day Power Play that raised over a $1 million for cancer research. Just ask and they're there.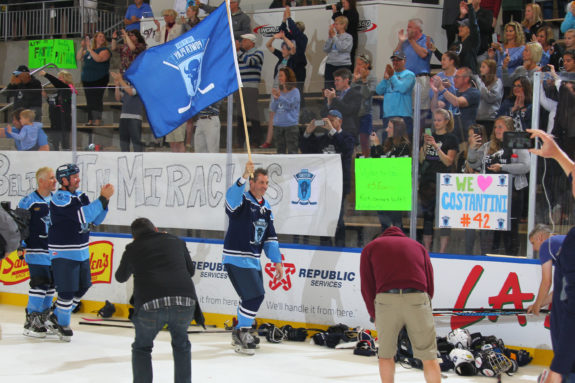 When it comes to our sports, we yearn for a winner. That said, we'll accept and cheer on even a mediocre team with a blue-collar work ethic that displays hustle, heart and integrity. Nothing is more important than an honest effort and heart. We'll deal with losing if there is a greater good to come from it.
There's Only One Way to Go
No matter how one looks at it, right now, this team is an utter mess. Their best players are white knuckling their sticks. The players are sulking and Phil Housley, their rookie coach, seems in over his head.
They sport the league's lowest-scoring offense.
Their power play is 0-for-26 in the last nine games.
They're the only team left in the league without a goal from a defenseman.
They've allowed the league's second-most goals (94).
They have the league's worst goal differential (minus-38)
New Regime, Same Result
When Pennsylvania billionaire Terry Pegula bought the franchise in Feb. 18, 2011, he boldly stated, "Starting today, the Buffalo Sabres' reason for existence will be to win a Stanley Cup." It was supposed to be a turning point for the franchise. His then-tears of joy greeting his childhood sports hero, Gilbert Perreault, have since resulted in tears of frustration for Sabre fans. He's cycled through five coaches and three general managers in six years.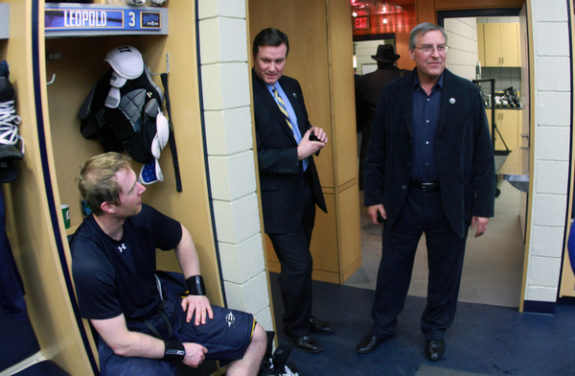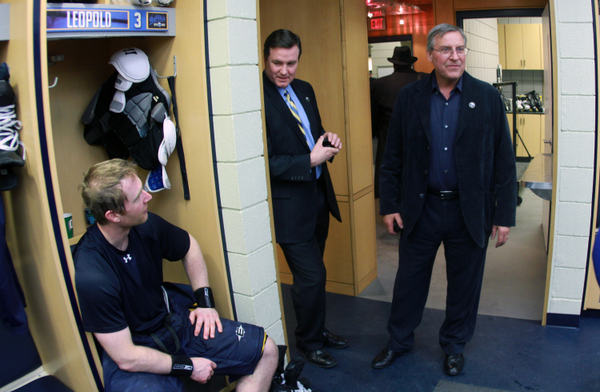 Pegula soon appointed Ted Black as the team's president, who stated that one of Pegula's main goals as owner was to turn Buffalo into hockey heaven. It might not happen this year, it might not happen next year," Black said, "but it's going to happen."
Pegula may have transformed downtown Buffalo into a hockey hotbed for NHL and international events, but where is the renaissance for its professional football and hockey teams?
Pegula stripped any financial handcuffs on building a winner. "There is no salary cap in the National Hockey League on scouting budgets and player development budgets," said the wealthy owner. As we're witnessing, it takes a lot more than money to buy a winner.
Botterill and Housley's Team
As much as Jason Botterill and Phil Housley brought a new sense of hope with them in the off season, they also tapped into our deep longing to be a winner. Their nostalgic past, sprinkled with Blue and Gold, only added to our insatiable appetite for success in our city. Almost everyone chugged the Botts and Wowie Kool-Aid before the season began.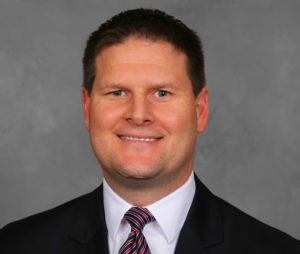 A crisp MBA diploma, Stanley Cup rings from another organization, and Hall-of-Fame credentials offer credibility for achievements that happened in the past. Fans want results now.
Though this year's disaster has Tim Murray's fingerprints all over it, it unequivocally belongs to Botterill and Housley. The 2017-18 season is not even halfway over, but the Sabres season is already done. According to SportsClubStats.com, the chances of them making the playoffs is hovering around 0.1 percent. That's roughly the odds of getting a hole in one in golf. Or about the same chance of throwing a wedding ring into Lake Erie only to have it return to in the claw of an Alaskan king crab on your dinner plate at Hutch's.
As the losses pile up, the coach points to a system that the players aren't executing. The players are searching for answers among a chorus of excuses and accountability. At best, it's tough to watch.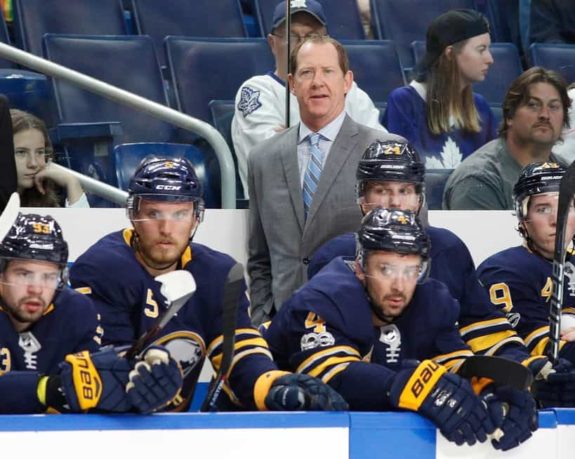 As fans, we'd love a winning team. But right now, we just want to hear a plan. Shine a playoff light for us at the end of this overly long, dark tunnel. A good, experienced coach would recognize that even if his approach is the best way to win in this league, he doesn't have the players for it. Trying to beat an uptempo game into a roster of mostly slow-footed players is a recipe for disaster, as we've all witnessed. The coach needs to adapt his plan and conceive a new approach that the roster he has can execute. His next step should be to march into Botts' office saying that he has this bunch of AHL players at top gear. To be better, he needs his general manager to bring in new blood.
Suffering and Patience
After the 2012-13 season, Darcy Regier, the Sabres general manager at the time, forewarned fans about what he thought it'd take for the team to be a contender. "It probably needs an understanding from our fan base that what Terry is asking of us [is] to try a lot of things. He is in search of creating a Stanley Cup champion. It may require some suffering," said Regier.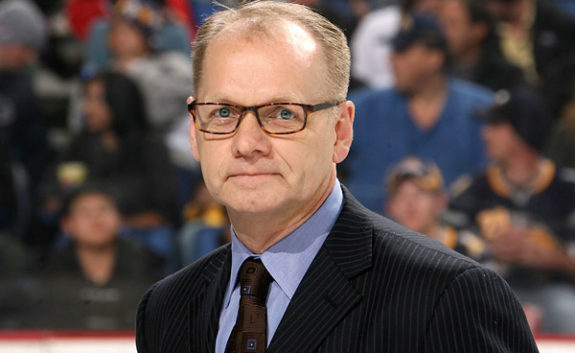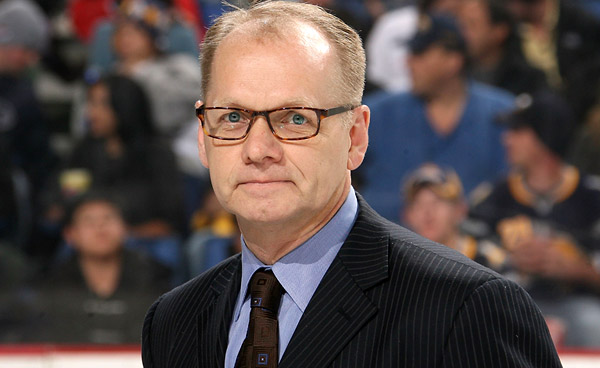 More than four years later, the suffering continues.
Turning this team around won't happen overnight. An overhaul of a roster can take several years. Only so many bloated contracts can be eaten. The rest need to run their course until they're not renewed. College prospects and those playing in Rochester will hopefully develop, mature and earn spots in the lineup. The salary cap makes things all the more complicated.
Fans have every right to complain and show their disdain for this franchise that's seen better days. The last thing Sabre fans want to be told is to be patient. They've waited a decade since their last playoff series win. Sadly, patience is exactly what's needed right now.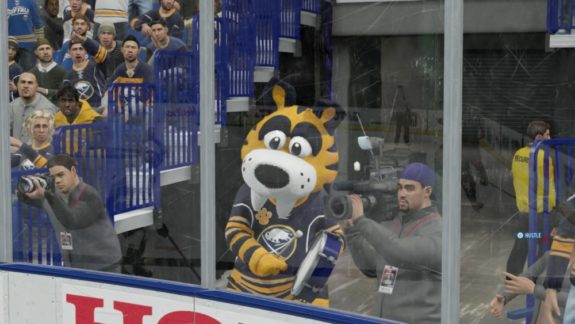 Next up, the Sabres will escape the fan frustration in 716 with a three-game roadie. They play the Colorado Avalanche Tuesday night, the Chicago Blackhawks on Friday and the St. Louis Blues on Sunday.
Jeff has been covering the NHL for over a decade for various sites. He's been with The Hockey Writers as a lead Sabres writer three years, while also writing a satire column called "Off the Crossbar."