On Monday night against the Columbus Blue Jackets, the Boston Bruins competed in what turned out to be one heck of a hockey game. It featured just about everything: a young player making his NHL debut, a ton of goal scoring, some incredible goalie saves, a sudden death overtime period and a lot of back and forth action.
Even though the Blue Jackets came out on top with a 5-4 win in overtime, the Bruins (45-17-9) still played good hockey in front of their home fans. For the hometown kid Ryan Donato – minus the loss – it was a pretty spectacular NHL debut, as he scored a goal and notched two assists while playing like a savvy veteran.
Without further ado, here are three takeaways from Boston's 5-4 loss to Columbus on Monday night.
The Debut of Ryan Donato
Almost immediately after the news was announced that Donato had been signed to a two-year entry level contract by the Bruins, it was also announced that he would be playing on Monday night. It was evident that the 21-year-old was ready to make the leap to the NHL after leading Harvard with 26 goals and 43 points in 29 games this season and being named a finalist for the Hobey Baker Award as the top player in NCAA hockey. In addition to that, Donato, who grew up in the Boston area, was a member of Team USA at the Winter Olympics last month and scored five goals in five games, tied for the most among all Olympians.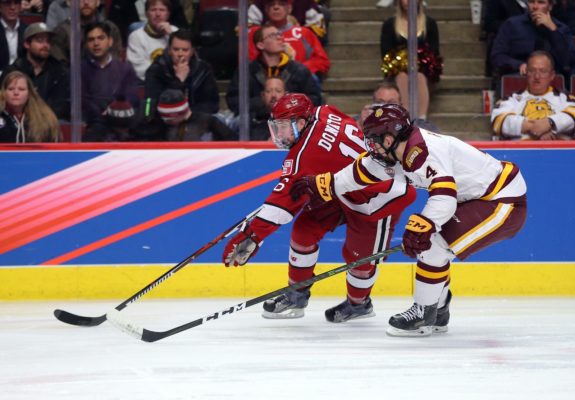 Still, though, when a young kid makes the transition to the NHL it's hard to predict how much ice time he will receive, or if he will be battling nerves. But Donato, who is the son of Harvard coach and former Bruin Ted Donato, was more than prepared for the opportunity.
And was he ever ready for it. Almost right out of the gate, the kid looked like he belonged in the NHL, intensely chasing down the puck and showing aggressiveness in the offensive zone. With the Bruins trailing 1-0 in the second period, Donato slapped a one-timer into the net for his first NHL goal to tie the game. He added to his performance by assisting on two later goals – one scored by Riley Nash and the other by David Krejci – to record three points in his debut.
"This kid absolutely looks like he's NHL ready," said NESN play-by-play announcer Jack Edwards during the broadcast.
Related: Ryan Donato – 2014 Draft Prospect Profile
Couldn't have said it better myself. And considering the Bruins are nursing a handful of injuries right now, it will be a huge help having another youngster to help contribute in the playoff push.
Blue Jackets Get The Better of Rask
It's ironic that immediately after I wrote a piece about how the Bruins and their fans must keep the faith in goalie Tuukka Rask, he was then unable to contain the Blue Jackets, who hit him for five goals in the game. If we're being honest, it was a pretty normal game for Rask.
He allowed five goals and made 20 saves. He didn't play particular bad in the net (although there were a couple goals that he definitely should've stopped), but Columbus put forth a well-placed offensive attack and managed to get the better of Rask for a few key goals.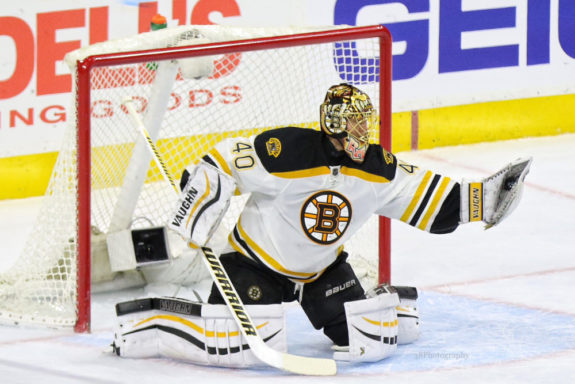 After the Bruins unleashed a three-goal explosion in the second period to take a 3-1 lead, the Blue Jackets snapped their momentum with a goal by Sonny Milano to make it a one-score game. Rask turned away a shot that rebounded right to Milano on the other side of the net, and he immediately knocked it in behind Rask, who was unable to make the transition quick enough. It wasn't a knock on Rask; there is no goalie in the world that would've been able to make that stop. The Blue Jackets just executed the play extremely well.
From that point on, Columbus had Rask's number, netting two more goals in the third period and then again in overtime for the game-winner. Rask's somewhat shaky goaltending late in the game was essentially the only flaw in what was a pretty well-played hockey game by the Bruins.
Related: Tuukka Rask Is an Elite Goaltender
I will repeat myself again, though — Rask is still the guy that Boston wants minding the net. His game may have been a little off on Monday night, but when his game is on, he's darn near unbeatable. For quick reference, take a look at his performance against the Tampa Bay Lightning on Saturday.
Long Live the Resilient Bruins
The 2017-18 Bruins have been nothing but resilient all year. They've fallen behind in plenty of games, but whether they are down by one goal or four goals, they are never out of any game. They've come back to win plenty of games this season, and they almost did it again on Monday against the Blue Jackets.
They fell behind 1-0 in the first, then powered back to take a 3-1 lead in the second. But after tying the game early in the third period, Artemi Panarin put the Blue Jackets in front 4-3 by scoring a goal with 8:30 remaining in regulation.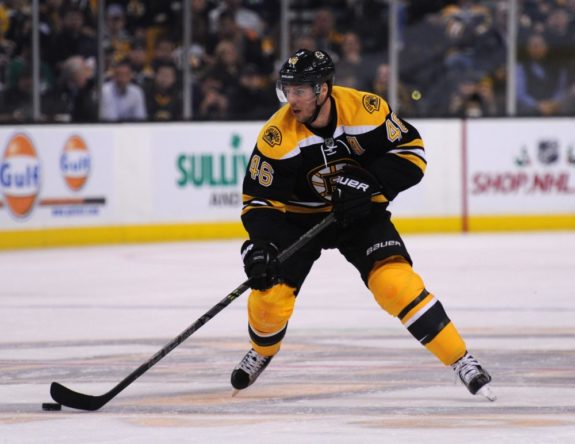 A lot of teams, after realizing they just blew a two-goal lead and were now behind again as the end of regulation neared, might have already mentally thrown in the towel. For the Bruins, coughing up the lead didn't even faze them. This team has specialized in bouncing back quickly all year long.
This time, it only took them 20 seconds to bounce back. They immediately took the puck down the ice and David Krejci punched in the game-tying goal, with an assist from Donato and Danton Heinen. Once again, the Bruins showed the remarkable resiliency they've played with all season.
Ultimately, they still dropped the game in the overtime period. But being a resilient team will benefit them heavily when the playoffs begin next month, because you can bet they are going to need as much resiliency as they can muster.