If you had told me in October that the Devils would be in a playoff push this late into the season AND that Keith Kinkaid would be leading it, chances are I wouldn't have believed you. He's made four consecutive starts, winning three of them, and has been the team's best goalie over the last month-plus. With only 10 games remaining in the season, he'll need to keep up his quality performances. That said, will he be able to maintain it for a long enough stretch to get the team into the postseason?
Keith Kinkaid Riding High
While Kinkaid may be playing the best he has all season long, he did not get off to a great in 2017-18. Through Feb. 10th, he posted just a .891 save percentage (SV%) in all situations, which was in the bottom 10 of the league for goalies who played more than 400 minutes.
Since then, he's seen a sharp positive turn in his numbers. In his last 12 starts, he is 9-3-0 with a .935 SV%, which is fifth-best amongst goalies from Feb. 11 through March 19 and is better than netminders such as Connor Hellebuyck and Sergei Bobrovsky. During that stretch, Kinkaid has also seen his SV% rise from .891 to .909 on the season, which is quite the jump in barely a month's worth of play.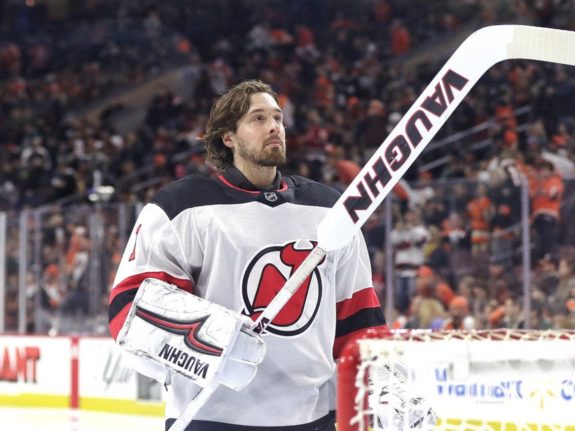 Kinkaid has been particularly good in the midst of a crucial Devils' road trip, which includes five games out west. In their first four contests, the Devils have given up 152 shots. However, he has stood on his head stopping 143 of them, including all 38 he faced against the LA Kings for his first shutout of the season.
A big reason for Kinkaid's success has been his performance on the penalty kill. He has a .923 SV% while down a man in his last 12 starts, which is sixth-best in the league and better than goalies such as Frederik Andersen and Pekka Rinne. The old saying is that your goalie has to be your best penalty killer, and Kinkaid has been just that, as the Devils have killed 30 of their last 37 penalties.
Is Kinkaid's Play Sustainable?
Although Kinkaid has been playing his best hockey of the season over the last month-plus, it's not a sure bet that he can sustain it over the last three weeks of the season. For his career, he has a .911 SV%, so at some point, he'll come back down to Earth from the .935 SV% he's posted during his last 12 starts.
Much of that regression is likely to come on the penalty kill, where his career average SV% is .880. That number is still quite good, but most of the time, players tend to revert back to the mean, and it's unlikely Kinkaid will be any different.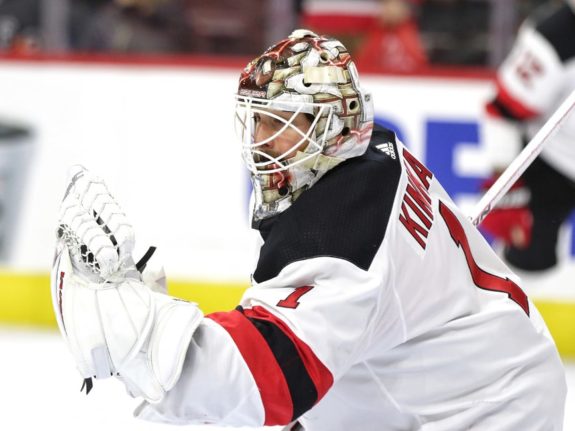 To help him out, the Devils will have to tighten up on defense. In his last 12 starts, they've allowed an average of 34 shots on goal. If they keep giving up that many shots, it's only a matter of time before they let up some goals, whether it's due to a dip in Kinkaid's play or some poor puck luck.
Related: Devils Vatanen a Difference Maker on Defense
If Kinkaid Slumps, Can Schneider Pick Him Up?
While Kinkaid has been producing at a high level, it's been the exact opposite for Cory Schneider. Through New Year's, he seemed to have regained his form from prior to 2016-17. He was sporting a .919 SV% and was a big reason for the Devils' hot start to the season. Since then he has just a .875 SV% in his last 10 starts, which is well below his career average of .921.
He's also dealt with some injury problems through the second half of the season, missing close to a month of play with a groin injury. Schneider's game had started to go south prior to him hitting IR, although it's quite possible he was playing through an injury without having it be known. After a brief conditioning stint with Binghamton (AHL), he returned to the Devils only to post a SV% below .900 in three starts.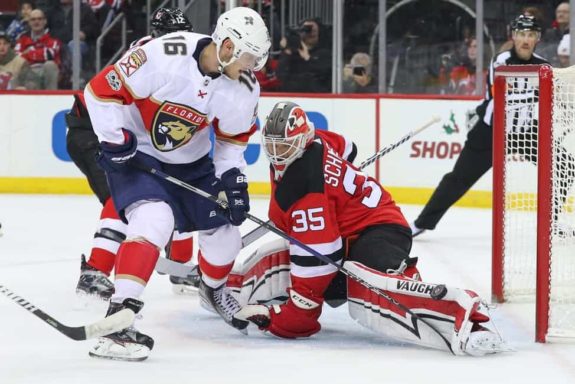 The result is him not having played in a game since March 8, and he was even held out of a back-to-back this weekend against the Kings and Ducks. Head coach John Hynes addressed the situation Sunday evening.
"We've had some discussions with Cory and he's a high-character guy, he's a team-first guy," Hynes said of Schneider. "He certainly understands the situation, that Keith has played very well. He wants to play. We understand that, and we want him to play, too. But I think he also understands that we have to make decisions and we're making decisions based on Keith's play, not on any other situation. He wants what's best for the team, he wants to help this team, and he's going to certainly get an opportunity soon."
Schneider's next opportunity may come as soon as tonight, as the Devils visit the Sharks in their final game out west before returning east to the visit the Penguins. As likely as it is for Kinkaid to regress at some point, it's just as likely that Schneider won't continue to post sub-.900 goaltending. He's bound to get some good starts and some puck luck at some point.
However, the only way for him to get out of this rut is by getting him some starts, and it needs to happen as soon as possible with the season winding down. If the Devils make the playoffs, they'll need Schneider in a best-of-seven, especially if they end up facing a team with the firepower of the Tampa Bay Lightning.
Schneider/Kinkaid Split Would Benefit Devils
The Devils don't necessarily need a goalie who has to start all 10 of the team's remaining games. If Schneider can find his groove again, they could benefit from splitting the workload 50/50 down the stretch. Kinkaid has shown he can be counted on when called upon and Schneider is due for some positive play. If it's all able to come together, it'll relieve some of the pressure from Kinkaid and will give Hynes two viable options to help shore up the team's goaltending situation for the rest of the regular season and possibly the postseason.
 *      *      *
Advanced stats from Natural Stat Trick, except where noted.