Heading into the offseason, there were a lot of question marks surrounding the New Jersey Devils, especially Cory Schneider, who had a career-worst season in 2016-17. In 59 starts, he finished with a .908 save percentage and 2.82 goals against average, easily his worst since he became a Devil. Was this the beginning of a decline in performance or was it a down year and the Devils could expect him to bounce back?
Cory Schneider on the Right Track
Schneider seems to have regained his form this season. Through 30 starts, his .920 save percentage ranks 12th in the league while his 2.59 goals against average is 13th best (min. 15 starts). In addition to his traditional numbers which are up sharply from last season, a dive into his stats show his improvement in comparison to last season.
The following table shows some of Schneider's key stats through 30 starts compared to his performance all of last season.
| | | |
| --- | --- | --- |
| Stat | 2016-17 | 2017-18 |
| 5-on-5 sv% | 92.2% | 93.1% |
| High-danger sv% (5-on-5) | 80.8% | 81.6% |
| Penalty Kill sv% | 85.5% | 87.3% |
| Quality Start Percentage | 45.8% | 63.3% |
The highlighted areas indicate an improvement and, of course, it's been across the board in 2017-18. One noticeable positive trend has been his play at five-on-five. After posting a career-worst five-on-five save percentage in 2016-17, he is sitting at .931% through 30 starts this season. That has him about even with other top starting goaltenders such as Jonathan Quick and Roberto Luongo.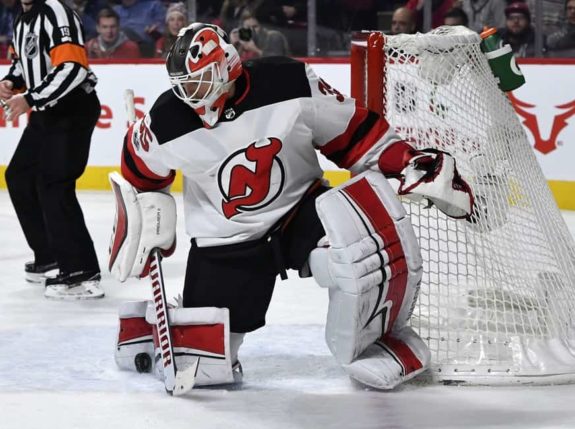 Where Schneider has improved most significantly this season has been in the number of quality starts (a marker that comes straight from baseball and was developed by Rob Vollman at the Hockey Abstract). Last year, Schneider's quality start percentage was 45.8%, which was by far the worst number of his career. This year, his quality start percentage is at 63.3%, tied for ninth with Jimmy Howard.
The Roland Melanson Effect
After last season, Ray Shero decided to make some changes to help Schneider get back on track. The Devils parted ways with long-time goaltending coach Chris Terreri, who had held the position since the 2009-10 season. In doing so, the Devils reunited Schneider with his former goalie coach, Roland Melanson.
Schneider spent the better part of his Canucks tenure with Melanson (from 2010-11 through 2012-13) and posted some pretty impressive numbers in that time. His worst save percentage was a .927 and he never posted a goals-against average below 2.23. Although he was Roberto Luongo's backup during that time, he still appeared in 88 games and never had a quality start percentage below 68% in 80 starts.
Related: Devils Surprise, Lead the Way at the Quarter-Season Mark
Fast forward to this season and Schneider and Melanson have been reunited after four-plus seasons apart. They spent training camp and the preseason together and Schneider said he's made adjustments to his game thanks, in large part, to working with Melanson. Prior to a game against the Winnipeg Jets in November, Schneider spoke with the Star Ledger's Chris Ryan about what Melanson has done for him this season and he indicated that he felt "a little more confident with his movement…"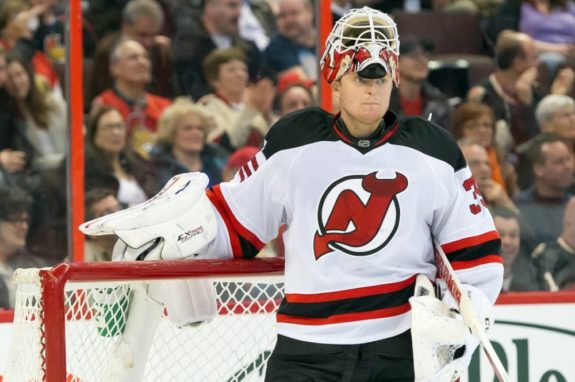 Watching him play this season, it's apparent. He's much more positionally sound and has done a better job of choosing when to play aggressively in his crease. There were many moments in 2016-17 when he lacked confidence and often found himself in awkward situations. Melanson seems to have helped Schneider address this and is a big reason why he sits with a .920 save percentage this season.
There's Plenty of Season Left to Play
The Devils' rise to the top of standings has in large part been thanks to their goaltender. Sure, Taylor Hall is having a career year and the rookies have played a major role, especially on offense. However, if Schneider wasn't posting a .920 save percentage or above for most of the season, the Devils wouldn't be where they are considering the defense has been suspect, especially earlier this season. They've been prone to giving up a fair amount of shots, but Schneider has done his part in stopping them.
On average, Schneider is facing 32.1 shots on goal against through 30 starts. That's quite a bit and is the most he's faced since being acquired by the Devils back in 2013. With Keith Kinkaid struggling a bit, Schneider's high level of play has become of the utmost importance for the team. Any dip in his numbers and they could be in trouble.
As we near the halfway mark of the season, the Devils have been one of the biggest surprises in the league. Schneider is a key factor in that and the Devils sustaining their success through the rest of the regular season.
Goaltending goes a long way in the NHL. If you have a goalie who can regularly post numbers that Schneider has throughout his career, it'll keep you in most games. So far, he has been able to do that on most nights. In the past, he's been able to maintain his play through the course of the regular season. If he can continue, the Devils will find themselves in a playoff spot come April.
 *    *    *
Advanced stats are from Corsica Hockey