He's known as 'Turk'. To others, it's 'Spuddy', that being in reference to his home province's obsession with potatoes. The former, according to Gerard Gallant, goes back to his childhood love of chasing turkeys. Back then, kids didn't have smartphones and iPads to entertain them.
Gerard Gallant grew up in Summerside, PEI. Since day one, hockey has been front and center. He spent his early years skating (and cleaning) the rink near his house. The cleaning was a service provided in exchange for extra skating time. The added practice would pay off in the long run.
Playing 11 seasons in the NHL, 563 games, he tallied 480 regular season points (39 more in the playoffs). A modest point-producer, Gallant was known, more for his 'Take no ****' style of play – his bulldogedness earning him 1674 career penalty minutes. A different era of hockey…less reliant on system-driven strategies? Goals weren't as scarce a commodity back then as they seem to be now.
Related: The Vegas Golden Knights: A True Underdog Story
The four most recent seasons, including the one in progress, have produced on average, 5.58 total goals per game (TG/G). Compare that to 7.41, which is what it was during his most productive four-year stretch (1986-90). A net-difference nearing two full goals – click here to see a snapshot analysis of the two time periods, highlighting some other key variances.
Gallant played in a time when enforcers routinely doubled as legitimate offensive threats. He put together four straight seasons with at least 72 points and 216 penalty minutes. Recent similarity scores peg Kyle Turris as the closest present-day comparison – Read into that as you may. Chronic back issues cut his career short. Driven by his unparalleled love for hockey, he would quickly find his way back to the game.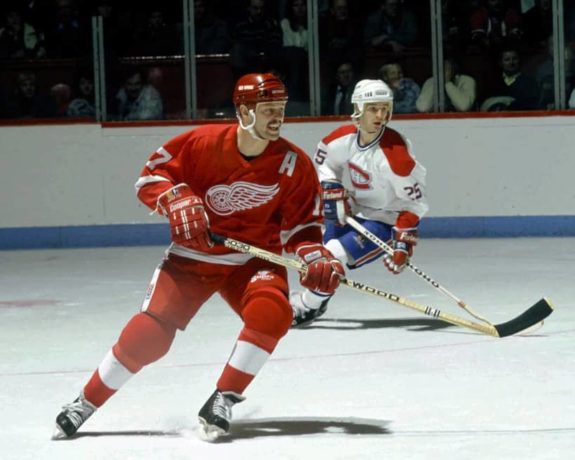 Gerard Gallant Shifts to Coaching
Why put off until tomorrow what can be accomplished today? Suffering a career-ending injury during a practice in 1995, his playing days were over in the blink of an eye. However, Gallant quickly became the head coach of his hometown junior team, the Summerside Capitals. Playing in the Maritimes' Junior Hockey League, he led the Capitals to a Royal Bank Cup in 1997.
The professional coaching ranks welcomed Gallant in 1998, seeing him hold assistant roles in both the IHL & AHL. In 2001, he was named an assistant coach for the Columbus Blue Jackets, a team playing in their inaugural season. Only six years removed from being a player, he was now helping steer one of the NHL's newest operations, his first such experience doing so. As one could predict, the expansion Blue Jackets began their NHL journey in laughably bad fashion, producing seven straight sub-.500 seasons – remember, expansion teams are supposed to stink!
"In the eight months of vetting, we never heard a negative word about Gerard Gallant, the person," – George McPhee
Gallant served as both an assistant and a head coach during the Blue Jackets' early struggles. In the 2003-04 season, GM Doug MacLean appointed him as the team's head coach. MacLean had been serving as both the coach and general manager, having fired the team's first head coach, Dave King halfway through the previous season.
Gallant's first NHL head coaching gig lasted one full season, and parts of two others.
He was let go 15 games into the 2006-07 season.
A consistent theme, discovered when one digs into his rep amongst hockey's greatest minds, is nobody has a single bad thing to say about Gerard Gallant, as a player, a coach, or person. A staunch reputation, coupled with an undeniable ability to connect with his players, he would quickly land on his feet. After serving as an Islanders assistant for two seasons, under former teammate Ted Nolan, he would return to the junior ranks. An apparent step back for…
…Three seasons, and two CHL Coach of the Year Awards later, the pro ranks once again called upon him.
Related – One Year Later: An Update on Gallant and the Panthers
Up Next for Gallant – 'Poutines & Sunrises'
Somewhat pejoratively referred to as a national treasure, poutines are as rough and tough a dish as there is. Ironically, that's kind of the same description you could give Gerry Gallant, no? – I hope he finds that oddly complimentative, precisely my intention.
The Montreal Canadiens were coming off a tumultuous campaign, highlighted by the franchise's first appointment of a unilingual coach, albeit with an interim label (Randy Cunneyworth). At season's end, Marc Bergevin became the team's newest general manager.
A former teammate of his (and supposed jokester), Bergevin would hire Michel Therrien as the Canadiens' bench boss, with Gallant serving as a primary assistant, in charge of the forwards. The Canadiens earned playoff berths in both seasons, including a 2013-14 conference finals berth, losing to the New York Rangers in seven games. The mere mention of that series still causes some Habs' fans blood to boil, due to the much-discussed collision involving Chris Kreider and Carey Price. Price's season ended as a result.
Having his fingerprints all over yet another successful NHL campaign, the time had come for him to shine as a head bench boss once again; the Florida Panthers gave him that opportunity to begin the 2014-15 season.
Boasting a roster containing ageless wonder Jaromir Jagr, along with promising youngsters Alexander Barkov and Aaron Ekblad, it was Gallant's mission to restore hope in Sunrise, Florida. While they came up short in year one, the following season they delivered an Atlantic Division banner to the BB&T Center. Despite the regular-season success, the Panthers lost in the first-round – the theme of that series being a lack of production from Florida's key players.
What followed next season was a strange sequence of events…
…that resulted in 'Spuddy', once again, coaching a franchise in its infancy.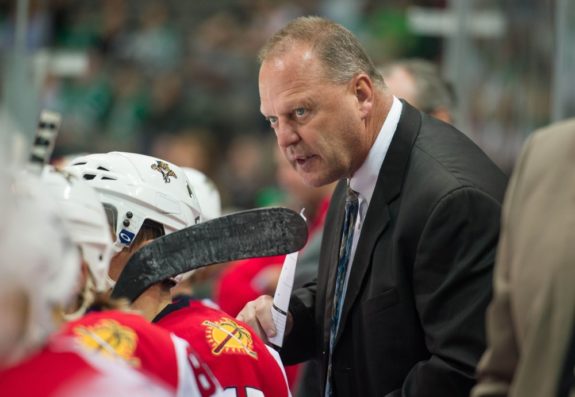 The Road to Vegas
Following one of the most unceremonious dismissals in recent sports memory, Gallant was once again out of a job.
His availability happened to coincide with the Canadiens' search for a new head coach. Despite leading their division, Bergevin cut ties with Therrien, sensing his team had grown tired of MT's schtick. One would think, given Gallant's past history with the Habs, he be strongly considered as a replacement, but past mistakes could not be repeated…like Randy Cunneyworth, Gallant did not speak French. As a result, he did not receive the level of consideration many deemed to be appropriate. A stipulation long past its expiration date, the Canadiens ignored the rest of his resume – A decision, in hindsight, the Habs may regret.
One man's trash is another man's treasure…and in April of 2017, Golden Knights GM George McPhee introduced him as the team's first head coach…From 'The Island' to 'The Strip',  Gallant represented one of Vegas' greatest, and most calculated gambles. The story is shaping up to be Cinderella'esque. But don't expect him to hog the credit for what's developing on the now icy Strip.
"I think the big thing is, our group is a bunch of good people", he told CBC, back in October.
Good people brought together under a common goal or purpose are capable of magnificent things. They require a leader to guide them. A leader challenges his or her people to do the extraordinary. They demand hard work but are careful not to spit in the face of fun. After all, it's just a game.
"When you come to the rink every day and have fun and enjoy your staff and the people you're working with it's the best job in the world. For me it's about having fun and working hard and doing your job," explained Gallant in a September interview with NHL.com.
There's never been a shortage of fun going on in Las Vegas…
…Gerard Gallant is making sure it always has a place inside The Fortress.
Golden Knights head coach Gerard Gallant faces his former team for the first time tonight. Follow along live as Vegas hosts the Florida Panthers.https://t.co/QVGcfbIFXq #VegasBorn pic.twitter.com/aSRAcuemns

— Las Vegas Sun (@LasVegasSun) December 18, 2017