Before this season began, the New Jersey Devils had been in search of a quality, puck-moving defenseman for quite some time. They signed prized NCAA free agent Will Butcher in the offseason, which has paid dividends for the team. However, the real game changer came when they acquired Sami Vatanen from the Anaheim Ducks. He's brought an offensive presence the Devils lacked from their defensemen and has become the face of a slowly changing group of blueliners the team has not seen for years.
Vatanen Thriving as Defensive Workhorse
When Sami Vatanen arrived in New Jersey after his trade in late November, it came as a bit of a shock to him. It took awhile for him to get acclimated to his new team, but after some mixing and matching along the way, he's finally settled in on the team's first defensive pair with Andy Greene. To put it simply, the Devils have been reaping the benefits of his high level of play.
In his last 20 games, Vatanen has logged 20-plus minutes of ice time (TOI) in all of them, averaging 23:28 TOI per game; the most on the Devils in that timespan. That puts him just outside the top 25 of average ice time for defensemen in the NHL, as well.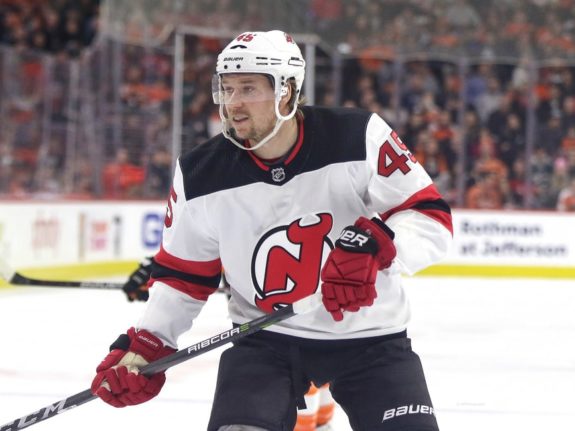 Vatanen has also done a very commendable job of handling the minutes he receives on a consistent basis. In those 20 games, the Devils have a 49.9-percent Corsi For (CF%) and a 53.1-percent high-danger chances for (HDCF%) when he is on the ice. Those numbers are both fairly good considering he, along with Andy Greene, is usually given the toughest defensive assignments on a nightly basis.
The Devils have been looking for the right fit to play alongside Greene since well before this season began. Damon Severson had some positive results but was never able to stick full-time while Steven Santini struggled mightily handling the minutes that came along being paired with Greene.
With Vatanen, the Devils have a puck-moving defender that can handle the five-on-five minutes that John Hynes looks for from his top defensive unit. If he keeps coming up big, just as he did against the Predators this past weekend, he'll continue being the Devils' top defenseman during a crucial stretch of the season.
Related: Devils Ready for Crucial Road Trip
A Power-Play Weapon in Vatanen
Vatanen's presence at five-on-five isn't the only state of play where's he had a dramatic effect for the Devils. He's also been a significant contributor to the team's power play, which has seen a bit of a resurgence in recent weeks.
Despite some lulls throughout the season, the team has connected on 22 percent of its power-play chances since Feb. 1, and Vatanen has been a big part of that. He has one goal and seven assists while contributing 11 individual scoring chances in the process. He's also taken over as the quarterback for the team's first power-play unit, which was operated by Will Butcher for a good portion of the season until recently.
A big reason for Vatanen's success has been his shot, as evident by this power-play goal he scored against the Golden Knights.
SAMI VATANEN SLAMS ONE HOME! TAYLOR HALL'S POINT STREAK CONTINUES! pic.twitter.com/Q9Sz3ePYV5

— Hockey Daily 365 (@HockeyDaily365) March 4, 2018
The Devils have lacked someone who has a powerful shot on the point since Ilya Kovalchuk retired to play in the KHL. Since then, they've added Kyle Palmieri, who is one of the best shooters on the team, and now Sami Vatanen who gives them another threat from the point.
Even though one of Vatanen's best assets is his shot, and he's clearly using it to his advantage, he's also a pretty gifted passer. He finds a way to set up his teammates for scoring chances as was the case on this power-play goal Nico Hischier scored against the Carolina Hurricanes a couple of weeks ago.
NICO HISCHIER SNIPES ONE PAST AN AGGRESSIVE CAM WARD! DEVILS LEAD 1-0! pic.twitter.com/F1dVdzIunX

— Hockey Daily 365 (@HockeyDaily365) February 18, 2018
Vatanen's shot, along with his passing ability, gives the Devils someone with the offensive prowess they've been missing as a power-play quarterback. And with Will Butcher still contributing at a steady pace, they now have some valuable pieces to keep their man advantage running smoothly in the long-term.
Related – Fantasy Fix: Stastny Right In, Vatanen a Must-Add 
Devils Creating Offense from Their Defensemen
There's no questioning that Sami Vatanen has had a big impact on this group of defensemen for the Devils. For a number of years, they struggled to create offense from their blue line. They haven't had a defenseman put up 40-plus points since Marek Zidlicky did in 2013-14, and he happens to be the only one to do so since Brian Rafalski put up 55 in 2006-07.
With many NHL teams straying further and further away from the stay-at-home defender, the Devils seem to be on the right end of that trend. In 2016-17, they averaged just 12.3 points per defenseman. To date this season, they have averaged 18.1 points per defenseman (min. 15 games played), which is a significant increase from last season.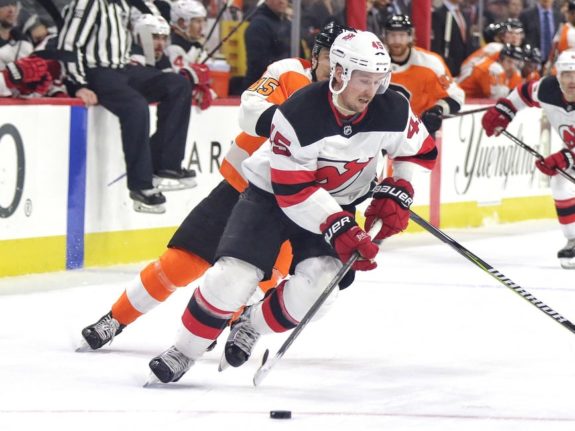 Through 45 games with the Devils, Vatanen has tallied 25 points, and while he may not reach 40 by season's end, that puts him on a 45-point pace over an 82-game season. He and Will Butcher (who needs just 6 points in 13 games to reach 40 points) have added some much-needed offensive ability to the team's blue line.
It may not seem like much, but the added offense from their defense has been significant to the Devils' turnaround from last season and will be a big reason why they hold on to a playoff spot. Vatanen has led the charge, and with him locked up long-term, there's no doubt they can build around him and continue the success for years to come.
 *      *      *
Advanced stats from Natural Stat Trick