There have been a number of occasions during this season when Boston Bruins goalie Tuukka Rask has left a few fans wondering, "Is he still our guy?"
I, admittedly, am one of those fans. As a die-hard Boston fan, I've watched as many Bruins games as possible this year. Whether it's Rask or fellow goalie Anton Khudobin in the net, the goaltending situation for the Bruins has felt somewhat like a roller coaster. For an outsider, this might not make much sense considering Boston is currently the third best team in the NHL at 45-17-8 with 98 points.
But if you watch the Bruins on a regular basis, then you've noticed that the biggest reason why they've been so successful this year is because of their energetic offense and their ability to score a lot of goals. It has not been because of lights-out goaltending. For instance, prior to Saturday's game against the Tampa Bay Lightning, the Bruins had allowed three or more goals in four consecutive games, and also in nine of their last 10.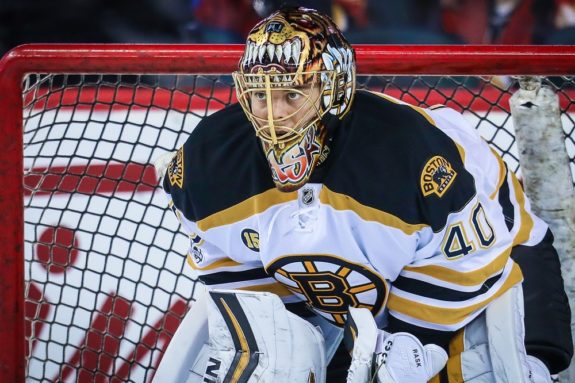 On Saturday, it was a different story though. Against the No. 1 team in the Eastern Conference, the Bruins buckled down on defense to keep the Lightning in check, and Rask showed why fans should keep their faith in him by turning away 23 shots for a 3-0 win.
Heading into the Stanley Cup playoffs, which begin in less than a month, Rask is the guy that the Bruins and their fans are going to want minding the net.
Don't Forget About the Rask Past
When a player is going through a rough stretch, it can be easy to dismiss the success they've had in the past. As a Bruins fan, I'm guilty of this, but I've forced myself to look back on everything Rask has done during his tenure with the Bruins.
During the 2009-10 season, the 22-year-old Rask surpassed Vezina Trophy winner Tim Thomas as Boston's starting goalie. He was the only goalie with a GAA of less than 2.00, as well as the only goalie with a save percentage of higher than .930. Having this success so early in his career all but confirmed that Rask was going to be the main goaltender in Boston for many years to come.
Even though Thomas returned to form and helped the Bruins win the 2011 Stanley Cup, it wasn't long before Rask reclaimed the starting spot from Thomas, and soon after led the Bruins back to the Stanley Cup Finals again in 2013. In that year's Eastern Conference Finals against the Pittsburgh Penguins — a four-game sweep — Rask faced 136 shots and only allowed two goals for a GAA of 0.50 and a save percentage of .985. One season later, Rask won the Vezina Trophy while the Bruins claimed the Presidents' Trophy.
In recent seasons, Rask has experienced a few dry spells here and there, which may have caused some fans to wonder if he has lost his "edge" (again, myself included). But he's always been more than capable of being a shutdown goalie that can lead a team deep into the playoffs. He's done it before, and he can do it again.
Prime Rask on Full Display
Watching the Bruins vanquish the Lightning on the road on Saturday was a great reminder of why this team is a contender with Rask minding the net. He made 23 saves for a 3-0 shutout to notch his 30th win of the year, increasing his record to 30-11-4, and becoming the first goaltender in Bruins history to record five 30-win seasons. That is no small accomplishment.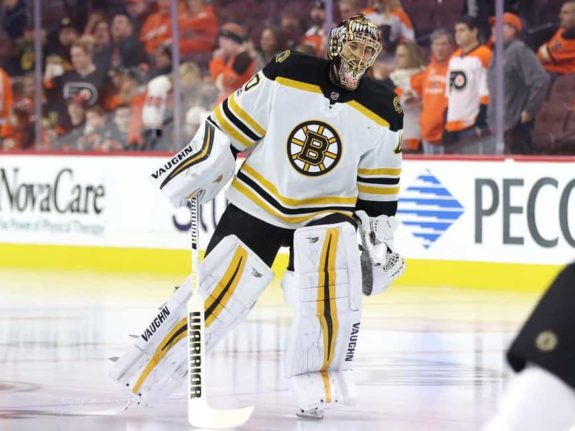 "Thirty wins is pretty good," Rask said after the game. "I always try to get there, and fortunate enough to play on some good teams, and then you'll be able to get those wins."
Fortunately for Rask, the 2017-18 Bruins are a very good team. They've proven that all year behind their young players who are hungry for a deep playoff run, and their relentless goal-scoring offense. But no competitive hockey team is complete without a confident goalie who also has the confidence of his teammates.
Rask is still that guy for the Bruins, and Saturday's game was a prime example of that.
Cody Rivera is a sports writer covering the Boston Bruins for The Hockey Writers, as well as a contributor to SB Nation's PatsPulpit.com. In addition to the Bruins, Cody is also a devoted fan of the Boston Celtics, Boston Red Sox and New England Patriots. Send Cody an email at crivera0012@yahoo.com