As the New York Rangers close out their disappointing season, it is easy to see that the squad hitting the ice is quite different than the one that had hoped could compete for a Stanley Cup back in October. Rick Nash, Michael Grabner, J.T. Miller, Nick Holden and former captain Ryan McDonagh are all gone.
Brendan Smith, who looked like a solid second-pair defenseman last year, played so horribly this season, that he's now riding buses in the AHL Ondřej Pavelec came in to back up Henrik Lundqvist, but he injured his knee a few weeks back, and with the ascension of Alexandar Georgiev, it's doubtful he'll suit up for the team again.
A host of new faces are on the team now, but there are still some core guys on the team Ranger fans are used to. But as the Rangers continue to rebuild for the future, one can assume that Rangers management led by General Manager Jeff Gorton is not done making moves.
Ranger fans are still coming to grips seeing players like Nash and Miller in different uniforms, but they should be prepared to say goodbye to a few others. Here are the players most likely to be suiting up in new uniforms when the first puck drops later this fall.
The Castoffs
These four players are almost a lock to not be in New York next year.
As already mentioned, Pavelec was brought in as a reclamation project on a one year deal, and while he wasn't a liability, he also made people miss the days the team had guys like Cam Talbot and Antti Raanta backing up the King. Georgiev looks like the real deal so far in his first NHL games giving the Rangers no incentive to bring Pavelec back, considering Igor Shestyorkin is also due to arrive in just a few seasons.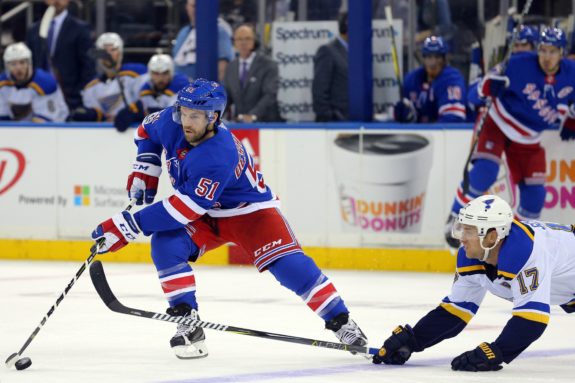 David Desharnais came here on a prove-it one-year contract to serve as the Rangers third or fourth line center. He has not been flashy, but been a serviceable member of the team. But with Lias Andersson and Filip Chytil looking to make the jump next year, the Rangers will no longer need him.
Two other players who will not be with the Broadway Blueshirts are Paul Carey and Cody McLeod. For these two, both players may not even make an NHL roster next year and were merely spare parts the Rangers will no longer need with a host of prospects coming up.
Kevin Hayes, the Inconsistent Center
Other than the players listed above, perhaps there is no forward more likely to move on than Kevin Hayes. The four-year veteran has had steady statistics through his career, but anyone watching Hayes play will tell you the only thing consistent about his game is how inconsistent he is. One week, Hayes looks like Patrice Bergeron – being able to shut down a first line center while putting up solid offensive numbers. The next week, Hayes looks like a guy with a 12-pound bag of sand anchored to his skates who shouldn't even be dressing.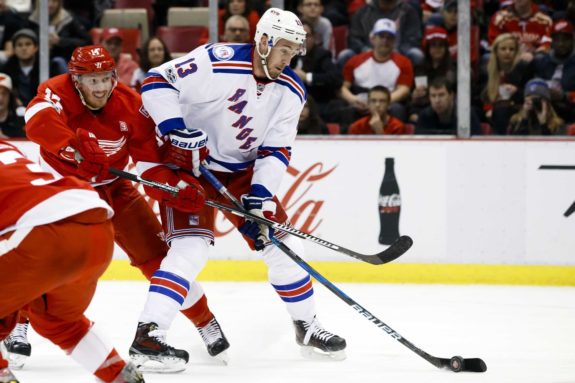 It's reasons like this why Hayes, who will turn 26 in May, could very well be on another club in 2018-19. Ultimately, he has failed to put up 50 points in any season. Some will argue that letting Hayes walk or trading him after re-signing him would scare off future NCAA free agents. But after four years, that sort of statute of limitations should no longer be a concern.
Hayes may be the most likely core player to leave, but there are two more beloved Rangers who may also face an uncertain future as well.
Chris Kreider, the Enigma
If you needed to add a photo next to the word enigma, Chris Kreider would be a perfect fit. One night he makes a pass like he did against the St. Louis Blues where he channeled his inner Adam Oates. There are other times where Kreider can single-handedly take over a game in a way only a few elite players can do in the NHL. Then he will disappear for the next 12 games and at times look like his night was disturbed by having to appear at a hockey game.
Kreider is one of these players where people keep waiting to see him put it all together, but all of a sudden, we realize he is already past his prime. And at this point, just a month before his 27th birthday, we may be reaching that point with Kreider and that is a shame.
It is clear the guy has shown flashes of talent where he could be a 40 goal scorer. But with five years under his belt and having never even reached 30 goals in his career (he's on a 22 goal pace this year if he played in all 82 games), it is becoming increasingly more likely he will never reach that level. This is why for a team that is rebuilding and ushering in a new generation, he may be the type of player that gets moved.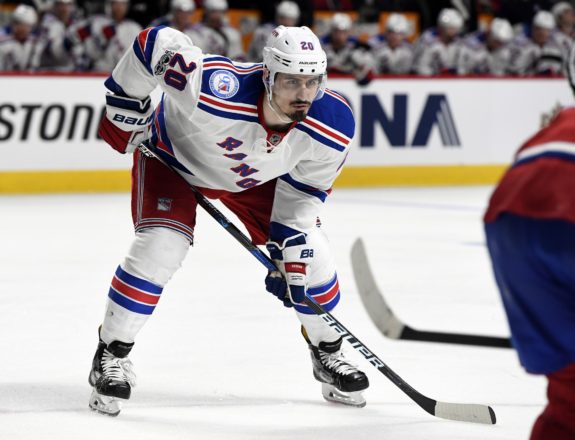 Beyond the reasons listed above, Kreider also makes a great example of a player that a general manager on another team will convince himself that he can bring out Kreider's full potential and groom a future All-Star.
Of every veteran player left on the Rangers roster, Kreider would likely yield the biggest return. It would not be out of the question that Kreider could fetch a first round pick and some nice prospects, especially if you consider Rick Nash, who is now considerably older and seeing his skills depreciate brought back that sort of haul when he was traded to Boston last month.
Mats Zuccarello, the Fan Favorite
This one is heartbreaking for every Ranger fan to even think about. You can make a strong argument that Zuccarello is the most beloved Rangers player since Adam Graves. After all, he has won the Steven McDonald Extra Effort Award as voted on by the fans in three of the past four years (and is the odds-on favorite to win this year as well). The only other players to win this award three times are Graves and Ryan Callahan.
Fans should take notice what happened to those other fan favorites. Most fans will recall Callahan being traded in 2013-14 to the Tampa Bay Lightning for Martin St. Louis. And while Graves has remained a big part of the Rangers franchise through his charitable work and frequent alumni appearances, many people do not recall that even he was traded to the San Jose Sharks in 2001. So while the idea of seeing "Hobbit" playing in another jersey is painful to think about, it is ultimately a business.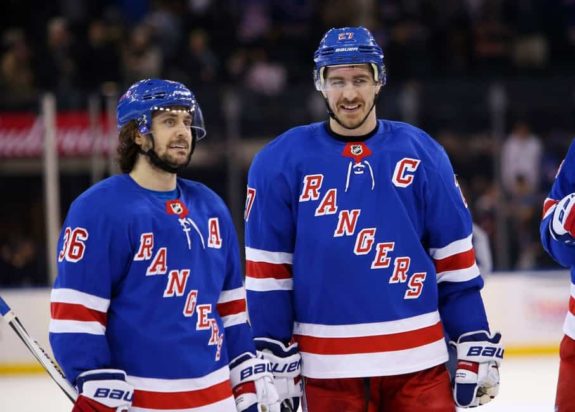 Zuccarello may still look like a teenager with a face that doesn't seem to age, but he turns 31 later this year and will enter the final year of his contract in 2018-19. There have been many stories written about his close relationships to players like Carl Hagelin, Erik Karlsson and Derek Brassard, so if it does not look like the Rangers are close to contending, you have to consider the possibility he could go to a team like Pittsburgh where he would likely be a perfect fit.
https://www.instagram.com/p/BWmrS_JngM6/?utm_source=ig_embed
That is why the Rangers have to consider dealing him if they determine that he is unlikely to stay with the team after next year. In fact, if the Rangers are unable to reach some sort of extension with him this summer, I would argue he should be dealt during the offseason.
Seeing players you cheer for blossom from young prospect to veteran stud only to end up on another team is never an easy thing. But for a team like the Rangers that is making it known they're about to kick off a new generation of Rangers hockey next year, fans must embrace themselves for more change this summer.