Edmonton Oilers defenseman Ethan Bear has made the most of his opportunity with his late-season audition. Bear isn't the only prospect to be making headlines in the past week, though. The Oilers signed 2017 fourth-round pick Ostap Safin to an entry-level contract (ELC) recently and the 19-year-old is now gearing up to join the AHL's Bakersfield Condors for the remainder of the 2017-18 season.
He isn't the only one. Dylan Wells, Edmonton's fifth-round pick in 2016, will also join Safin in Bakersfield. The Condors are well outside the playoff picture in the AHL's Pacific Division and are in a similar spot as the Oilers. Another player making headlines is Pontus Aberg who may have gotten himself in some hot water over the weekend during the team's trip to Florida.
Here's some Oilers news you might've missed, and some thoughts as we move towards the end of the regular season.
What Should They Do With Ethan Bear Next Year?
There's a clear love affair with defenseman Bear. Since being recalled around the trade deadline, the 20-year-old has two assists in ten games and is averaging 17:42 per night. He's received some power play (PP) time, highlighted by some first unit minutes and his skating looks better than expected. Now the question becomes, where does Bear fit into the plans for next season?
Through the last stretch of games, Bear has played more minutes than Matt Benning, until the Carolina Hurricanes game. He's looking like he could assert himself as a third-pairing defenseman next season and play some second-unit PP minutes. As much as fans are excited about Bear's leap forward, they should look more towards the long-term than the immediate future.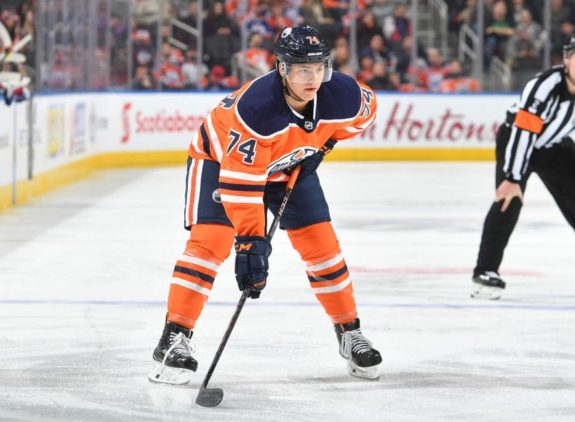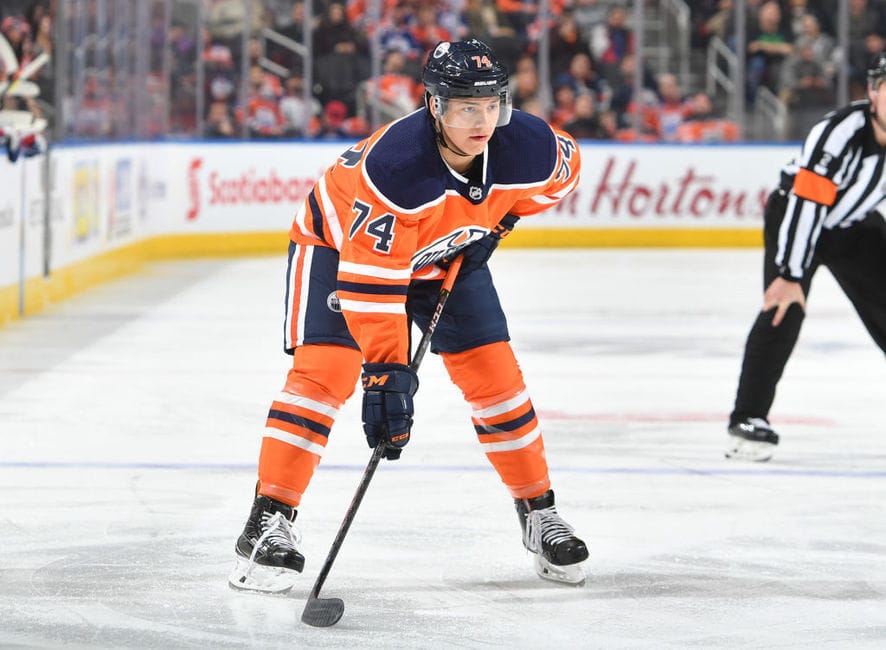 Bear's a talented right-shot defenseman, but he's wrapping up one injury-shortened pro season — a concussion sidelined Bear through a portion of the first half of the AHL season. He produced 16 points in 34 games with the Condors, but he's still a developing asset. Edmonton would be far better suited to allow Bear to play top defenseman minutes in the AHL next season as opposed to playing sparingly on the Oilers third-pairing.
Related: Oilers Prospect Thoughts – Benson, Dudek & Maksimov
Looking at the projected defense depth chart for next season, the youngster would likely be a No. 6 blueliner for the Oilers. Having Bear play valuable minutes in the AHL, play in all situations and further grow his offensive instincts would be wise. Eventually, when he becomes a full-time player for Edmonton, he'd come back a much more serviceable player. He's a helluva find in the fifth-round — just give him some time to put it all together.
Pontus Aberg Gets out of McLellan's Dog House
Since being acquired at the deadline from the Nashville Predators, Pontus Aberg has left much to be desired. The 24-year-old has blazing speed, great offensive instincts and was getting a nice look on the Oilers top line with Connor McDavid. Then something happened over the weekend. There's plenty of rumors, but it's unconfirmed what truly happened.
Related: Should Oilers Fire Chiarelli & McLellan?
Regardless, McLellan addressed the media and was quite stern about why Aberg had been pulled from Edmonton's lineup for two games. The Oilers head coach said Aberg came out of the lineup for "reasons beyond his play" and that it was serious. McLellan would add that the coaching staff, organization and team wasn't pleased with Aberg.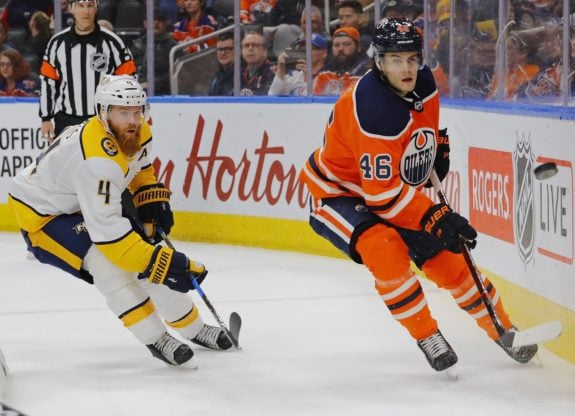 After missing two games, he returned versus the Carolina Hurricanes. Aberg would put up a goal and an assist while playing alongside Leon Draisaitl and Drake Caggiula. The former 2012 second-round pick now has five points in nine games with the Oilers. Those points might've come in just three games, but it was interesting to see how he reacted after getting benched by McLellan.
Related: Five Thoughts – Pontus Aberg & Others
Hopefully this is just a blip in the road as Edmonton will need secondary scorers like Aberg next season to stabilize their stagnant offense. Aberg should factor into the Oilers top nine forwards next season. The right wing depth chart is completely up in the air so the opportunity is there for the Swedish forward to solidify himself higher on the depth chart. So far he does compliment Draisaitl quite well.
Ostap Safin, Dylan Wells Join Bakersfield Condors
Last week the Oilers signed 2017 fourth-round pick Ostap Safin to a three-year entry-level contract (ELC). Safin's been Edmonton's fourth-best scoring forward in junior behind Kailer Yamamoto, Kirill Maksimov and Tyler Benson. The 19-year-old posted 26 goals and 58 points in 61 games with the QMJHL's Saint John Sea Dogs. His team finished dead last in the QMJHL standings.
Now that his junior season is over, Safin is joining the Condors for the remainder of the 2017-18 season. With Bakersfield having two games against the Ontario Reign and Tucson Roadrunners, Safin should make his debut this weekend. He's a promising power forward that can skate, put up decent offensive totals and one who projects to be a future top-nine forward for Edmonton. This will be a nice sneak peak for Oiler fans.
The Condors will also be adding goaltending prospect Dylan Wells to their lineup. Wells signed a tryout contract with Bakersfield after his team went 1-9-0 in their last ten and saw their playoff hopes fizzle out. While playing for the OHL's Peterborough Petes, the 20-year-old posted a 20-30-3 record, a 3.62 goals-against average and a .896 save percentage.
Those numbers aren't overly inspiring for the Oilers 2016 fifth-round pick who's had an off-year. Still, he was, once again, an absolute workhorse for the Petes and his 3,230 minutes played ranked fifth among all OHL goalies. After being Peterborough's most valuable player a year ago, Wells failed to make Team Canada's world junior championship team. His biggest flaw is consistency and allowing some badly timed goals. Wells will wear No. 40, while Safin will don No. 32.
Oilers YYC Podcast
In case you missed it, I made an appearance on Episode 40 of the Oilers YYC Podcast where we discussed a wide range of topics. Should the Oilers trade Ryan Nugent-Hopkins? What's been the biggest takeaway from the 2017-18 season? What's been the biggest letdown? And lastly, what Jujhar Khaira means to the Punjabi community.
Edmonton Oilers regular contributor providing insight on all things Oilers including club history, prospect profiles, trade breakdowns, and everything else in between. Check back regularly for new and exciting content. Follow on Twitter @SanderTHW.