A slow rebound dribbles to the edge of the faceoff circle, Brad Marchand swoops on the puck, drags it onto his backhand, slides across the crease, holding the puck for a second, maybe two, before snapping it over a sprawling Jimmy Howard. It was a moment to remember: Marchand had just scored in regular-season overtime for the 11th time in his career, breaking a tie with Dit Clapper and Glen Murray to become the Bruins' all-time leader in that category.
Just three days earlier, he had outworked a tired group of Montreal defenders midway through OT, skating around the net, wheeling out in front before whipping a shot through Carey Price. Two nights later, with less than 30 seconds left on the clock in a tie game with the Flyers, he dug out a puck sitting behind the netminder to scrape it over the line. A five-day stretch could hardly better sum up just how incredibly valuable he has become to this franchise.
How did this diminutive, scrappy Halifax-native, originally drafted in the third round, cement his name in the history of one of the NHL's Original Six franchises?
Unleashing in 2011 Playoffs
Advertised as an agitator who might bring an offensive edge, Marchand only hinted at his offensive potential at the junior level with back-to-back 30-goal campaigns in the QMJHL. Even after 91 points in 113 AHL games, the now 29-year-old was still widely viewed more as a third-liner than as a future offensive star when he was called up to the big club.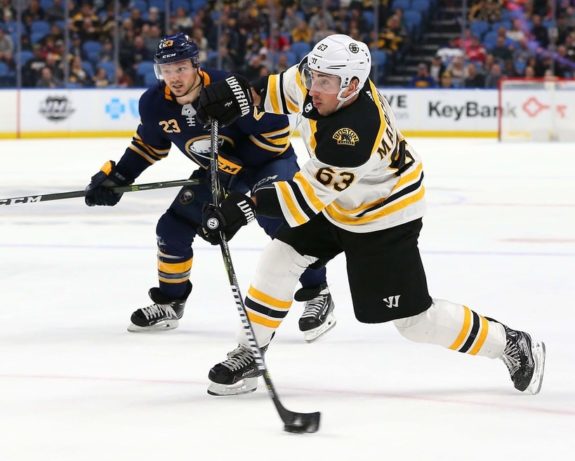 Quickly paired with elite two-way center Patrice Bergeron, he scored 21 goals during a rookie campaign where he demonstrated an energetic 200-foot game, penalty killing and a slightly less positive penchant for occasionally pushing the limits of what is acceptable and legal.
A grueling playoff run, where three of the four series were decided in nail-biting Game 7s, including the Stanley Cup Final, brought out the best in him. More than a few of Boston's players stuck their hands up during that series, so perhaps Marchand's 11 tallies in 25 postseason contests and five-goal series against the Canucks in that critical final series went a little unheralded.
It was a signal of things to come as a player who was supposed to earn his keep as a skilled pest would go on to become one of the NHL's premier goal-scorers.
From Notorious Pest to Prolific Scorer
"I was chuckling after the game, because there he is, the pucks finds him, but he's on it, doesn't quit," said Bruins' head coach Bruce Cassidy—who first encountered the 5-foot-9 winger as an assistant coach in Providence in 2008—in summing up some of the qualities that have made the man following his record-breaking marker against the Red Wings.
It's difficult to pinpoint precisely when Boston's leading left winger translated his game from being a gritty, useful scorer to a perennial 35-plus-goal and better than point-per-game man.
Marchand always possessed a willingness and knack for taking on and beating opposing players one-on-one. His first overtime winner came after he stick-handled the puck through Nashville Predators center Mike Fisher's legs, slid towards the faceoff dot and ripped the puck past Marek Mazanec.
Goals of this ilk hinted at the skill level of a player who could exceed expectations of his offensive output. Tallying 20 goals or more in four out of his first five seasons isn't bad production, but it now represents just a precursor for the talisman who has emerged. In another reflection on his time in Providence with Marchand, Cassidy described an unmatched inner self belief:
"He was the hardest-working guy in practice every day from the day he walked in the door. He wanted to be an offensive contributor and believed he would be. Just out-wills people. First (NHL) season, he had one point in 20 games. It didn't matter. He knew he was going to do it."
2014-15 was frustrating. Boston's roster was ravaged by injuries and the team missed the playoffs for the first time since 2006-07. Marchand appeared to take a step back, tallying just 24 goals and 44 points in 77 games. He did notch three overtime winners, but the trials of that season were perhaps a turning point for the feisty winger's NHL career.
The NHL's Most Underappreciated Player?
Leading the league in scoring for much of the season, the next year's explosive 37-goal effort put Marchand firmly on the goal-scoring map. With speed on the breakaway, stick-handling ability, tenacity around the net and a willingness to do the dirty work, there are arguably very few better all-round snipers in the NHL, and there are even fewer who play an elite two-way game and are one of their team's leaders on the penalty kill. What made Marchand's achievements even more impressive was that, unlike many of the league's top scorers, he saw only limited ice time during the man advantage—just 1:28 per game to be precise.
After 37 in 2015-16, he found the back of the net 39 times to go along with 85 points in 2016-17. He already has 30 tallies and 73 points through just 55 games this season. Thriving in the biggest moments has been a consistent characteristic throughout, 18.5 percent of his career goals are game-winners, and he has broken the tie in the extra period 10 times in the last four seasons alone.
Marchand has been as good as just about anyone offensively during this three-year span. Only Alex Ovechkin has more goals (125 versus 106), he ranks eighth with 219 points, and he leads the NHL by a mile with a plus-70 plus/minus rating. He's also tied with Nathan MacKinnon for the most game-winning goals (21).
It's a resume that doesn't earn the 29-year-old the respect he deserves. An ugly history with six suspensions, including a five-game term for elbowing Devils forward Marcus Johansson just two months ago, goes some way to explaining the absence of credit being paid to Marchand outside of Boston. It's worth noting that, looking at his stats for the past three seasons, the Bruins don't exactly want their leading scorer to needlessly miss games.