Corey Perry used to mean everything to the Ducks. He came to Anaheim during a crucial time in Ducks hockey, bringing the first Stanley Cup to California and winning the Maurice "Rocket" Richard Trophy in the 2010-11 season. He quickly became known as the pest of the NHL to anyone outside of the 714 area code, but within the realms of his kingdom, he had it all. It only ever seemed like his status as one of the best Ducks ever could only continue to grow, but then something happened. Only seven years out from winning the top scoring prize, he is nine games away from finishing the season with 16 goals and 27 assists.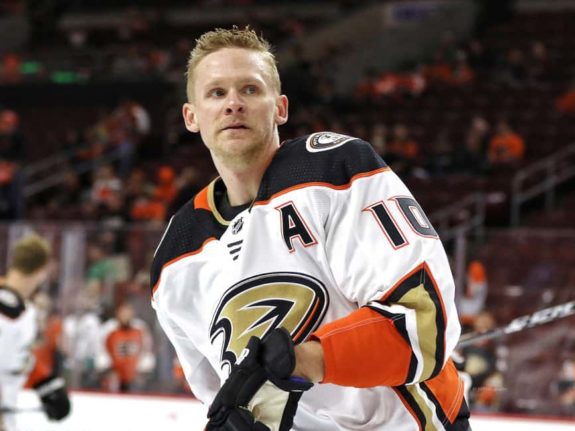 Corey Perry Was King
Perry burst onto the scene in Southern California during the 2005-06 season. After being drafted 28th overall in 2003, he managed 25 points (13 G, 12 A) during his rookie campaign. He steadily increased his scoring for the next two seasons until 2008-09, when he finished the season with 72 points (32 G, 40 A). From there, the legend started and Corey Perry became quite the household name in Orange County.
Often playing with his 'twin', Ryan Getzlaf, on the first line, they had notched over 160 points together by the time they raised the Stanley Cup in 2007. Suddenly, the world was aware that there was a hockey team an hour south of Los Angeles, and they were pretty good. Perry continued to turn heads, getting 76 points (27 G, 49 A) in 2009-10 and then hitting his ceiling of 98 points (50 G, 48A) in 2010-11.
That would be the year he would not only win the Rocket Richard Trophy, but also take home the Hart Memorial Trophy. Not only was he scoring during those years, but he was also racking up the penalty minutes. For five straight seasons, he recorded more than 100 penalty minutes. He was a force to be reckoned with on the ice, whether that be watching his position in front of the net, or watching your skates around his stick. At that time, it seemed like the world was his ice rink and we were all just spectators in it.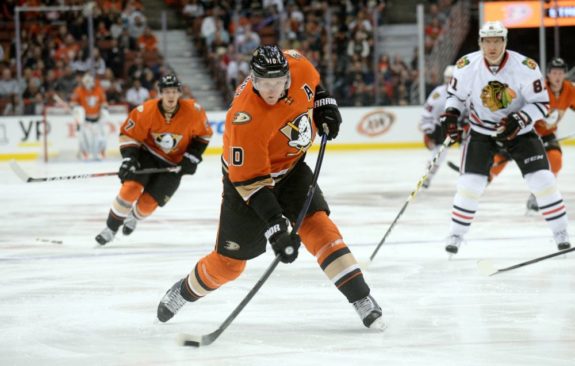 In 2013, the Ducks signed Perry to an eight-year, $69 million contract, and he didn't show any signs of stopping, accumulating 82 points (43 G, 39 A) during the 2013-14 season. But everything seemed to stop after that season.
A Fallen Star in Anaheim
Last season was the first time in Perry's career where he didn't reach the 20-goal mark regardless of playing 80-plus games in a season. For someone that is getting $8 million a year, that's not a stat to be proud of. Although he seems to have heated up the past couple of weeks, he will finish this year with another disappointing end.
Not only are the numbers not on the scoreboard, it's obvious to everyone off the ice that Perry has lost his flair. He skates slowly and seems uninterested at the game in front of him. He often just seems to hover around in neutral zone and wait for the stretch passes. In 2013-14, he was a plus-32. This season he is a minus-five.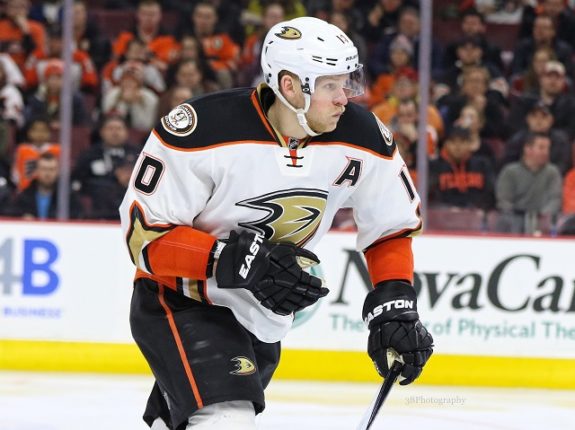 His linemates for most of the season, Getzlaf and Rickard Rakell, seem to be producing just fine. Getzlaf, who has played 14 fewer games then Perry, still has 54 points (11 G, 43 A) on the season. Perry still has three more years on his contract, and for someone who was demoted to the fourth line for several games this year, the organization has to be worried. Their options are limited, though, considering Perry has a no-movement clause.
One would have to think that with the disappointing seasons the Ducks have had in the last few years (the phrase "Game 7" still makes me flinch), they have to be thinking of what they can do with Perry or something to at least get his productivity up to par. Unfortunately, this isn't anything new for him. Hopefully, the Ducks can make the playoffs and Perry will once again become the player we all know he is. If not, he starts with a fresh slate next year, and has three years to impress us.