In Game 3 against the Edmonton Oilers, by winning via a score of 6-3, the Anaheim Ducks didn't look like the team that at times had issues scoring during the regular season. Just a game ago, they were unable to put more than one puck past Cam Talbot, resulting in a 2-1 loss in Game 2, a game in which the Ducks arguably dominated the Oilers.
To win this series, the Ducks are going to need more high-scoring games like Game 3. On Wednesday, they will try to take Game 4 in a stadium filled with rowdy Edmonton fans who are thirsty for more playoff hockey after the Oilers missed the postseason for a decade. The Ducks are going to have to win three of their next four games, though preferably three in a row if they want to avoid the dreaded Game 7. They have lost Game 7 four times in a row on home ice, but hopefully for them, that curse ended with the firing of Bruce Boudreau.
They are also going to need Corey Perry.
Scorey Perry Not So Scorey
The 2011 Hart Trophy winner had an off season this year, only tallying 19 goals. The last time that he produced so few goals was during the lockout season in 2012-13 when he had 15. Many people believed that since he had such a lackluster season, he would look to the playoffs to make his impact.
However, so far, he's been rather quiet. He has tallied one goal the entire postseason, an overtime winner that many people deemed as lucky:
Perry seems to be just throwing the puck towards the net, but he's a smart player. Calgary Flames goaltender Brian Elliott was weak the entire game, and arguably, the entire series. Perhaps Perry realized that he could take advantage of this and just decided to put pucks on net. During that game, he was plus-5 with two points.
However, against the Oilers, Perry has been basically invisible. He hasn't tallied a single point and was minus-2 in the first game and minus-1 in the third. He hasn't been his pesky self, and against an emotionally immature team like the Oilers, his usual antics would help throw the younger players off their game. So far, Ryan Kesler has been playing the role of the pest, but few players do it better than Perry. Where is the guy who once casually skated by the Carolina Hurricanes' bench and stole Alex Semin's stick?
What's more is that after playing 14:26 and 15:52 in the first two games of the Oilers-Ducks series, he went down to a season-low of 12:28 in Game 3. Throughout the playoffs, he's been averaging 14:22 on the ice. The last time he was this irrelevant? Back in 2005-06 when the Anaheim Ducks were still known as the Mighty Ducks, and he was a rookie playing an average of 9:33.
Randy Carlyle, What Are You Doing?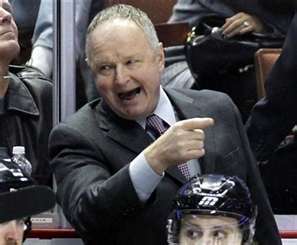 Perry hasn't suddenly become a bad hockey player. He had an off season, and all this "Trade Perry" talk is simply ridiculous. The issue is that Randy Carlyle hasn't been using Perry to the best of his abilities. How can he expect Perry to produce as a third-liner with a center who is a faceoff specialist, while also only getting about 12 minutes a game? Nothing against Antoine Vermette, but Perry plays best with Ryan Getzlaf, and he has for years.
To give the Ducks more scoring opportunities, both Carlyle and Boudreau have tried separating the once dynamic duo of Perry and Getzlaf. But, how does that work when only one of them has the opportunity to produce? Carlyle has basically been playing a game of chess this series, purposely throwing the top two lines against Connor McDavid every single time he comes on the ice. Because of that, he has been overusing Kesler and Getzlaf, each of whom finished Game 3 with more than 20 total minutes on the ice.
If Carlyle wants to even out scoring opportunities, it would make sense to move Patrick Eaves off the Getzlaf line and put him with Vermette. After all, he's the right winger that's actually producing, and he plays very similarly to Perry. He also drives straight to the net and often plants himself in the crease. Since Eaves is questionable for Game 4, Carlyle may just have to reunite Perry and Getzlaf.
"The Twins"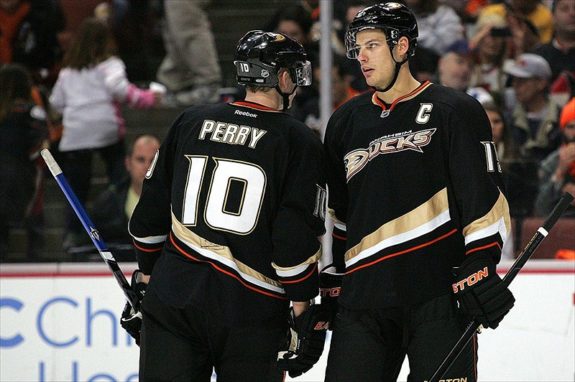 Perry and Getzlaf have been one of the best offensive pairings in the NHL for years. There's a reason that for seven seasons, between 2007-08 to 2013-14, the two never spent less than 70 percent of their total ice time apart.
Born only six days apart, Ducks fans have often dubbed the dynamic duo "The Twins", comparing their almost telekinetic communication to that of the Sedin twins, Henrik and Daniel. Perry and Getzlaf were drafted together, only nine picks apart, back in 2003, and both made it to the Ducks franchise in the 2005-06 season. Their similarities don't end there. In 2013, Getzlaf signed an eight-year contract extension with the Ducks. Only 10 days later, Perry followed suit, signing an extension for the same length of time.
Perry and Getzlaf have played together for so long that they've become a staple in the minds of the Anaheim Ducks' organization. During his first span with the Ducks, Carlyle seemed reluctant to separate the two. It was only last year that Boudreau found success in doing so.
However, putting them back together may be what the Ducks need to defeat this young, speedy Oilers team. Getzlaf has been the best player on the Ducks in the postseason, so he should be able to improve Perry. To win three games of the remaining four in the series, the Ducks are going to need Perry to produce. He needs to earn that "A" on his jersey.
Hannah Bonnie is a recent graduate of the University of Oregon, where she studied journalism with minors in creative writing and English. After growing up in Anaheim, she is a life-long Ducks fan and is happy to provide insight on her favorite team.
Follow her on Twitter @hbonnie03